What Causes Lake Effect Snow?
by David Moran, on Mar 9, 2018 1:08:25 PM
Heavy snow events can often develop along the eastern shores of large lakes. Known as lake effect snow, it forms as colder air moves across a warmer lake. The bigger the temperature difference between the lake water and the air, the greater the potential for lake effect snow.
As the air moves across a lake, it warms and becomes less dense. As the air begins to rise, clouds develop. Eventually, snow starts to fall and continues to move eastward toward the shore. Once the air moves onshore, it slows down, which allows it to converge. This convergence provides additional lift, resulting in increased precipitation. The intensity of the snow is usually greatest near the shore where the temperature gradient is larger.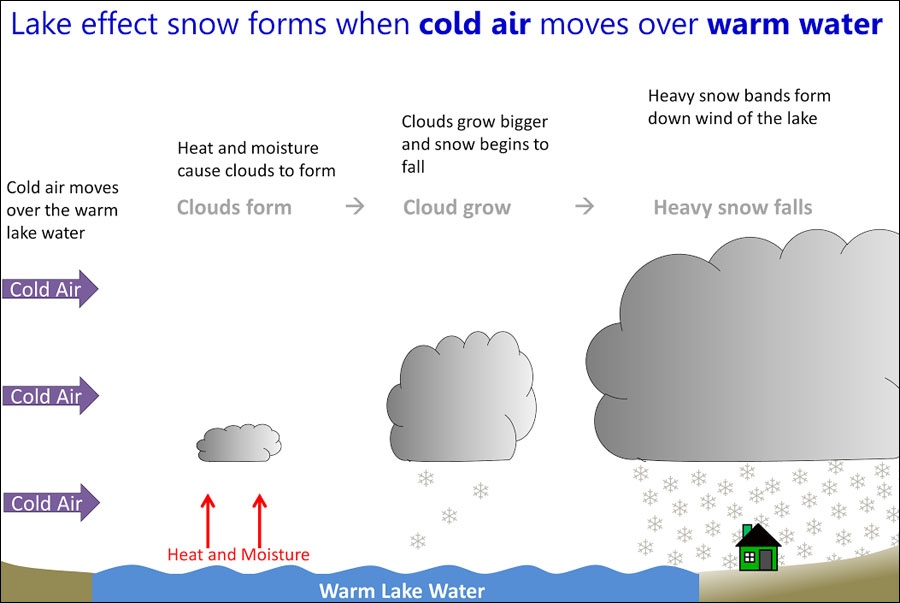 Lake Effect Snow Schematic
Snowfall rates in lake effect events can be as high as 2-3 inches per hour. Lake effect snows are notorious for high snowfall totals. For instance, in Erie, Pennsylvania in December 2017, over 80 inches of snow fell in just six days.
While the temperature difference between the air and water plays an important role, the distance that the air travels over the water also is essential. In general, this distance should be approximately 50 miles in length. This increases the potential for warming as the air moves across the lake, and thus the ability to produce heavy snow. Below is a snowfall forecast for March 7, 2018 as seen in our new WeatherOps Winter Weather Planners. The snowfall maximum in northern portions of the Lower Peninsula of Michigan between Lakes Michigan and Huron are a result of lake effect.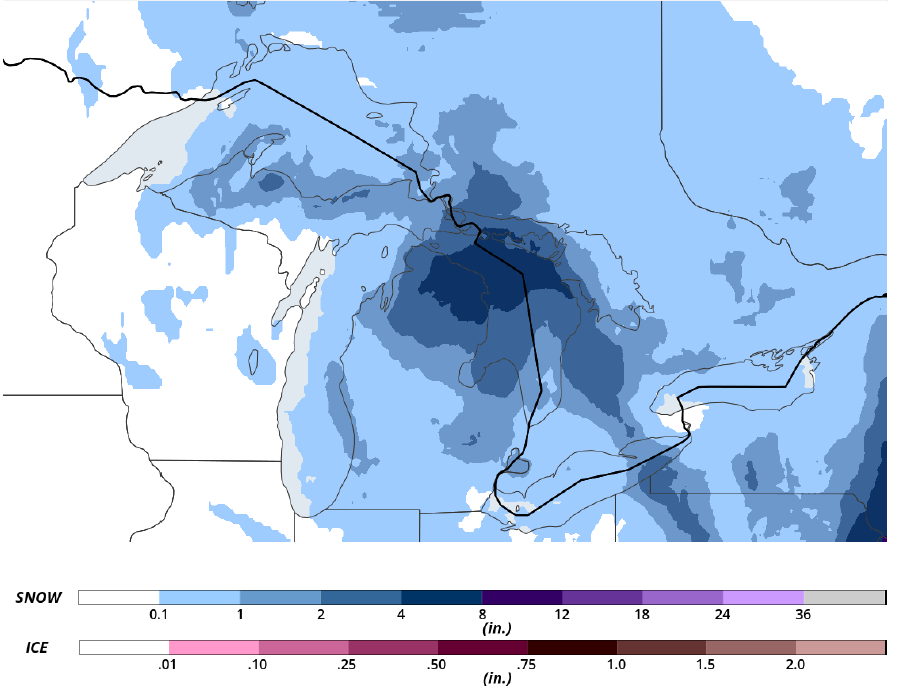 Snowfall Forecast for March 7, 2018
The locations that lake effect snow can develop are relatively scarce. However, those areas that do experience it are familiar with the high snowfall totals and rates that it can produce. Lake effect snow is typically most common during the late fall and early winter. By late January, this activity tapers off as the lakes freeze, reducing the temperature difference necessary for its development. However, water temperatures have been averaging close to 43°F so far for the month of March, according to a buoy near the northeastern shore of Lake Michigan, allowing for continued lake effect snow.
Warmer spring temperatures are on the horizon, but those living up North may still experience snow over the next couple of months. You can keep up to date with winter weather by using our Winter Weather Planners. Try a 7-day trial of WeatherOps today.