Newly Enhanced Daily Planners Help Corporate Decision-Makers Plan Around Weather Impacts
by Daphne Thompson, on Feb 27, 2018 10:02:00 AM
Norman, OK – February 27, 2018 — Weather Decision Technologies, Inc.® (WDT), the world's leading decision support and weather analytics company, announces new daily planners designed to assist decision-makers with significant winter weather, thunderstorm, and rainfall decisions. These threat summaries assist companies in making early decisions to save time and money while also ensuring the safety of personnel.
Newly redesigned Winter Weather Planner and Thunderstorm and Rainfall Planners help our customers prepare for precipitation and thunderstorm hazards during the upcoming seven days in a highly visual, easy to understand format. When WeatherOps meteorologists identify a signal for a significant weather event, the anticipated threats and impacts are explained with a high-resolution map, threat table, and a short discussion.
Winter Weather Planner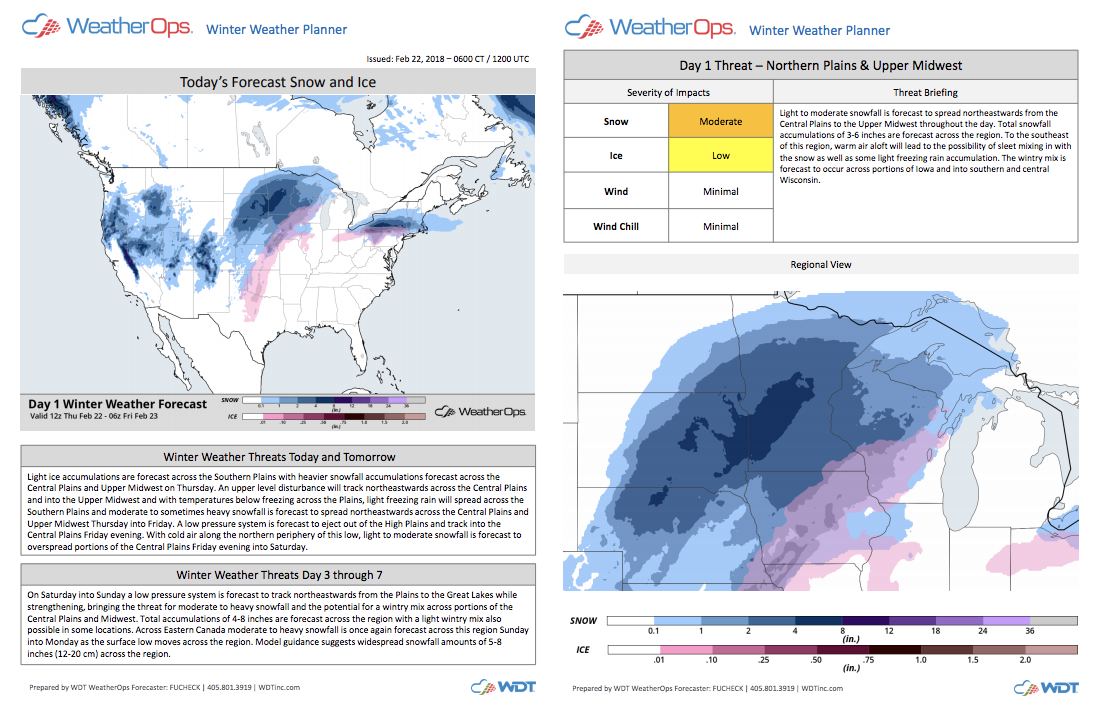 Winter Weather Planners contain snow and ice forecast graphics, surface charts, and detailed summaries of forecast significant winter weather events. WeatherOps forecasters assess the regional impacts of snow, ice, wind, and wind chill on a scale from Minimal to High. Significant events are based on WeatherOps winter weather criteria, which take into consideration local climatology and elevation.
Thunderstorm and Rainfall Planner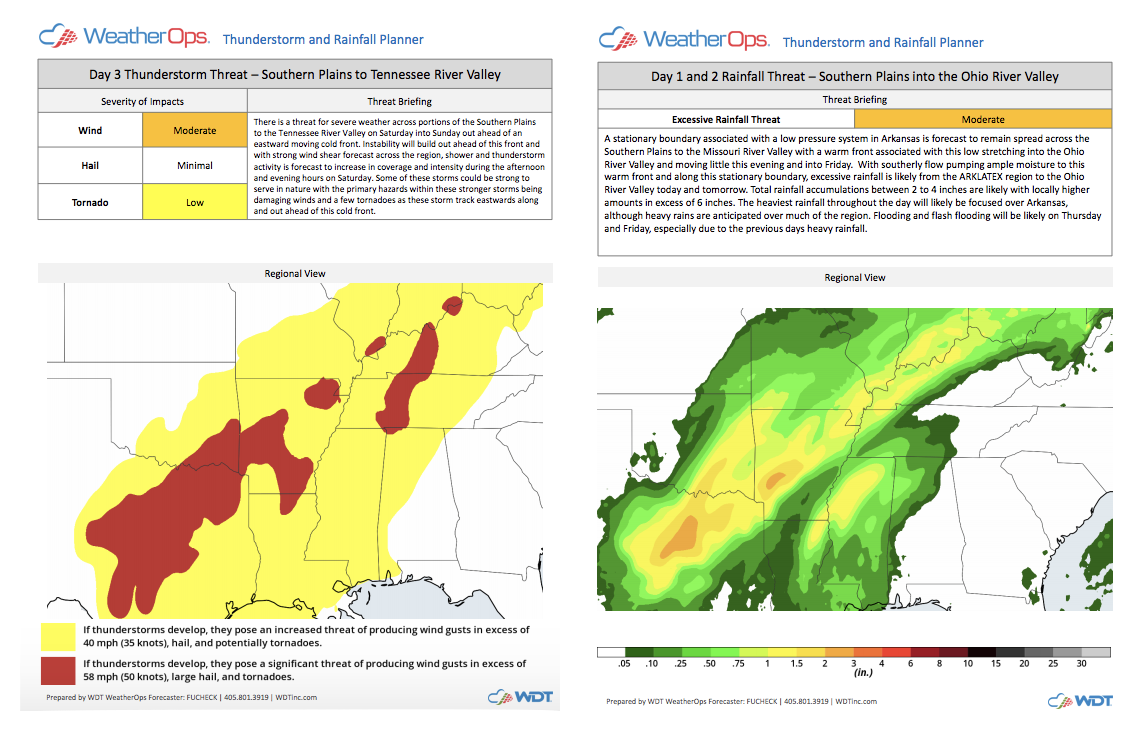 The Thunderstorm and Rainfall Planner is a combined 7-day projection of thunderstorm and heavy rainfall threats. Thunderstorm dangers include wind, hail, and tornadoes. WeatherOps forecasters rank the potential impact of these threats on a scale from Minimal to High. The threat for excessive rainfall is assessed on a similar scale.
WeatherOps' strong and severe thunderstorm outlooks are generated using proprietary algorithms developed by members of WDT's weather research and forecast teams. In addition to the seven-day national view charts, when your area is under threat during the upcoming 72 hours, a high-resolution regional map and discussion of expected threats is provided.
Availability
Both products are currently available for the contiguous United States and southern Canada. An additional version of these products will be released to customers in Europe in early March.
About WDT, Inc.
Headquartered in Norman, OK, WDT provides organizations with actionable weather analytics and decision support. The company helps clients leverage weather information for profit and safety globally. Hazardous weather detection, prediction, and decision analytics are available via APIs and GIS layers, as well as WDT's leading risk mitigation SaaS platform, WeatherOpsÒ. WDT takes business continuity activities to the next level by assigning expert meteorologists to monitor global assets and provide live, one-on-one consulting before and during severe weather situations.