WeatherOps Thunderstorm and Rainfall Planner Demonstrates Accuracy
by Daphne Thompson, on Feb 26, 2018 3:03:14 PM
On February 24, 2018, a potent storm system tracked from the Southern Plains into the Upper Midwest, resulting in widespread showers and thunderstorms, heavy rainfall, and severe weather across ten states. The WeatherOps Thunderstorm and Rainfall Planner informed clients of the potential for these threats well in advance.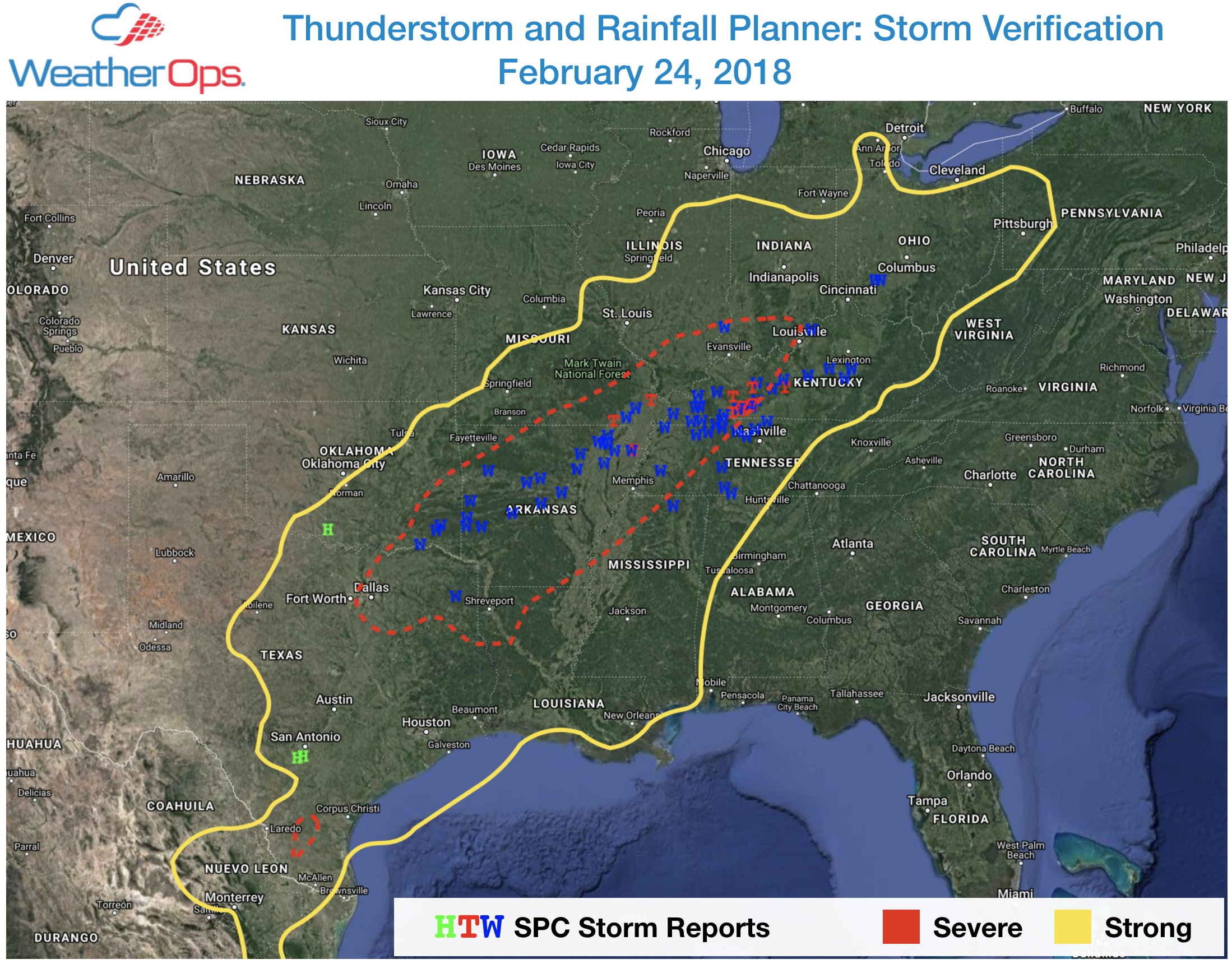 As this day approached, WDT meteorologists warned of the damaging wind threat from Northeast Texas to the Ohio Valley and a heightened risk of tornadoes from Arkansas into western Kentucky. The Day 1 outlook verified well, with 12 of 13 tornado reports and the majority of wind reports for that day occurring within the WeatherOps severe threat region, outlined in red.

The substantial threat for severe weather evolved as an area of low pressure moved from the Southern Plains into eastern Missouri. Heavy rainfall and severe thunderstorms developed along a warm front during the day and more robust convection formed south of the surface low along a surging cold front through the late afternoon and evening. Damaging winds became a more significant threat as convection matured along the front, forming bow segments. Bow segments, or "bow echoes," are organized thunderstorms embedded in a squall line that develop from moderate to strong wind shear in the lower atmosphere. They produce damaging straight-line winds that often cause more widespread damage than a tornado. Preliminary data from the Storm Prediction Center (SPC) noted at least 73 wind reports on this day. The highest recorded wind gust was 70 mph in Trumann, Arkansas, where light poles and trees were reported down.

A number of these wind reports were also attributed to tornadoes. An EF-2 tornado touched down east of Clarksville, Tennessee with maximum sustained winds of 120 mph according to the National Weather Service in Nashville. Significant home damage and several injuries were reported in the area.
.@NWSNashville @NWSLouisville pic.twitter.com/QImtk27R2Q

— Clarence Bennett (@tvs7) February 24, 2018

Damage reports continued over the state line into Kentucky where a second EF-2 tornado with maximum winds of 135 mph and a maximum width of four football fields touched down on McGhee Road. At least one residence was destroyed on that road, leaving one person dead.

That particular storm showed many classic tornado signatures on RadarScope as it tracked northeastward over Woodburn, Kentucky around 4:30 PM CT.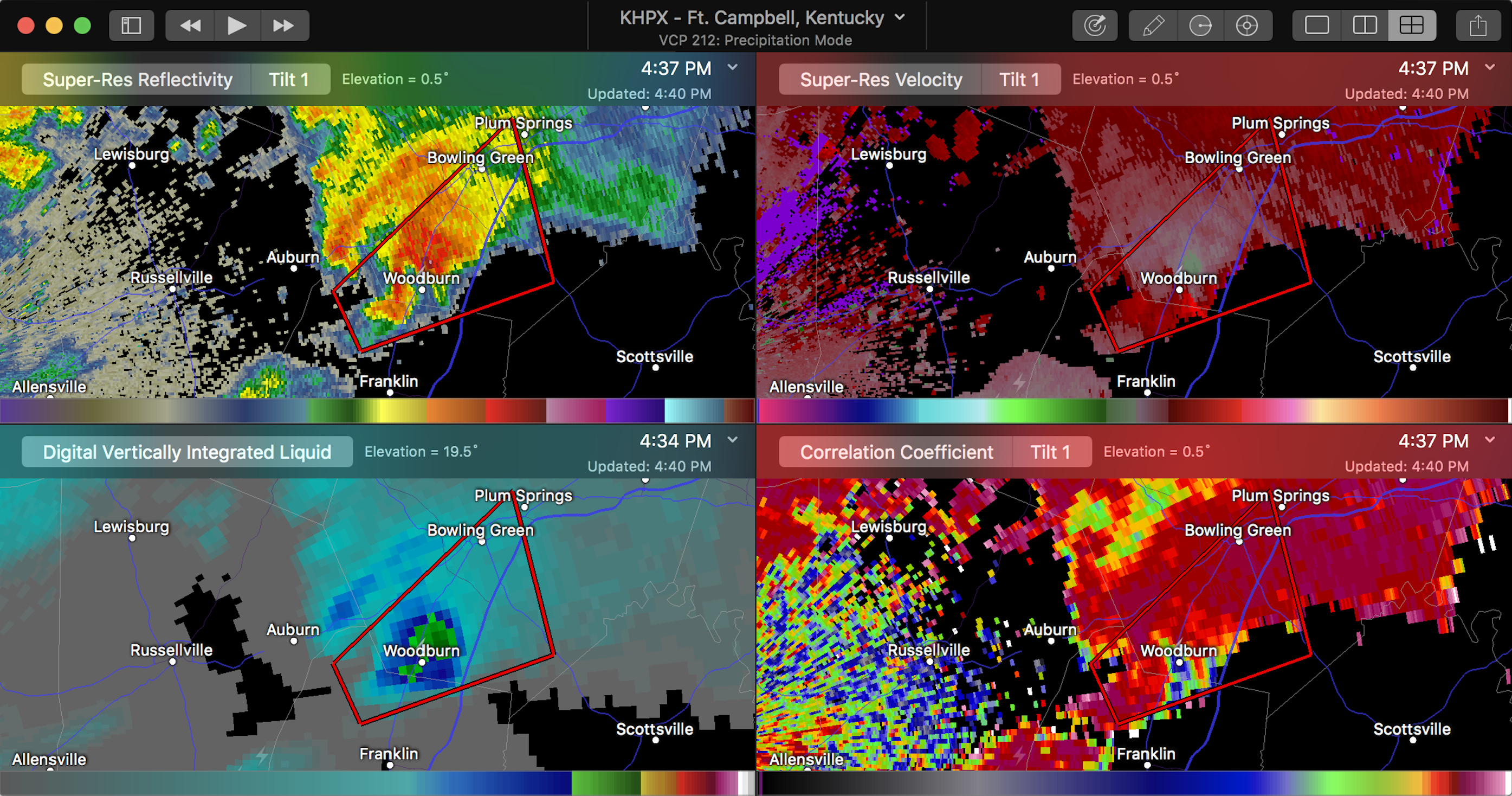 Super-Res Reflectivity: Shows an area of reduced reflectivity or the inflow notch, bringing warm, moist air into the storm.

Super-Res Velocity: Shows a velocity couplet, or rotation signature, where RED (air moving away from radar) meets GREEN (air moving toward radar)

Digital Vertically Integrated Liquid: Higher values help assess hail size and intensity of precipitation. In this case, heavy rain is falling north of the inflow notch, over the northeast side of the storm.

Correlation Coefficient: The small area of values below 0.8 that is collocated with the velocity couplet represents the tornado debris signature.
Just completed survey with @NWSLouisville. High-end EF2 tornado confirmed with the storm that initiated just SW of Dot, KY in Logan County Saturday afternoon. pic.twitter.com/dKLjbUv8DI

— wxornotBG (@wxornotBG) February 25, 2018
There were over a dozen tornado reports on this day, including several rated EF-2 over Kentucky, Missouri and Tennessee. Unfortunately, two people lost their lives, and dozens were injured from these tornadoes.
Wind, hail, tornadoes, and flooding become increasing threats during spring. Accurate advanced notice of these threats will ensure you're well prepared. Give our new Thunderstorm and Rainfall Planner a try today.