by Daphne Thompson, on Jul 19, 2018 2:27:53 PM
Is your grass starting turn yellow? Do your trees look like they have already thrown in the towel? Is your air conditioner struggling to keep your temperature down while your power bill continues to climb? Welcome to late July.
Frontier's current temperature anomaly map for July, shows above average heat across the entire west coast, parts of Texas, and also from New York to Maine.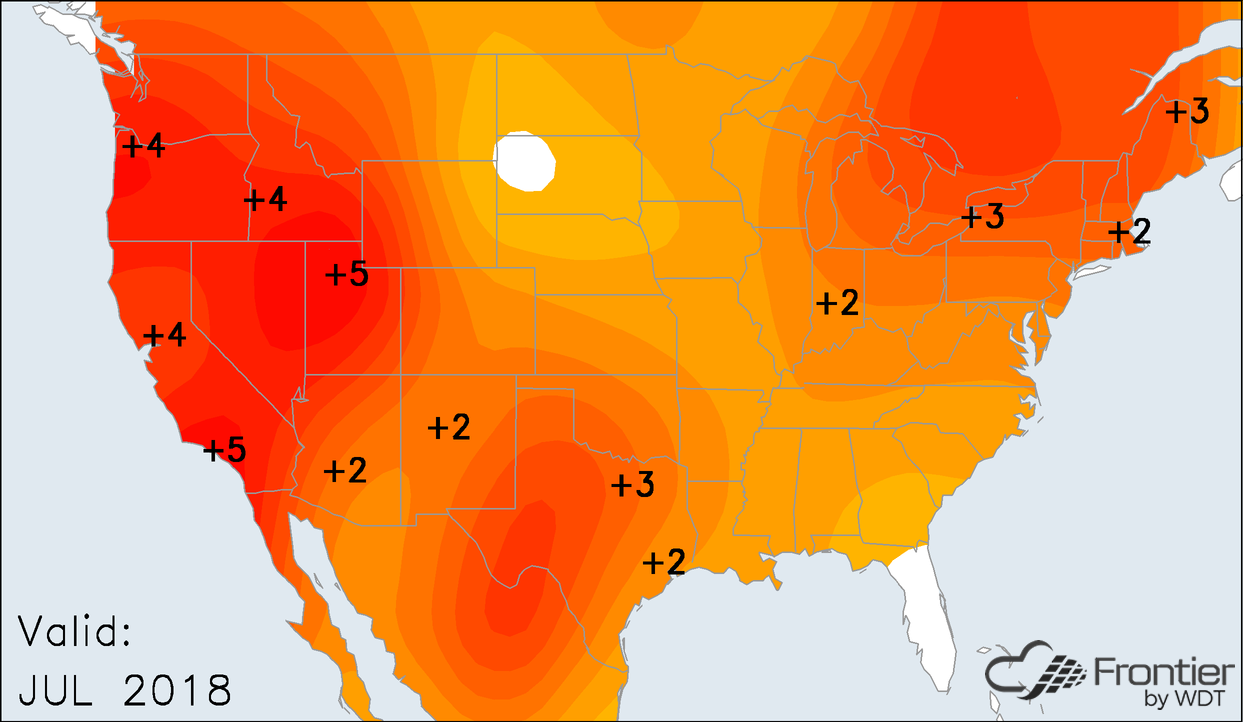 Taking a closer look at the forecast for larger cities in this area, you can see a heat wave in Dallas and one coming soon for Las Vegas. The pink shades show where the temperature is +3°F above normal and the red is +8°F higher than average. Overall, many places should expect to hit 100°F or higher before the month's end. And some will have lows exceeding 80°F.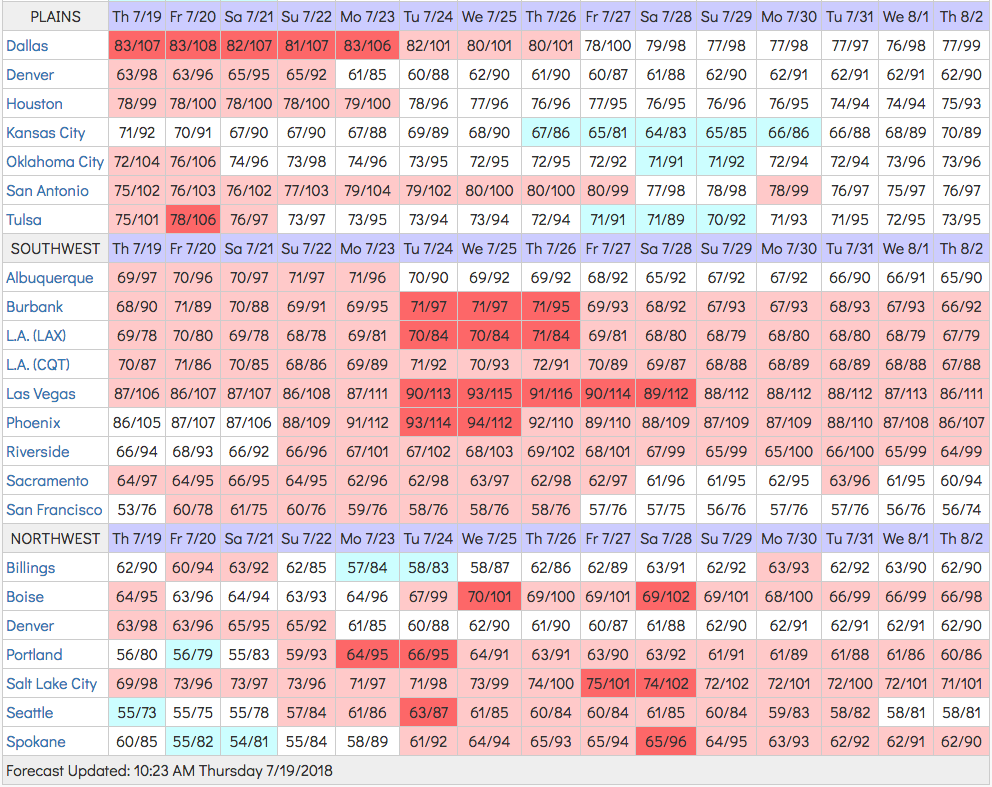 Looking at a map of Cooling Degree Days (CDD) for the past week, we can see that a large part of Texas has numbers of 180+. If you take the daily mean temperature and subtract 65 from it, you get CCDs. It assumes that a 65°F day is one when you don't need to run the air conditioning or heating. The higher the CCD, the more energy is being consumed.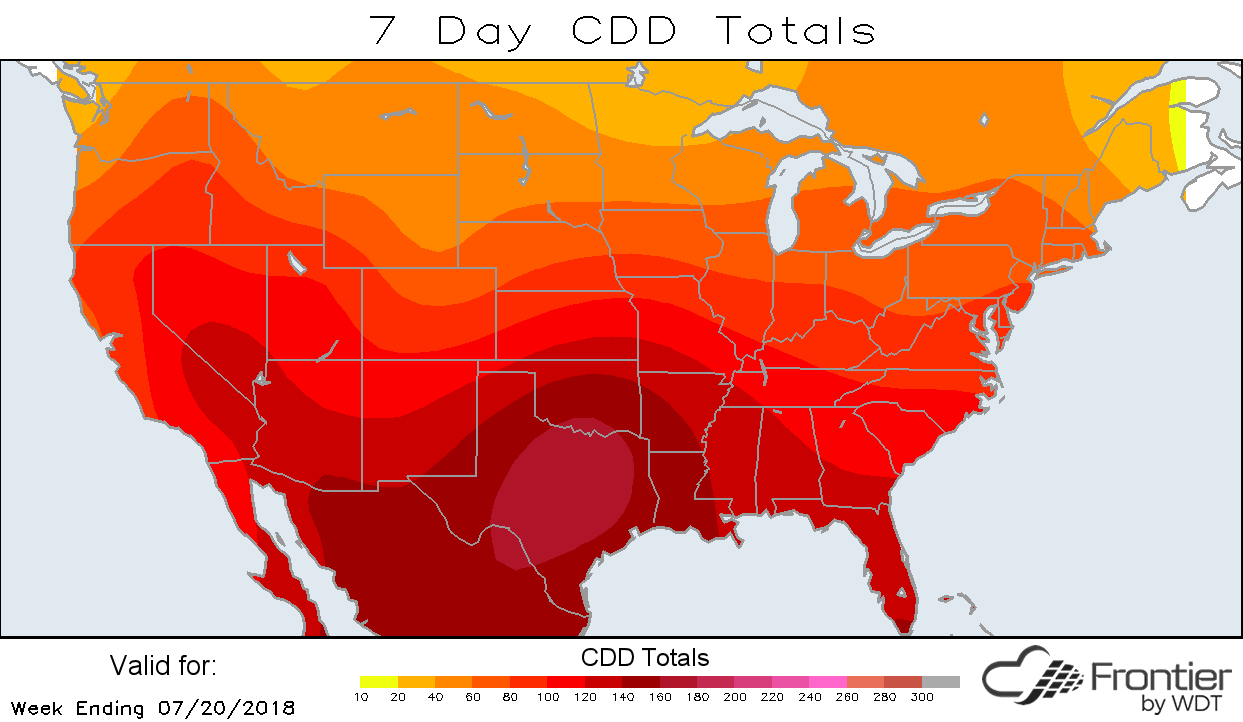 Our Electric Reliability Council of Texas (ERCOT) forecast is a population-weighted CCD count for most of Texas. The gray lines show the 20-year minimum, average, and maximum. The red line is the daily average of CDDs and those forecast for the rest of July. With the heat wave in Dallas, plus forecast for +100°F in Houston, San Antonio, and surrounding areas, the next few days show totals higher than anything seen in the past 20 years. The population has also increased in many of these cities in the last few decades, and the demand for energy has increased as well.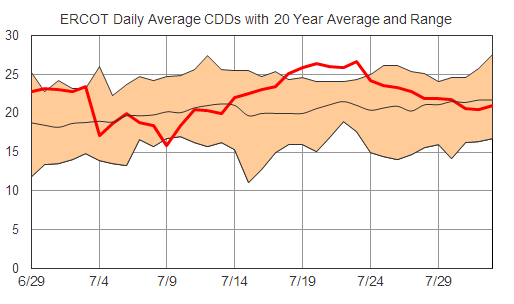 The US isn't the only country dealing with heat. If we take a look at a global map, most continents have locations with anomalies greater than 5°F. This month, high-temperature records have been broken in Armenia, Algeria, and Taiwan. A recent heat wave in eastern Canada led to more than 70 deaths.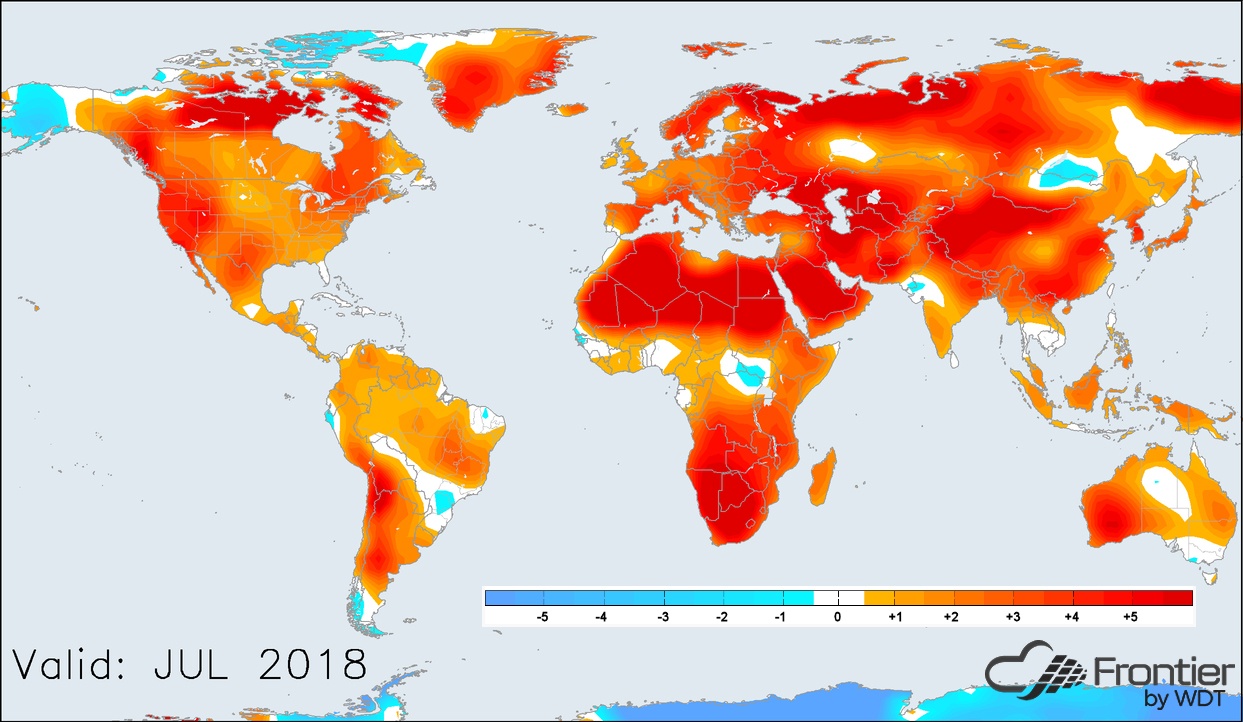 Those who work outside need to be aware of the symptoms of heat exhaustion and try to stay in the shade as much as possible while staying hydrated. Many large cities also have cooling stations, so check for one of those if you have no air conditioning. Don't leave a child or pet in a parked car during these extreme temperatures. August will be here before you know it, so you can expect the heat to continue for a while longer.