Cooler Than Normal Waters Persist Throughout Much of the Tropical North Atlantic
by Chris Kerr, on Jul 27, 2018 2:15:27 PM
The 2018 Atlantic hurricane season got off to an early start when Subtropical Storm Alberto was officially declared the morning of May 25. Since then, there have been two hurricanes, Beryl and Chris, both of which set records. Beryl, which became a hurricane on July 6, was the earliest hurricane on record to form in the Atlantic Main Development Region, or MDR (which extends from 10N to 20N and 20W to 60W). Chris, on the other hand, become the earliest 2nd hurricane of a season to form since 2005.
Why hasn't there been more activity across the MDR this season?

Early season hurricane forecasts for 2018, including our own, took into account that the MDR was cooler than normal and thus overall storm numbers in that region would likely be lower. These cooler waters were caused by a stronger than normal Bermuda/Azores high that has dominated the central North Atlantic for the past several months. This can be seen in the below graphic. The pressures across the region have been anywhere from 2 to 4 millibars greater than normal.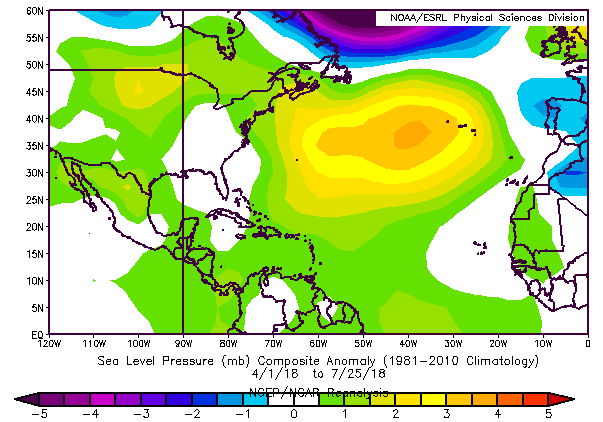 The peak timeframe for tropical cyclone development across the MDR is typically July through September. While Beryl did develop from a tropical wave tracking through the MDR (that tapped into a minimal area of favorable environmental conditions), there has been no other organized activity in the region since. Although there was a brief period of warming across much of the MDR several weeks ago, waters have cooled again due to the persistence of the above mentioned high pressure across the central Atlantic.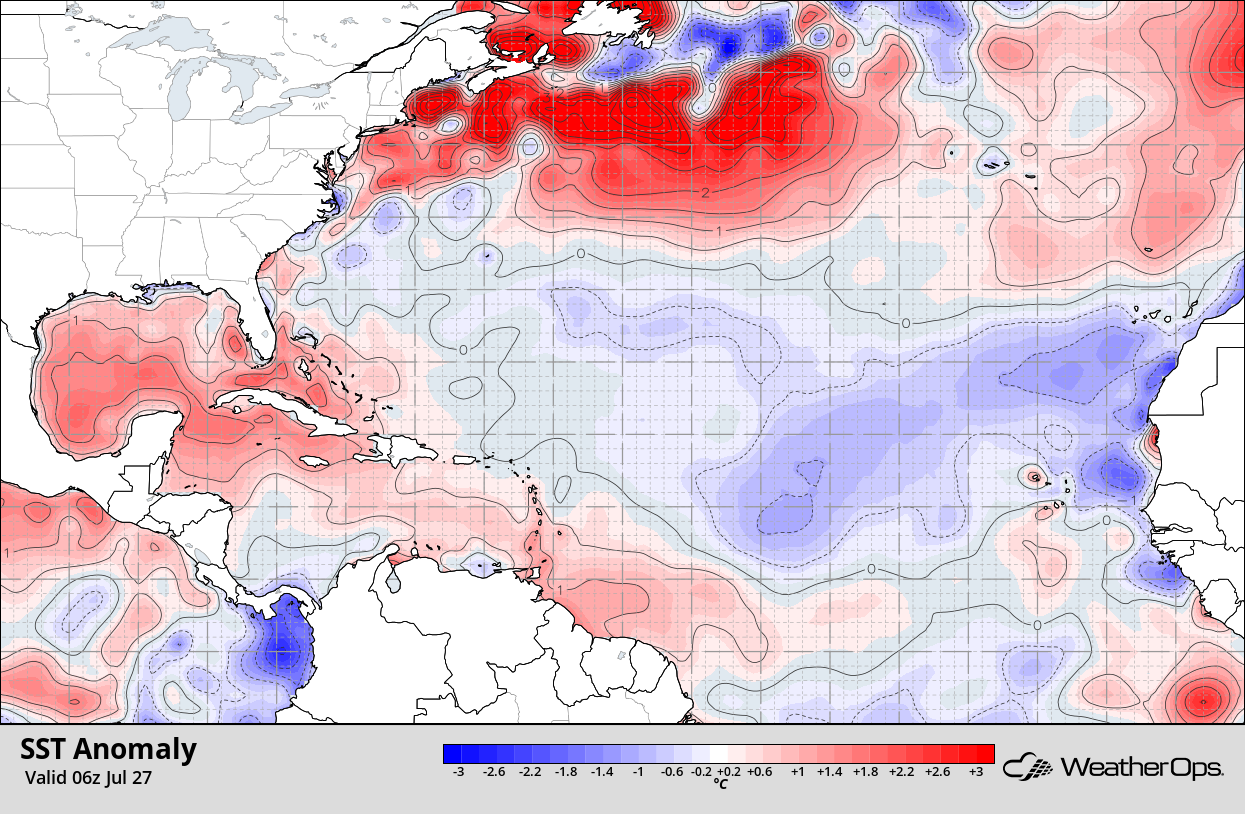 These cooler waters combined with strong wind shear and copious amounts of Saharan dust/dry air has acted to suppress any waves that do move westward off Africa/The Cape Verde Islands in recent weeks. A colder than normal MDR doesn't necessarily mean a less impactful season throughout the entire basin, though the number of tropical cyclones developing/tracking through the MDR will likely be lower than previously thought at the beginning of the season.



Looking further west and closer to the United States, the Gulf of Mexico is ominously warm, with sea surface temperatures running several degrees warmer than normal. Tropical cyclones that can tap into very warm waters can and often undergo significant/rapid intensification. The warmer temperatures this year are concerning, as they may allow for a heightened risk of a significant tropical cyclone during the remainder of the hurricane season across the Gulf. That being said, there are no indications of any development in the Gulf over the next several weeks. However, any tropical waves moving westward through the Caribbean and into the Gulf will need to be carefully monitored.