Camp Fire in California Burning Out of Control
by Daphne Thompson, on Nov 8, 2018 3:40:33 PM
Residents of Butte County, California, are being asked to evacuate as a massive wildfire developed, then quickly expanded in coverage over the course of just a few hours. It has been named the Camp Fire, as it broke out near Camp Creek Road. It was reported earlier this morning as being approximately 10 acres, and as of the time this blog was published, the fire had swelled to over 10,000 acres.
Though the fire looks like it's at campus, it's not. Smoke fills the air. Nearby towns are being evacuated due to #CampFire. Affected students, faculty, and staff are encouraged to go to BMU 210 after 11 a.m. for information and assistance. pic.twitter.com/lTKl3iHbk8

— Jason Halley (@JasonHalley_CSU) November 8, 2018
The towns of Paradise and Pentz, located in the Sierra Nevada foothills, are under evacuation orders. The fire continues to grow and is currently not contained. It is estimated to be moving at 80 acres per minute. Smoke from this large fire can be seen on RadarScope.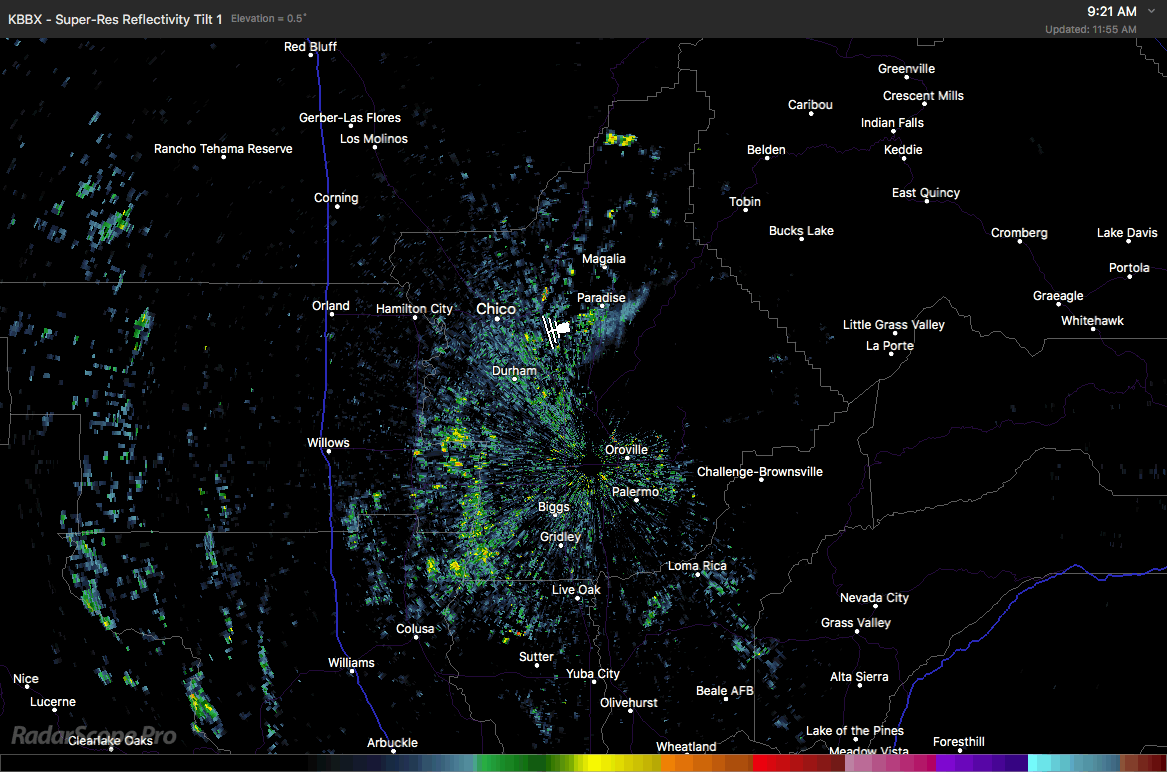 As the afternoon progresses, more towns are being asked to evacuate. Those stuck in traffic, in some cases, are being asked to leave their vehicles and shelter in large, concrete buildings. However, there are reports of numerous people trying to flee on foot and cars left blocking evacuation routes.
#CampFire pulling people out of their cars and sheltering in Walgreens at Skyway x/Billie. They'll be impacted by fire in about 10 minutes.

— Dave Toussaint (@engineco16) November 8, 2018
The area is currently under a Red Flag Warning. Relative humidity in this area is 5-15% and winds are 20-40 mph with gusts up to 65 mph. Any fires that start will spread rapidly in this environment. An air quality advisory is also in effect for the Bay Area through Friday. Those with breathing problems need to stay aware of the conditions. The Diablo Winds will continue to spread the fire.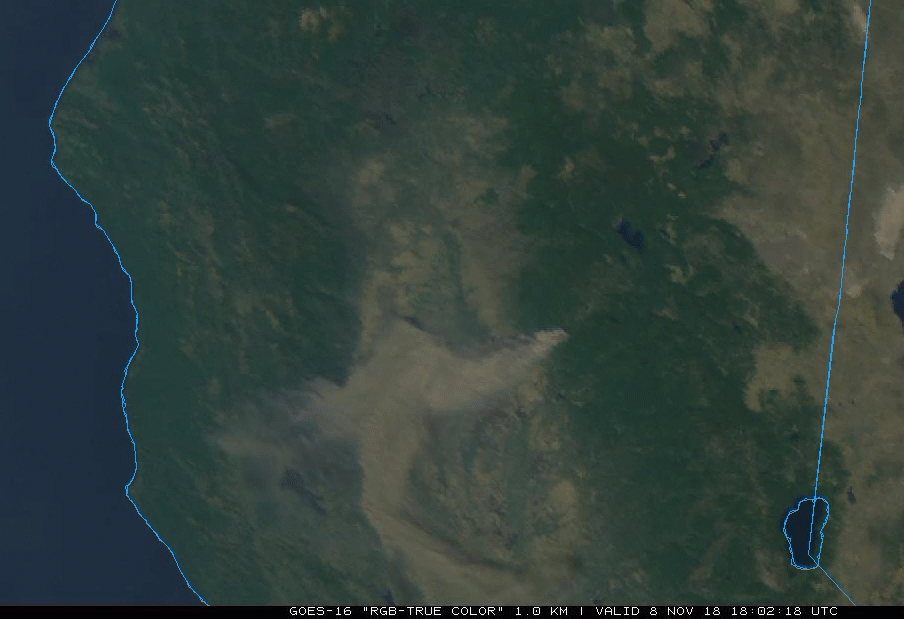 In the past few years, there have been numerous billion-dollar wildfire disasters in California. This one may soon be added to that list. With dry weather conditions, high temperature, and strong winds, much of California is under tinderbox conditions. Those living in the state need to know their evacuation routes ahead of time and be prepared to leave at a moment's notice.