Will Your Fourth of July Feature Nature's Fireworks?
by David Moran, on Jul 3, 2018 1:59:50 PM
Independence Day is tomorrow which means many will be at the beach, on the boat, cooking out, or at the pool. How will the weather affect your Fourth of July plans?
Where Might You See Nature's Fireworks?
Instability should be sufficient from Kansas up through northern Minnesota for the development of thunderstorms. These storms will have the potential to produce large hail and damaging winds. Areas, where thunderstorms may affect your fireworks plans, include North Platte, Nebraska, Sioux Falls, South Dakota, Sioux City, Iowa, International Falls, Minnesota, and Minneapolis, Minnesota. This activity will likely continue into early Thursday morning.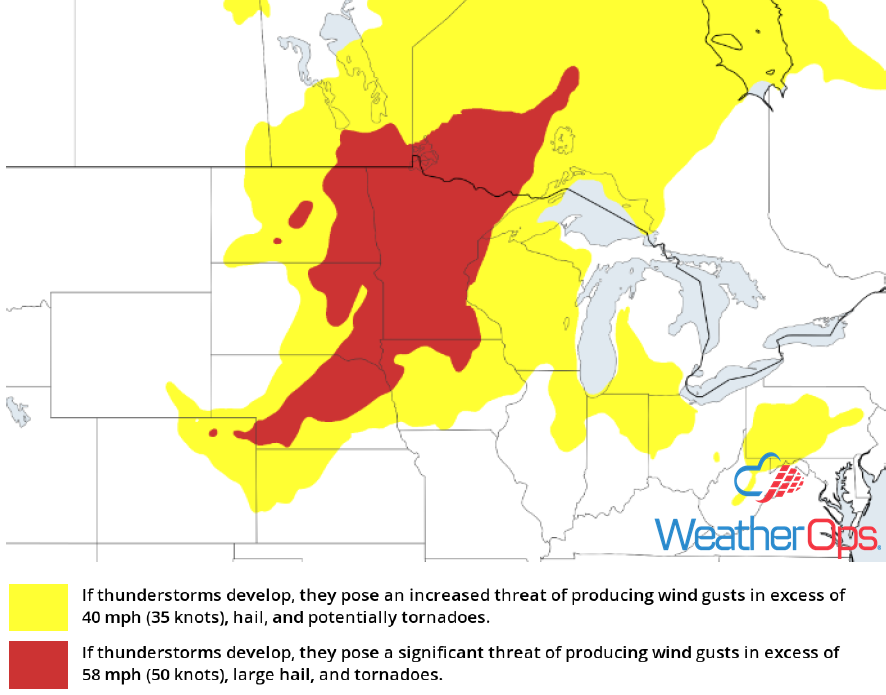 Fourth of July Thunderstorm Potential
Will Your Fireworks Display Get Rained Out?
The thunderstorms across the Northern Plains and Upper Midwest may produce rainfall amounts between a quarter and half an inch of rain. However, for most areas, storms should move out just in time for the fireworks displays in the evening.
Moisture is moving into southeastern Texas and southwestern Louisiana and may bring a potential for heavy rainfall. Rainfall amounts will range 1-3 inches with locally higher amounts over 4 inches. The storms may clear out in time for fireworks in Houston, but further west toward Austin and San Antonio, rain may put a damper on fireworks plans.
Light rain may also develop across the Ohio Valley and into the Northeast. Across Florida, thunderstorms are expected to form during the afternoon hours. Much of the rain will be light and should dissipate in time for the fireworks displays. How much rain can you expect in your area? Here is the precipitation forecast from Frontier Weather.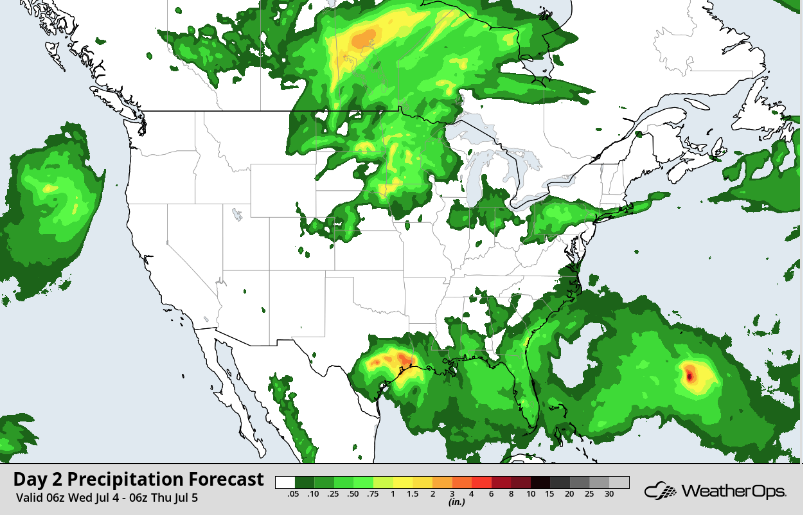 Rainfall Accumulation for Fourth of July
Hotter Than a Firecracker?
Temperatures will be in the 90s for a significant portion of the country from the Desert Southwest eastward to the East Coast. Areas of southwest Texas are forecast to break the century mark. Further north, highs in the 70s and 80s are expected from the Pacific Northwest eastward into the Great Lakes. Make sure you stay hydrated tomorrow if you plan to be outside.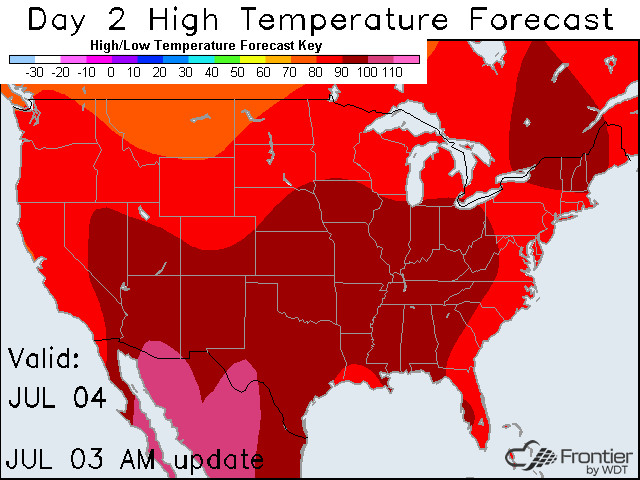 Forecast Highs for the Fourth of July
Staying Safe
If you're one of the many who plans on spending the day outdoors for the Fourth of July, be sure that you're prepared. With temperatures above 90°F across a large part of the country, you'll need to have the sunscreen and hat, as well as plenty of water. Being prepared can help you stay safe during your holiday festivities. Happy Independence Day!