Where Is Your Cruise Ship Getting Their Weather?
by Mike Arellano, on Feb 8, 2016 2:04:53 PM
When you book a cruise, you are probably thinking about the scenic spots you will see, the beautiful ocean and what food you will eat. I bet you're not thinking about where your cruise line gets its weather support. With everything that can happen over the ocean, maybe you should be.
You have decided to book a cruise. You know that hurricane season is from summer to fall, so you figure that February will be a perfect month. You'll get away from the cold and snow and go someplace tropical. As you board the ship, you are already thinking of the pictures you'll take to make those at home jealous, like the obligatory feet by the pool shot. But what if this is the view you see out your cabin window where you have now been sent to stay for numerous hours.
Doesn't look like much fun, does it? However, this is exactly what over 4,000 passengers on the Royal Caribbean's Anthem of the Seas ship experienced. Media reports, on Monday morning, indicated that on Sunday, this cruise ship encountered hurricane-force wind gusts off the South Carolina coast while enroute to Florida. The culprit - a rapidly developing low pressure system just off the Florida coast. According to some of those onboard, the developing storm surprised everybody. These developing winter storms typical develop into "Nor'easters" that track northward along the US East Coast.
In this link, you can see images of broken ceiling tiles, furniture scattered everywhere and water soaked carpets. Passengers say the ship was listing at 45 degrees and everything was rocking and rolling. And now the latest news says that the ship has turned around and is heading back to port in New Jersey. There will be no break in Florida for these hopeful vacationers.
What's even scarier is that the Captain says the weather he encountered was unexpected or not forecast to be this strong. It is not clear why the ship did not anticipate the deteriorating weather conditions and alter its route, or seek safe harbor. WDT WeatherOps was closely monitoring this event and issued alerts to clientele in the affected areas. This particular storm tracked well off the coast, mainly over the shipping lanes. The NWS had issued gale and storm warnings for the well offshore waters, with small craft advisories along the coast. So, the warnings were posted. In fact, the talk about storm conditions was discussed as early as last Friday. Below you can see the surface map from today. The strong low pressure area resembles that of a hurricane.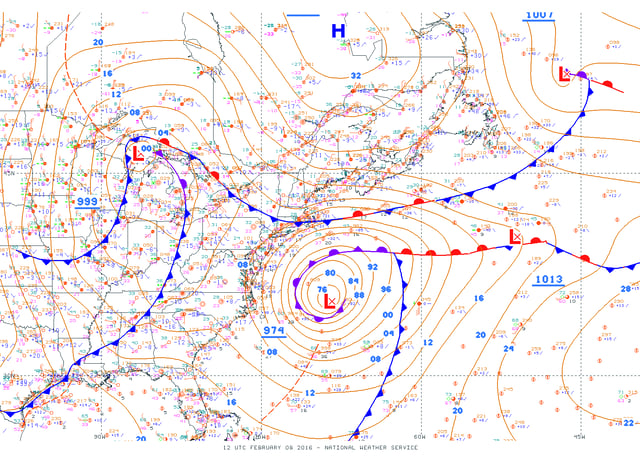 Now, let's look at a visible satellite image of the storm. You can see the clouds winding around the eye. I know that I wouldn't want to be on a boat anywhere near that!
So, where does your cruise ship get their marine weather? It's a very good question and one you should ask next time you book a cruise. For now, WDT meteorologists continue to monitor the US Atlantic Coast and Northeast as another storm system is expected to develop on Tuesday and affect portions of the East Coast and Northeast, from Baltimore to Boston. Travelers should continue to monitor weather conditions closely.