What Do You Do When Nocturnal Tornadoes Strike?
by Daphne Thompson, on Oct 23, 2017 2:21:05 PM
In Oklahoma, we like to say that Tornado Season starts on January 1 and ends on December 31. So, it wasn't a huge surprise when tornado warned storms occurred on Saturday. After all, they were in the forecast, and we all knew to be prepared. Many know what a supercell looks like visually and how to pick out a wall cloud, but what happens when those tornadoes come at night?
If you were like me on Saturday night, you were sitting on the couch watching Game 7 of the MLB American League Championship Series. If you depend on the local news cutting in and letting you know what's going on, then this was the worst thing to watch as tornadic storms approached. Game 7 was not on a local channel, and that means no weather reports, no map in the corner showing warnings, and no crawl on the bottom of the screen to update you on the situation.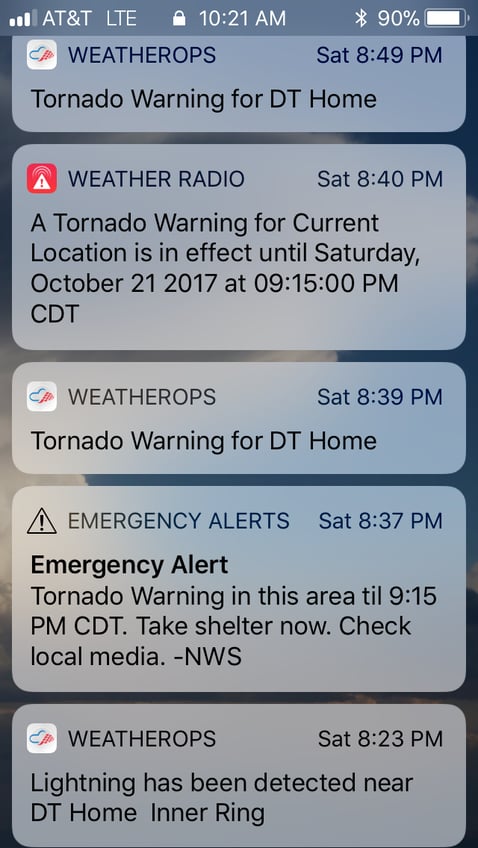 How are you supposed to get weather information if you are either away from home, don't have the TV on, or are in the car driving? For me, my phone was alerting me like crazy. Yes, I am a meteorologist, and yes, I can read radar, but what if you are not a meteorologist? What if you are someone sitting at home or the owner of a nursing home or maybe in charge of a casino where hundreds of extra people are in attendance for a concert?
Wireless Emergency Alerts- This is a public safety system that geolocates your phone, depending on the cell provider, and sends a text alert. On this image, you see it listed an Emergency Alert. Okay, you know you are in a tornado warning. However, if you can't get to a TV, then you can't check local media.
Weather Radio- This mobile app is perfect for the person who wants information, but has no weather degree.

Alerts, local weather, and radar are all rolled into one and in a simple, easy to understand way. Weather Radio will alert you if you are in an area when a weather watch or warning is issued, without you having to do anything. This is perfect for you if you are driving, away from home, or watching something on a non-local channel.
WeatherOps- Need to decide what to do for a large number of people at an event? WeatherOps is the proper tool for you. Stay ahead of weather threats with site-specific forecasts. Get alerts when lightning enters range rings you set up. You can even speak with a meteorologist on-call 24/7 when you are concerned.
Along with following all the multiple alerts, I also kept on top of things with my RadarScope app. If you are a meteorologist, weather fanatic, or TV weather person, you need this app. You can look multiple types of data from every National Weather Service 88D radar, the Terminal Doppler Weather Radars located at airports, and even some research radars.
While I was cheering on the Astros, I also was checking RadarScope. When I see a storm with a warning in Chickasha, I start getting concerned. Experience has shown me that a storm rotating there has a high chance of still rotating when it gets to Norman. Maybe you have a town to your southwest they you keep an eye on too? My next step was to text this image to friends in town that aren't meteorologists as a heads up. I only sent reflectivity as I knew my friends would understand the bright colors and hook shape more than a velocity image.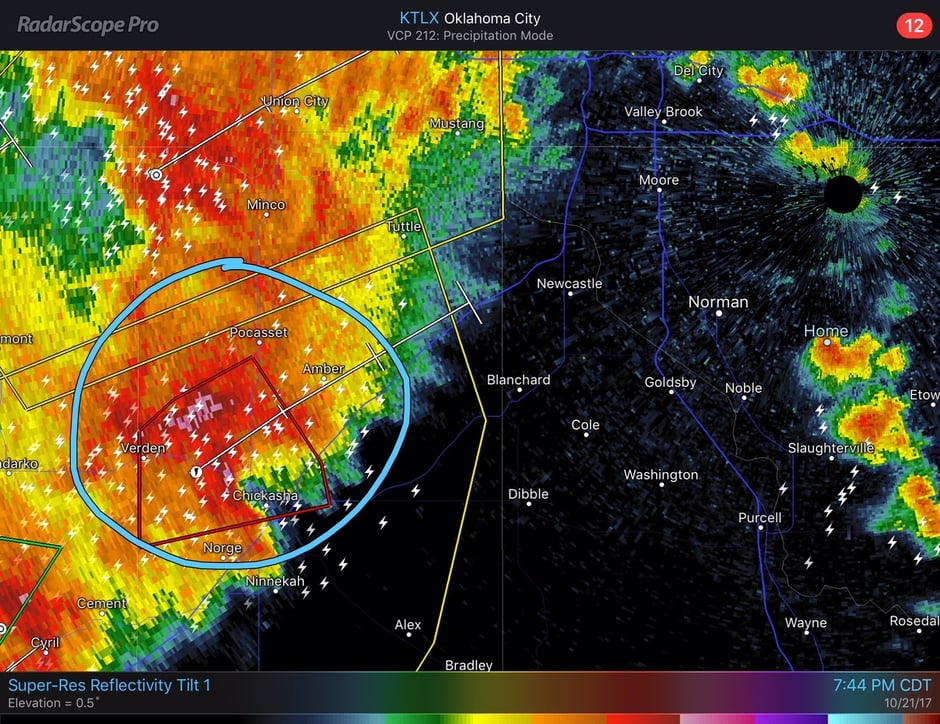 When Blanchard ended up in the warning, I texted my college student to see where he was as I knew he would be watching the game either in his apartment near the campus of the University of Oklahoma or someone else's apartment in the area. At this time, it was more of a location check to let him know what was going on.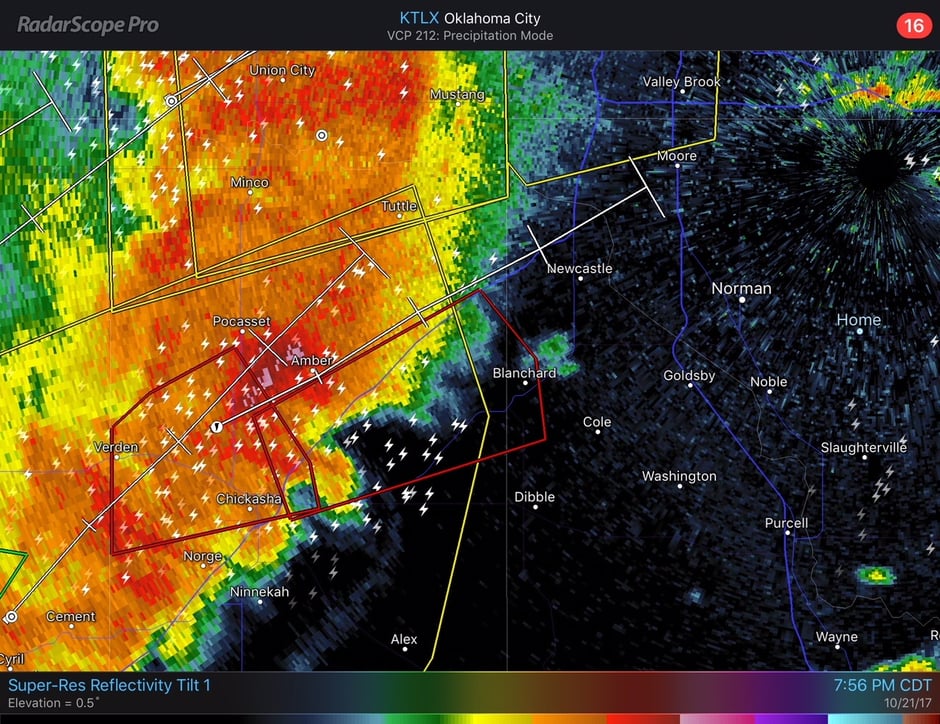 It wasn't long before the storm was approaching Norman. When the tornado warning was issued for town, I again texted my son and a local friend to make them aware, tell them to put on shoes, grab a flashlight and their phone, stay away from the windows, and head to an interior location. Tornado sirens were alarming now, so there was no doubt something was going on even if you hadn't been paying attention. However, if you wait for the sirens, then you have waited too long.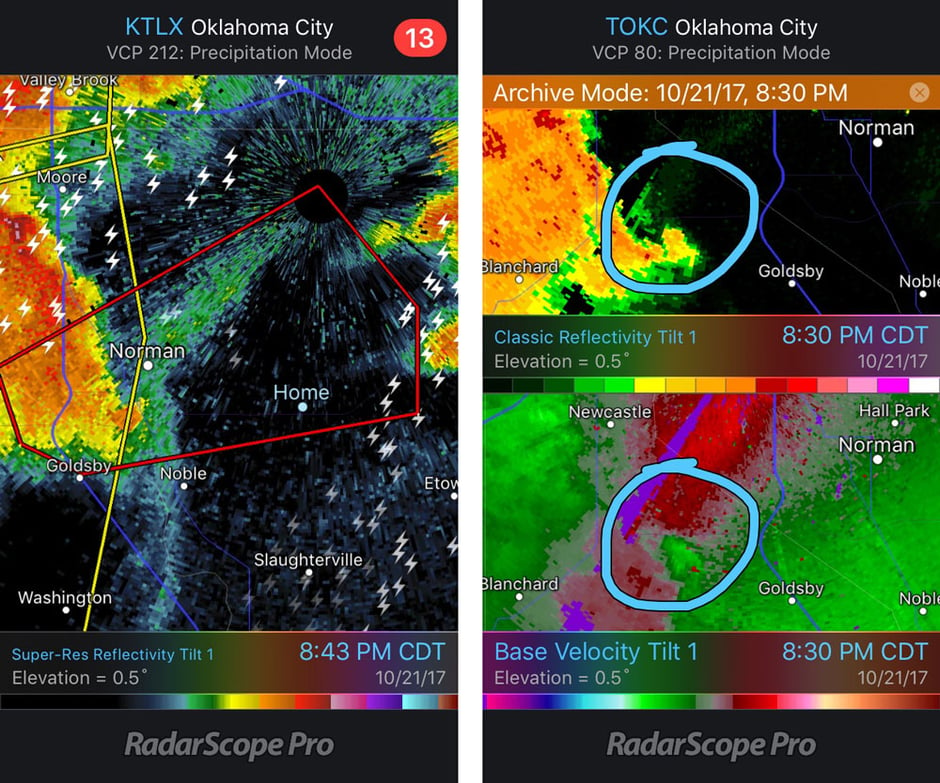 Luckily, this was a weak tornado and didn't stay on the ground for long. A local casino that had a concert going on, and some nearby buildings sustained EF-1 damage, and there were tree and power line damage in that localized area. There were a few pictures that people got near campus, but not many.
My son at OU just sent me a picture of the tornado that came through Norman. #tornado #outornado pic.twitter.com/esBS3VZ3wj

— Erin Taylor Young (@ErinTYoung) October 22, 2017
Nocturnal tornadoes are scary. Without data, it is hard to know what is going on. With so many people watching Netflix or non-local channels now, it is becoming harder to ensure people are informed about weather warnings. Make sure you are prepared with appropriate information. Having the right tools to stay weather aware can keep you and those close to you safe.