Weather Decision Technologies, Inc. Announces Acquisition of Frontier Weather
by Steve Miller, on Sep 1, 2016 12:59:39 PM
Transaction to further reinforce WDT as the global leader in weather analytics and risk mitigation via SkyWise® precision data and WeatherOps® decision support services.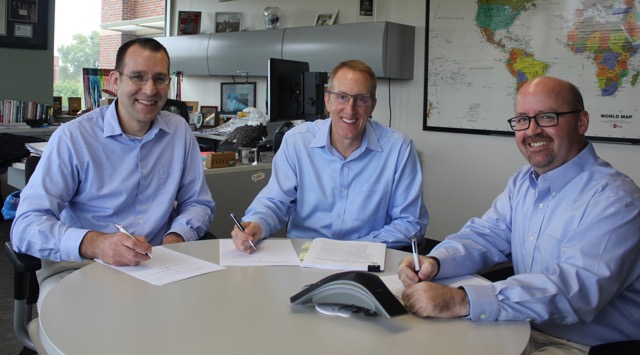 Norman, OK – September 1, 2016 — Global weather risk and analytics leader Weather Decision Technologies, Inc.® (WDT) announces completion of its acquisition of Frontier Weather, Inc.®, based in Tulsa, Oklahoma. Frontier Weather, established in 2003, is a leading long-range weather data provider and analytics visualization company with deep ties to the energy and utilities industry as well as agriculture, among other disciplines.
"We are pleased with the acquisition of Frontier Weather, to further complement our SkyWise® weather data and WeatherOps® decision support system offerings. In Frontier Weather, we saw an experienced management team with deep domain expertise and a robust technology background validated by many customers of theirs in the Fortune 500," says Mike Eilts, President & CEO at WDT.
The Standard & Poor Global 100 Index reports that 90 percent of companies identify extreme weather and climate change as a current or future business risk. WDT meets this challenge head-on. Already at the forefront of weather risk mitigation, the addition of Frontier Weather means both company's clients will be rewarded with longer lead-times and more actionable information.
Frontier Weather owner Stephen Strum shared his thoughts on the acquisition: "We are excited to join the WDT family. WDT brings us the scale we need to grow our information base and overall product offering while helping us accomplish the goal of creation and delivery of unique, precision weather forecasts and analytics."

Learn more:
A 7-day free trial of Frontier Weather by WDT can be accessed at www.frontierweather.com. For more information about WDT, visit www.wdtinc.com. Follow us on social for the latest weather and corporate news @WeatherDecTech.
About Weather Decision Technologies:
Headquartered in Norman, Oklahoma, U.S. Weather Decision Technologies, Inc. provides organizations with weather analytics and decision support on a global scale. The company utilizes big data solutions to develop and provide weather analytics such as hazardous weather detection and prediction, high resolution forecasts, decision analytics, content for mobile apps as well as interactive mapping. WDT employs the world-renowned WeatherOps forecast team, staffed by experts who provide global asset protection and commodities trading decision support. Be it asset protection, positioning of goods and services ahead of weather or as response to weather, or simply warning the general public of impending adverse weather, WDT has a product to fit any need.