Tropical Moisture Causes Flooding across South Texas
by David Moran, on Jun 22, 2018 1:40:00 PM
Heavy rain fell over portions of southern and southeastern Texas earlier this week as tropical moisture streamed northward from the Gulf of Mexico, causing flooding across much of the region. Corpus Christi and Weslaco, Texas were among the hardest hit by the flooding.
Rain began falling across the region on Sunday and is continuing to fall, with some of the heaviest of the rain falling near Corpus Christi. Some areas have picked up nearly a foot of rain since Sunday morning, Below is a radar loop of storm total precipitation totals from Sunday morning through late Thursday morning from RadarScope. Pink colors indicate nearly 10 inches of rain.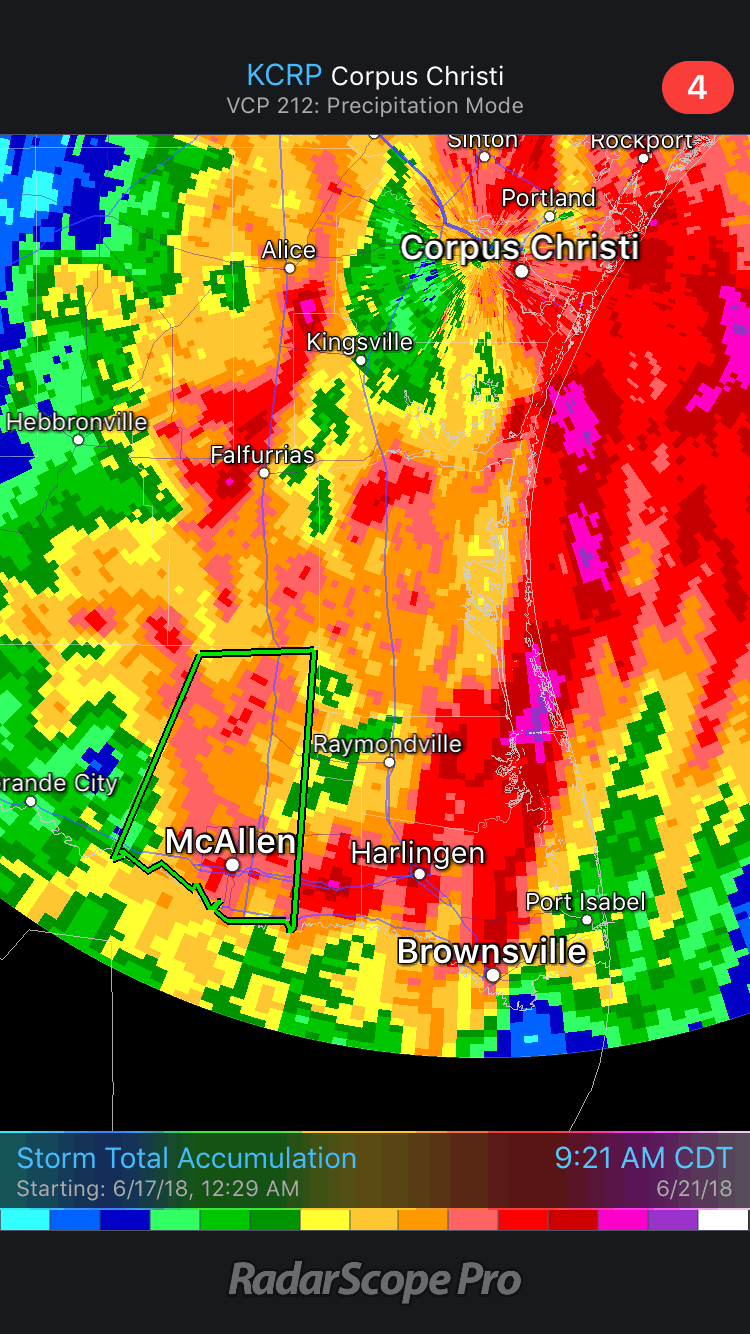 Storm Total Precipitation June 17-21, 2018
This is a look at some of the flooding that has occurred in the Corpus Christi area.
Heavy rain and ongoing flooding currently in Corpus Christi, TX. Some spots have seen over 10 INCHES of rain! Wow.
Video from: kinglucylu. pic.twitter.com/biEtSyzWql

— Brian Smith WTVC (@StormTrackBrian) June 20, 2018
Several people have been rescued across southern and southeastern Texas as a result of the flooding. Another area that has been experiencing serious flooding is Weslaco, Texas (northwest of Brownsville), where nearly 11 inches of rain has already fallen. This is a picture of the flooding that has occurred near Weslaco from Wednesday morning.
Flash flooding this morning in South Texas. This is what Texas Blvd in Weslaco looked like this morning. Updates as we get them on https://t.co/xgVHlZtVT4 #TxWx #RGV pic.twitter.com/fRiuRYVfWh

— Gerardo (@grlopez4) June 20, 2018
Around the time of this picture, one-hour rainfall accumulation near Weslaco was near four inches. Here is a radar image from around 8 am Wednesday morning, as well as the one-hour rainfall accumulation.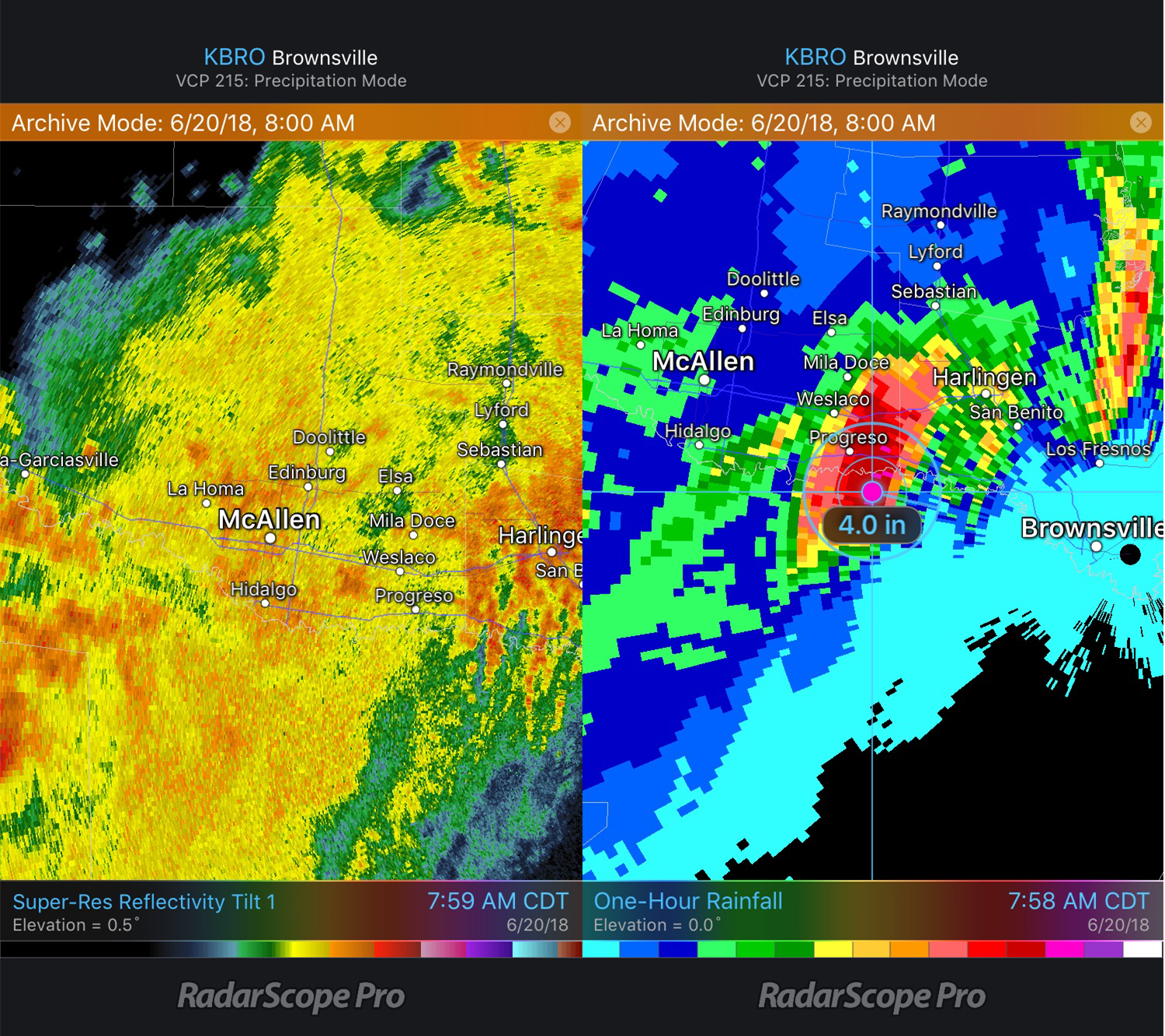 Reflectivity and One Hour Rainfall 6/20/18 8am CDT
The rain has come to an end across southern and southeastern Texas, but is more on the way? Here is the precipitation forecast for the next 7 days from Frontier Weather.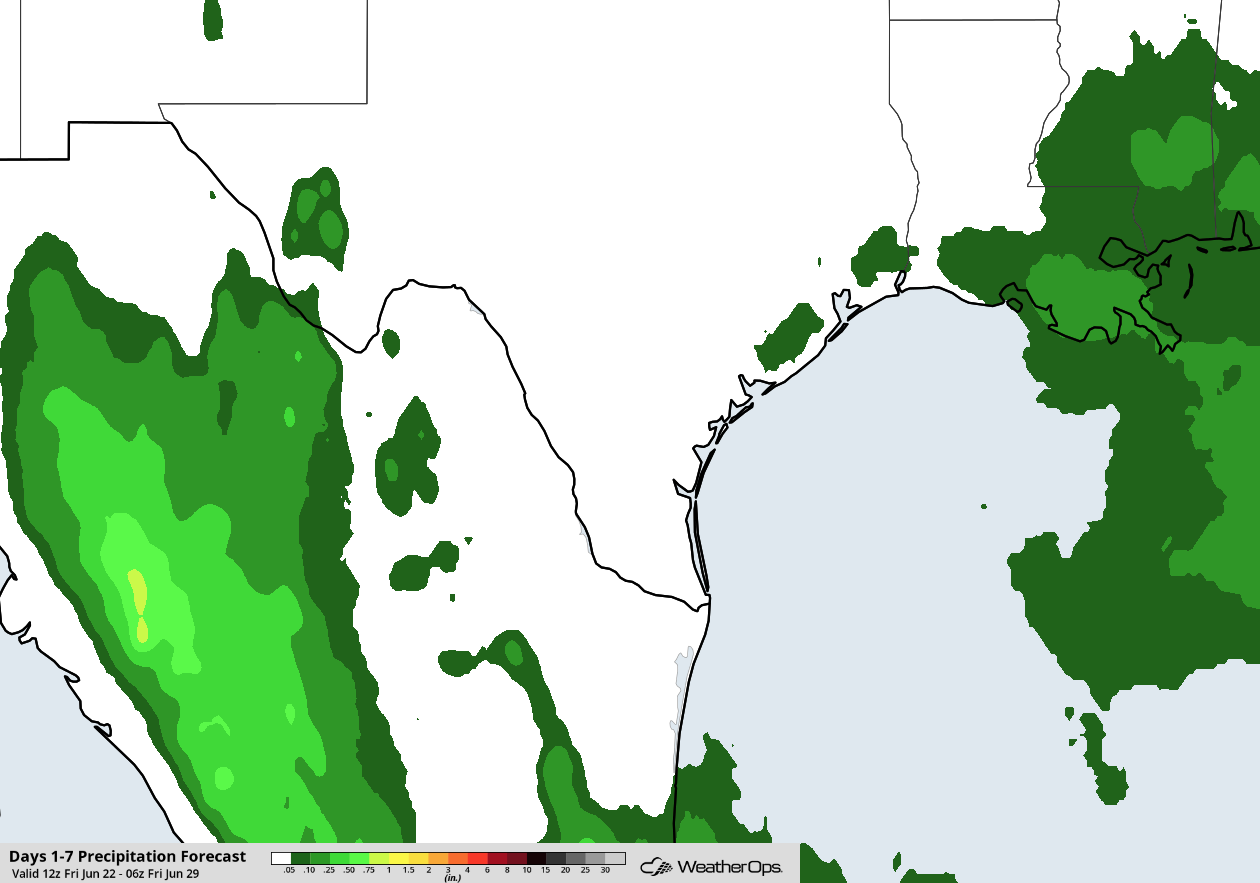 Forecast Rainfall Through 1am CDT June 29

Little to no additional rain is expected across southern and southeastern Texas over the next seven days. This is good news for those waiting for flood waters to recede.