Thailand Cave Rescue Operation – A Meteorologist's Perspective
by John Tharp, on Jul 11, 2018 2:04:31 PM
After the past few days, to say that we are all profoundly relieved by the outcome of the cave rescue operation in Thailand would be an understatement. Tremendous credit is due to the individuals on the ground in Thailand for carrying out such a remarkable rescue operation. In fact, words probably fall short when describing their heroic efforts.

I've personally been hesitant to say much about my, and WDT's, involvement in forecasting for this rescue effort, as publicity isn't why we jumped in to help. As a meteorologist, it's humbling to know that the rainfall forecasts we provided were able to have such an impact on the planning and execution of the rescue. The thank you messages we have since received from those involved are some of the most meaningful of my career.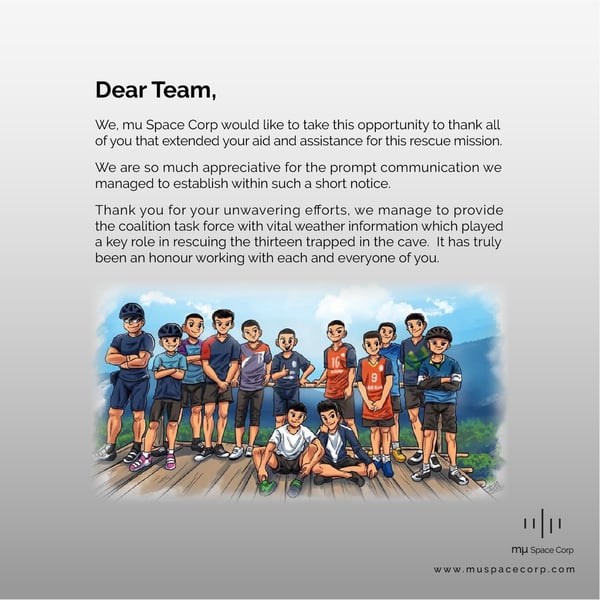 As meteorologists, we often forecast for "boring" day to day weather conditions, but these moments when the information we provide has such critical real-world ramifications are when we have to be at our best and why many of us are involved in meteorology in the first place. With that said, I wanted to offer some perspective on what was involved in our forecast efforts.

Early on Saturday our CEO, Mike Eilts, received a request for assistance from one of his contacts at Google. There was an urgent need for reliable short and long-range rainfall forecasts to assist the rescue efforts. The response here at WDT was swift, our modeling team, headed by Dr. Richard Carpenter, setup high-resolution forecast models for northern Thailand and our long-range forecasting group, led by Steve Strum, rapidly assembled relevant supporting graphics and large-scale forecast information for the region. I was tasked with considering all of that information, as well as additional data from our 24/7 WeatherOps team, to produce the forecast briefings and coordinate communication with our contacts in Thailand and elsewhere. While we were all previously aware of the ongoing rescue efforts going into the weekend, none of us would have expected that we would soon be involved in forecasting to support these efforts.

At this time of year, Thailand is well into their rainy season, brought on by the seasonal monsoon. Monthly rainfall totals for much of the country are very substantial this time of year. In fact, July and August each often average a foot or more of rain in the vicinity of the cave site, with August typically being the wettest month. Our initial forecast through the end of the month confirmed these expectations and indicated worsening conditions in the weeks ahead. These weather conditions added an enormous amount of urgency to the rescue efforts, knowing that as the days progressed more and more rain would fall and that the risk for heavy rain would increase.

One of the unique considerations for this rescue operation was to determine how much rainfall it took to cause worsening flooding in and near the cave. As meteorologists, we typically consider flooding for creeks and rivers, not underground. A team effort was undertaken to determine how much rainfall had occurred during a heavy rainfall event in late June. This would give geologists on the ground that had observed the flooding during that event a better understanding of the magnitude of rainfall that would cause future problems.

From that point forward, I continued sending rainfall forecasts and collaborating with our other team members, all the while hoping for the best possible outcome. One of my biggest worries was that a hard to forecast localized thunderstorm might impact the cave site. That type of situation could have rapidly produced larger than forecast amounts of rain and caused serious problems for those on the ground. As meteorologists, it's often difficult for us to know what impact our forecasts are having until an operation has been completed. It was a tremendous relief when we began receiving updates of successful rescues and that finally, on Tuesday morning (CDT), all had been rescued from the cave.

I hope this piece provides some insight into a meteorologist's perspective on this remarkable rescue and I cannot express strongly enough how incredible and heroic the efforts of the rescuers in Thailand truly were.