Super Typhoon Trami Heads for Japan
by Daphne Thompson, on Sep 25, 2018 1:34:55 PM
Super Typhoon Trami is currently heading for Japan. This massive cyclone has winds equivalent to that of a Cat 4 hurricane. There are numerous small islands in its path, including Okinawa where a US airbase is located. There have been many amazing images of this typhoon. Here are a few.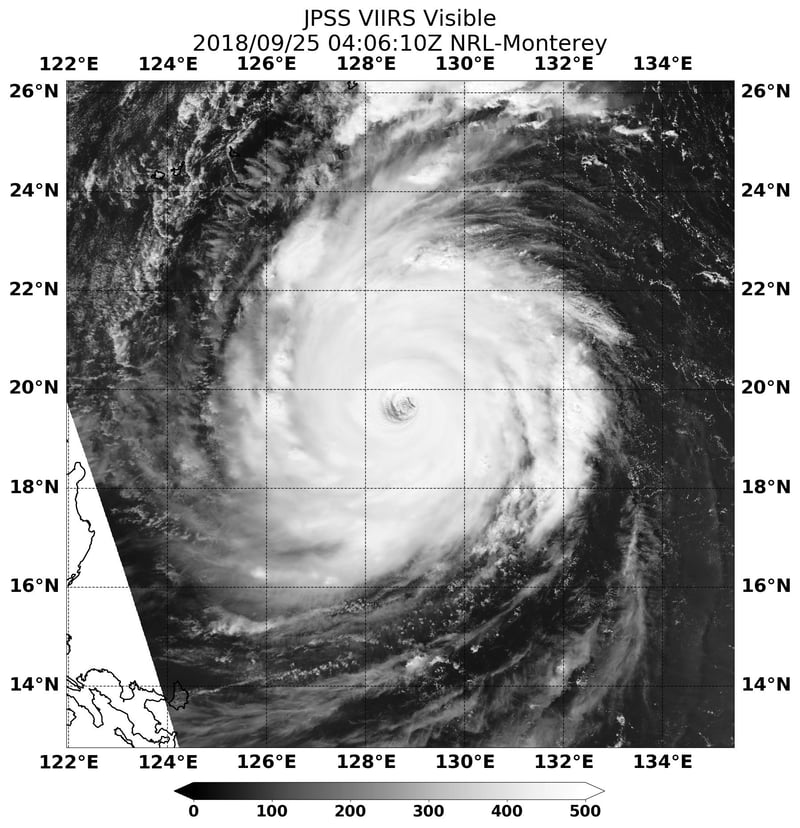 Earlier this week, Trami underwent an eyewall replacement cycle. This action happens when the current eye contracts so much that the outer eyewall takes over and forms around the old one. As this occurs, the storm usually weakens. When the replacement is complete, the hurricane may again intensify.
ICYMI: Typhoon #Trami eyewall replacement on Sept 23-24. Textbook case. More info & imagery on the CIMSS Satellite Blog at https://t.co/qpl8spxKnn pic.twitter.com/2ObNznQI3f

— UW-Madison CIMSS (@UWCIMSS) September 25, 2018
The larger eye has lead to some awe-inspiring images taken from the Himawari satellite and the International Space Station.
As if somebody pulled the planet's gigantic plug. Staring down the eye of yet another fierce storm. Category 5 Super Typhoon Trami is unstoppable and heading for Japan and Taiwan. Be safe down there! #TyphoonTrami pic.twitter.com/0K7gcHiQV9

— Michael Homburger (@shuttle_mike) September 25, 2018
In this image, you can see not only the size of the typhoon, but also the giant eye in comparison to the island countries nearby. Trami is currently heading straight north but is expected to curve towards Japan.

Composite image of #category 5 super-#Typhoon #Trami, approaching #Japan, from 06:00 UTC on Wed, 25 Sept. 2018. Get #wind forecast at https://t.co/sDRoxgZbJW or download our free iOS/Android app & STAY SAFE

Copyright: 2018 EUMETSAT pic.twitter.com/fslzvlSMcr

— asuka 🇸🇬 (@asuka_SGP) September 25, 2018
Trami has shown signs of weakening today. It is only moving at 1 mph and therefore it is losing the ocean heat on which tropical storms feed. This slow speed should provide plenty of time for evacuations and storm preparations to take place.
Night has fallen over Super Typhoon #Trami, but we can still see the storm in infrared. The #Himawari-8 satellite got this view of the powerful cyclone tracking east of Taiwan as it heads north toward #Japan's Ryukyu Islands later this week. More: https://t.co/Ns4sZ3pT1l pic.twitter.com/PgzR6iLZFi

— NOAA Satellites (@NOAASatellites) September 25, 2018
WeatherOps shows the damaging wind swath extending past the Ryukyu Islands and into the southern tip of Mainland Japan.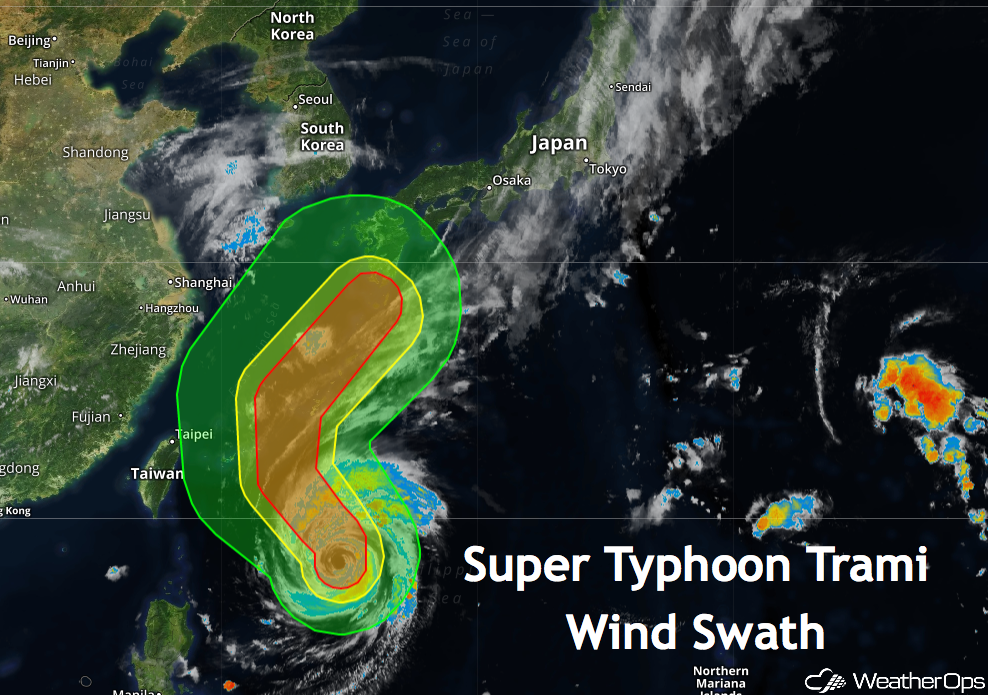 This storm will be one to watch over the next few days. Those with RadarScope should keep an eye on the RODN radar in Kadena, Japan. There should be some pretty impressive images as it passes by.