Strong Winds Threaten Safety and Performance in the Winter Olympics
by Daphne Thompson, on Feb 16, 2018 2:23:10 PM
With the coldest Winter Olympics in decades, many athletes are in their element, preferring the chill to warmer games in years past. With the cold has come strong and gusty west to northwest winds, which have postponed competitions and threatened athletes' safety and performance on the slopes.
Six days into the Winter Olympics, numerous ski events have been postponed due to strong winds including:
● Men's Downhill
● Men's Super-G
● Men's Ski Jump
● Ladies' Slalom
● Ladies' Giant Slalom
● Ladies' Biathlon
● Nordic Combined

On Wednesday, February 14th, Olympic Park, host of the ice events and outdoor performances, in Gangneung, South Korea was temporarily closed due to high winds. WeatherOps meteorologists predicted wind gusts over 70 kph (40 mph) were possible this day. Officials asked spectators to move indoors as strong wind gusts tested the integrity of temporary outdoor structures and event created flying debris. Qualifying rounds for several events were also canceled due to the windy conditions.

However, the women's slopestyle snowboarding final carried on in the strong crosswinds. Some believe weather conditions were not suitable for a fair competition after only 20% of the riders completed the first run without falling. The finals concluded with over 80% of the runs ending in falls. One Australian competitor, Tess Coady, tore her ACL in practice due to the harsh winds.
Winds at #PyeongChang2018 have wreaked havoc at the slopestyle, and Australia's Tess Coady says the gusts played their part in her ACL injury https://t.co/euAJvyW7v5 | @BenLisson pic.twitter.com/ZD59ipMEXQ

— ABC Grandstand (@abcgrandstand) February 12, 2018
Winds funnel through the valleys of the Taebaek Mountains routinely during winter and are more intense at higher elevations. The men's downhill starts at an altitude of 1,370m (4,495ft), making that event especially vulnerable to treacherous crosswinds. These strong gusts pose several dangers during the Olympic games:

● Athlete collisions with gates and safety netting
● Athlete falls on ski and snowboarding jumps
● Toppled tents and flying debris
● Damage to athletic and news agency equipment
● Chair lifts unable to operate safely
The upcoming week shows additional days where wind may be a factor for participants at the Jeongseon Alpine Centre. The yellow squares on the WeatherOps Daily Planner mean that winds of more than 48 kph (30 mph) will affect the area. Red, yellow and green are based on custom thresholds defined by the client. Medal runs of the Ladies' Super-G, and Men's Slalom are currently scheduled to take place during these strong winds with additional wind chill and snow/ice accumulations issues taking place.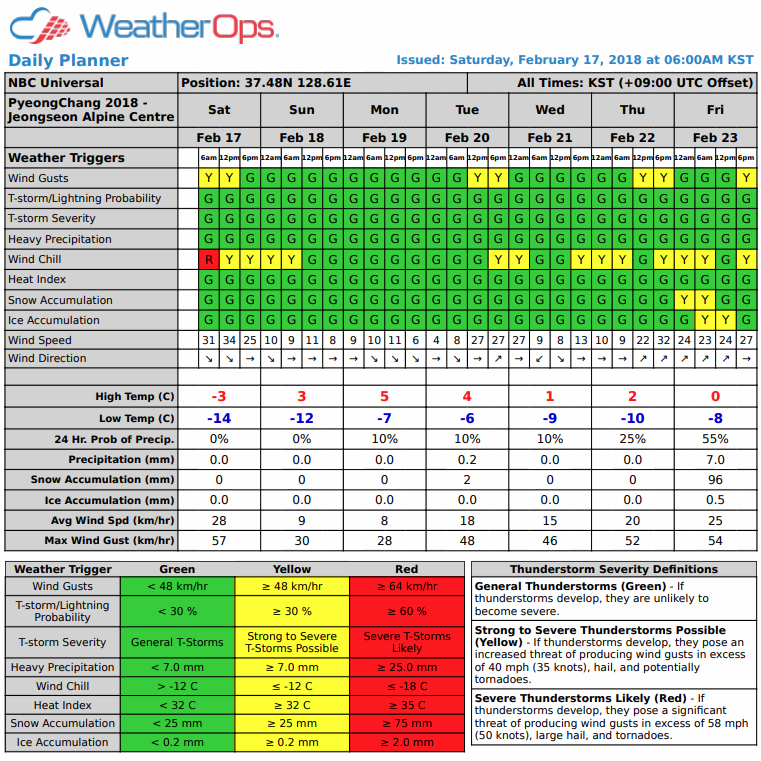 To minimize these risks, WeatherOps provides continuous weather support, including 24/7 access to our Forecast Desk, to directly address forecast concerns and discuss impending hazards.