A Sizzling Start to Summer
by Eric Faulkner, on Jun 28, 2018 1:56:30 PM
Remember that cold April? I don't think anyone does at this point. After the second coldest April on record, the transition to summer has gotten off to a sizzling start.

Not only was May the warmest on record for the United States dating back to 1981 but June is likely to finish second warmest, just behind the extremely hot June of 2010. It is incredible how consistent and extreme temperatures have been over the last few months across the country, and this chart is a good illustration: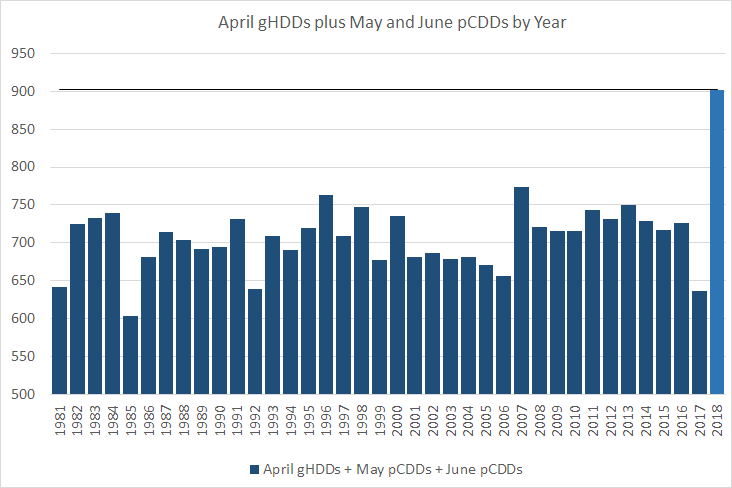 This image illustrates total gas-weighted HDDs from April combined with population-weighted CDDs from May and June. One of these years is not like the others. The temperatures over the past three months have allowed for increased demand and can be partially tied to the rising natural gas prices. Even with increased production, things could get interesting for the upcoming winter if summer temperatures continue at this intensity through August.

Temperatures will continue to remain hot and well above normal, at least in the near-term, with ridging building over the Midwest and into the Eastern US by the weekend and for the 4th of July holiday next week. The current forecast is for highs to reach into the low to mid-90s in many locations:



Earlier in the week, there was talk of an "historic-level" heat wave circling Twitter due to output by the GFS model. Here are some examples of the GFS forecasts for Washington, DC, New York and Boston from Monday (images from weathermodels.com):


Yes, you are reading these correctly. The GFS was predicting high temperatures to peak near 110 degrees with lows in the mid-80s into early next week. The forecasts by the model have since backed off, but this is one of the many examples as to why raw model data should not be taken as gospel, particularly at that lead time. Over the past 90 days in the forecasted 6-10 day period, the GFS has had a warm bias (and typically does), especially along the I-95 corridor: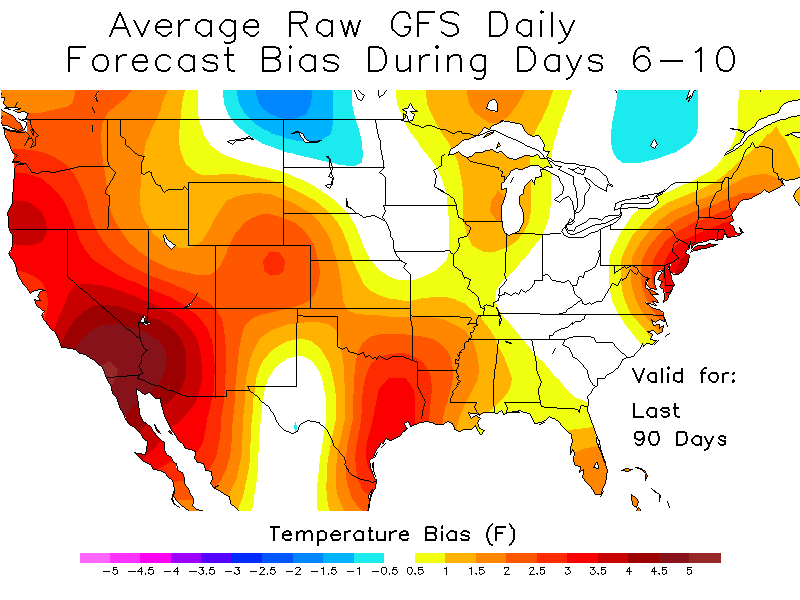 While temperatures will not be "historic," temperature anomalies will range from 8-15 degrees above normal as we approach the hottest stretch of summer. Humidity will also be on the rise with dew points pushing into the 60s and 70s. This moisture will allow heat index values to creep above 100 for many of the cities listed above.

To keep track of the ongoing summer heat and how temperatures could impact gas even heading into next winter, please sign up for a free trial of our of Frontier Weather service.