Pancake Ice Seen on Lake Michigan
by Daphne Thompson, on Jan 24, 2019 2:33:06 PM
Search for "pancake ice", and you'll undoubtedly get results for places that serve breakfast and ice cream. However, it is a winter phenomenon with a very unusual appearance that has recently been spotted on Lake Michigan.
It's Return of the Pancakes. Monday morning in Chicago. #weather #news #winter #chicago #ilwx pic.twitter.com/a8mp7Lrf3L

— Barry Butler (@barrybutler9) January 21, 2019
Pancake ice can be found every winter in the Baltic Sea, around Antarctica, and also in the Great Lakes. It is formed when slushy water becomes agitated. As the water freezes and begins to bump together, rims will build giving it the appearance of a lily pad or icy jellyfish. They are usually only a few inches thick but can grow as large as 10 feet in diameter. With continued motion, they will freeze together making a solid sheet of ice.
Flying over partially frozen Lake Michigan was pretty cool though. pic.twitter.com/qtA94LKuzu

— Kate Warren (@KateWarrenCLE) January 22, 2019
Frigid temperatures in the Great Lakes area have caused quite a bit of ice to develop. But before you decide to play some lake hockey or go ice fishing, make sure the ice is thick enough to support you. It should be clear and at least 4 inches thick. A former NHL player, John Scott, recently fell through the ice of Lake Michigan while trying to clear it off to make a skating rink for his family. If he had trouble judging the thickness of the ice, I'm betting others also will.
Pancake ice out on the Genesee River! #roc #icebaby pic.twitter.com/N5BDIkf2sd

— SCOTT HETSKO.2019 (@scotthetsko) January 21, 2019
This form of ice isn't limited to the Great Lakes. It was recently spotted on the Genesee River, a tributary of Lake Ontario located in New York.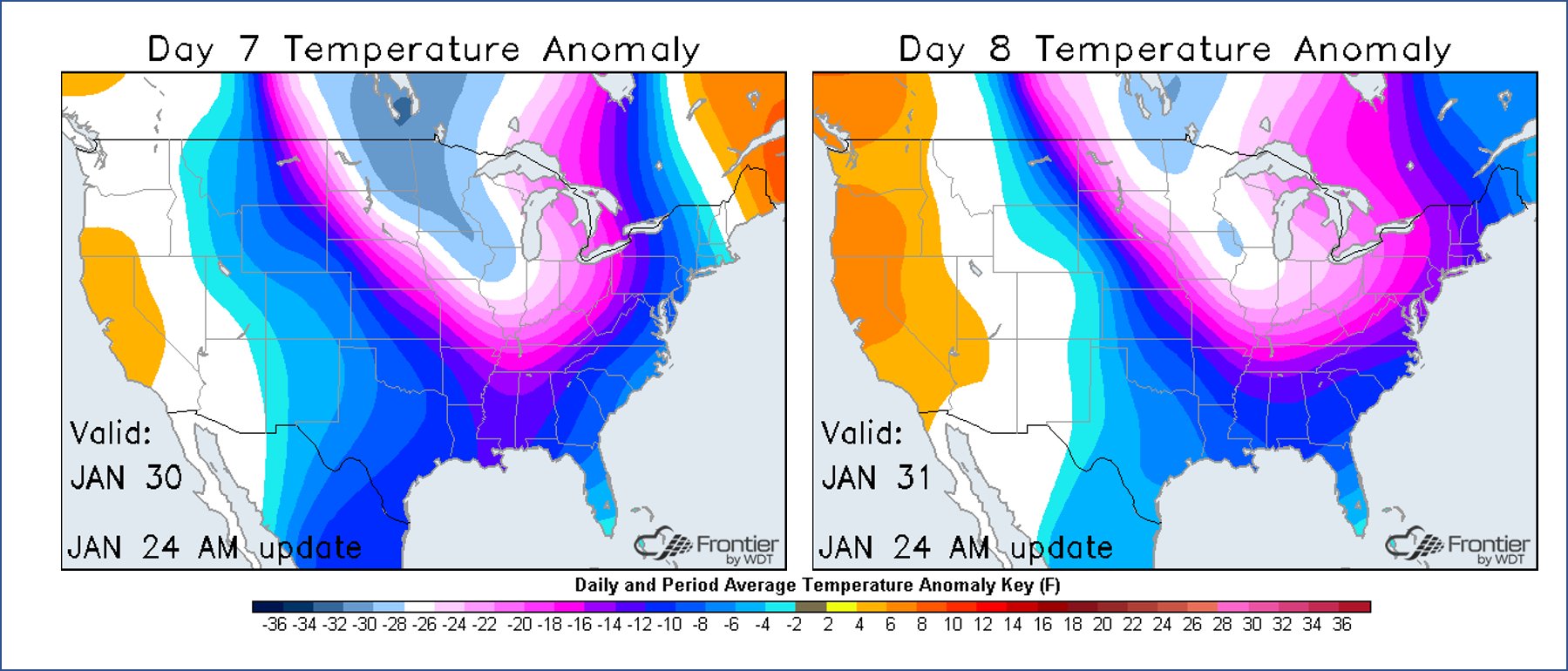 If you live up north and think it's cold now, well put on another layer because it's about to get a whole lot colder! Forecast models are showing a large area of negative temperatures flowing into the states. By the last week of January, temperatures from the negative teens to negative 30s will be spreading from the Dakotas to New England. Frontier Weather shows anomalies of 25-30 degrees below average. Don't be surprised to see other unusual icy phenomena appearing!