National Weather Summary for Wednesday, November 2, 2016
by David Moran, on Nov 2, 2016 10:33:52 AM
Thunderstorms expected to develop across portions of the Central Plains and Missouri Valley on Wednesday ahead of a cold front. Across portions of west Texas and southeastern New Mexico, a few thunderstorms will be possible as instability builds through the afternoon. Thunderstorms will continue across west Texas and southeastern New Mexico on Thursday, allowing for the risk for excessive rainfall and flooding.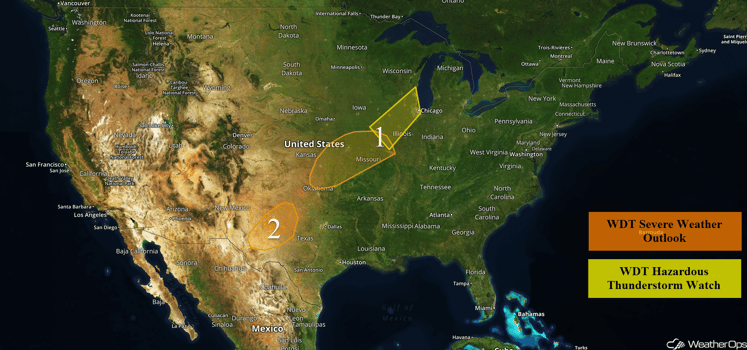 US Hazards

Region 1
Thunderstorms have developed across portions of Wisconsin and Illinois. These storms should continue through the morning with hail in excess of 0.75 inch, wind gusts in excess of 50 mph, heavy rain, and frequent lightning the main hazards. Further to the southwest, thunderstorms will be possible across the mid-Mississippi Valley and into the Great Plains along a stalled frontal boundary. As instability increases with daytime heating, there will be a potential for a few strong to severe thunderstorms across Region 1, mainly during the afternoon hours. The primary hazards with these storms will be gusty winds and hail. The severe threat should begin to diminish by the evening hours as instability decreases and the front begins to move off to the southeast.
Major Cities in Region: Wichita, KS, Tulsa, OK, Kansas City, MO, St. Louis, MO, Chicago, IL, Milwaukee, WI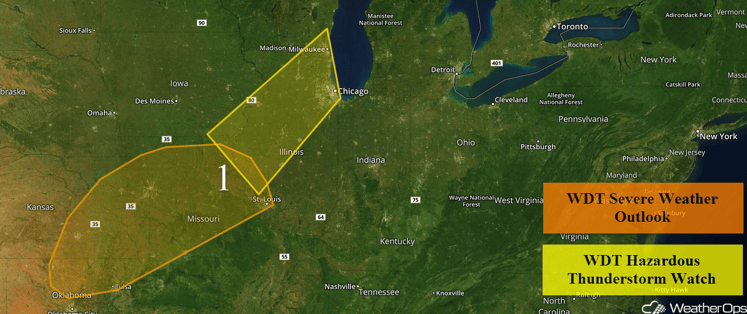 Region 1
Region 2
Thunderstorms are expected to develop and increase in coverage late this afternoon and on through the evening and overnight hours in the vicinity of a slow-moving frontal boundary. Favorable upper level winds will allow for the potential for a few strong to severe thunderstorms, with gusty winds and hail the primary hazards. The main timing for this severe potential will be during the afternoon and early evening, but isolated strong to severe thunderstorms will be possible on through the overnight time frame.
Major Cities in Region: Odessa, TX, Midland, TX, Lubbock, TX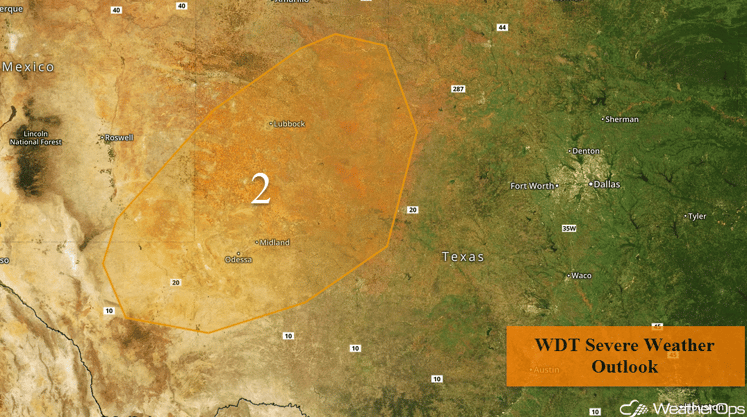 Region 2
Excessive Rainfall Possible for the Permian Basin on Thursday
Widespread showers and thunderstorms are forecast to continue into Thursday in the wake of a cold front. While the severe weather threat should be low, heavy rainfall will be likely. Widespread rainfall accumulations of 1-3 inches will be likely between Wednesday and Thursday across the region, with locally higher amounts in excess of 4 inches possible in some locations. This heavy rainfall will likely lead to flash flooding in some areas.
Major Cities in Region: Carlsbad, NM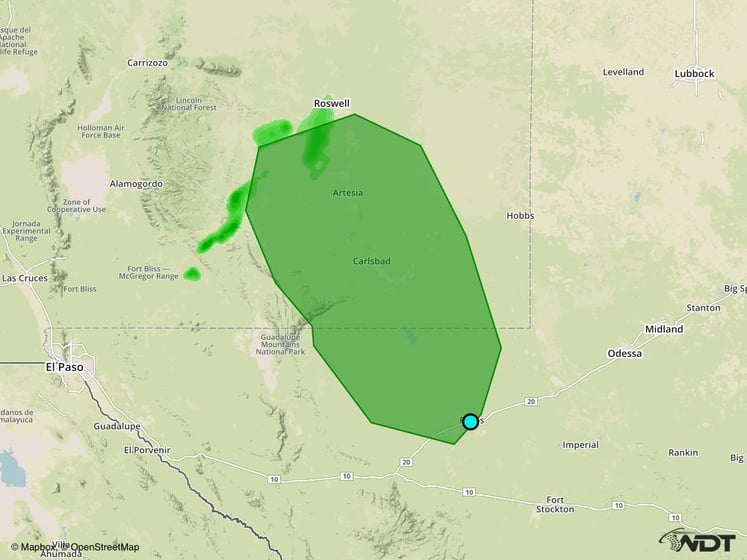 Excessive Rainfall Risk Outline for Thursday
Tropical Update
A broad non-tropical area of low pressure located a few hundred miles east-northeast of the northern Lesser Antilles (green oval) is producing widespread cloudiness and showers. Although this system is expected to strengthen into a non-tropical gale over the central Atlantic within the next day or so, it could acquire some subtropical characteristics late this week or this weekend while it moves northward or north-northeastward over the north-central Atlantic.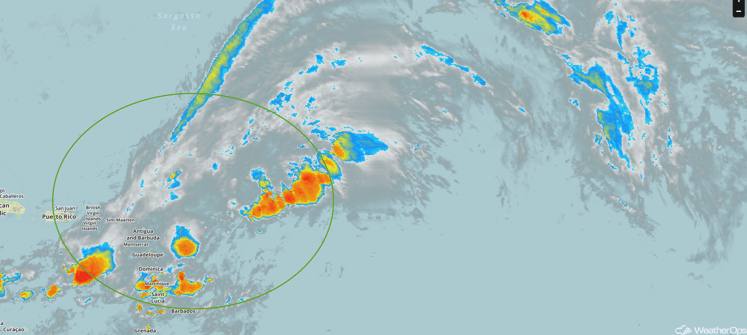 Tropical Infrared Satellite
A Look Ahead
By the weekend, an area of low pressure will bring rain to portions of the Pacific Northwest. Rain chances will increase across the Southern Plains on Sunday as an area of low pressure develops in the lee of the Rockies. Rain will continue for portions of the Central and Southern Plains into early next week,
This is just a brief look at current weather hazards. We can provide you site-specific forecast information for the purpose of protecting your personnel and assets. Try a 7-day demo right away and learn how timely precision weather information can enhance your bottom line.