National Weather Summary for Wednesday, February 22, 2017
by David Moran, on Feb 22, 2017 10:54:34 AM
A surface low will develop on Wednesday and bring snow to portions of the Midwest and Great Lakes late Wednesday through early Saturday. Widespread showers and thunderstorms are expected across eastern Florida through the day on Wednesday.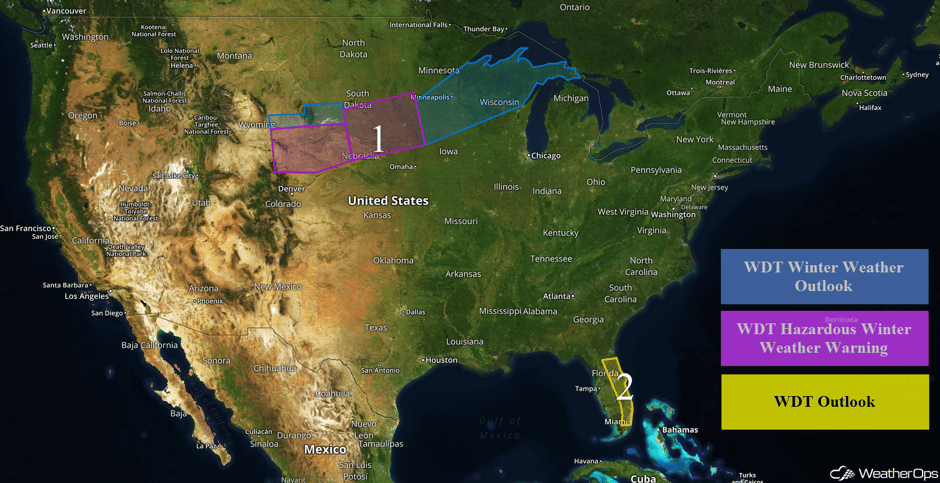 US Hazards
Region 1
A strong upper level disturbance will begin to move into the Central Plains early Thursday morning into the afternoon. In response to the upper level disturbance, a surface low will develop in the lee of the Rockies and rapidly intensify. As this system intensifies, southerly flow will increase to the east of the low, bringing warm moist air northward. With colder air in place to the north of the system, light to moderate snowfall will begin to overspread the region late Wednesday evening and continue through Thursday as the low moves northeastward. Snow accumulations of 4-6 inches with isolated higher amounts in excess of 8 inches are forecast across eastern Wyoming and western Nebraska. Further east across northern Nebraska, southern South Dakota, northwestern Iowa, and southwestern Minnesota, snow accumulations of 6-12 inches with isolated higher amounts are possible from noon Thursday through early Friday evening. In addition, winds of 15-25 mph with gusts 30-40 mph will allow for visibilities less than a quarter of a mile. By Thursday evening, snow will move into southern Minnesota and northern portions of Wisconsin and Michigan. Snow accumulations of 4-8 inches with isolated higher amounts in excess of 12 inches are expected. In addition, winds will range 15-20 mph with gusts in excess of 30 mph.
Major Cities in Region: Cheyenne, WY, Sioux Falls, SD, Minneapolis, MN, Green Bay, WI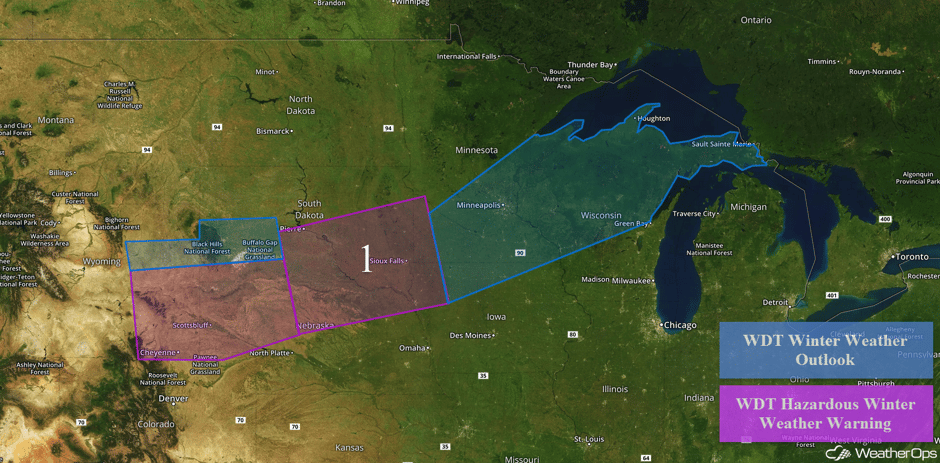 Region 1
Region 2
An area of low pressure moving eastward across Florida will result in widespread showers and thunderstorms today. Rainfall amounts of 1-2 inches is expected with locally higher amounts approaching 4 inches along the coast. Thunderstorms may produce isolated wind gusts in excess of 40 mph but widespread severe weather is not expected.
The rain is POURING in New Smyrna Beach, #FLwx! pic.twitter.com/T6AXxycFn1

— Kal Tellefsen❄️ (@kal_tellefsen) February 22, 2017
.@Mike_Clay Stormy skies on the beaches of #Pinellas Co as winds pick up and hvy rain moves closer. #flwx pic.twitter.com/7lhzeMAjNH

— Bay News 9 Weather (@bn9weather) February 22, 2017
Major Cities in Region: Daytona Beach, FL, Orlando, FL, Palm Beach, FL, Miami, FL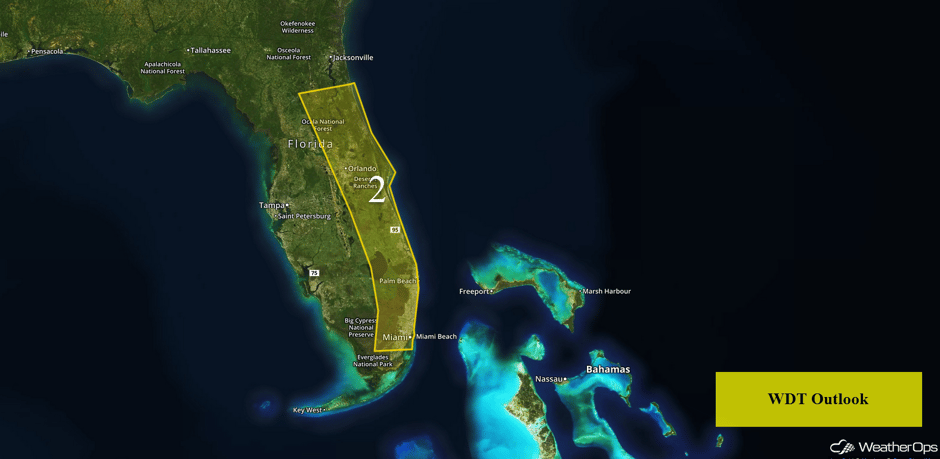 Region 2
Strong to Severe Thunderstorms Possible Friday across the Ohio Valley
As the area of low pressure described in Region 1 lifts northeastward, thunderstorms may develop from Illinois eastward into Ohio. Ample moisture and strong wind shear will promote the potential for damaging winds ahead of the associated cold front. While damaging winds will be the primary hazard, isolated instances of hail and damaging winds cannot be ruled out.
Major Cities in Region: Chicago, IL, Evansville, IN, Indianapolis, IN, Detroit, MI, Cleveland, OH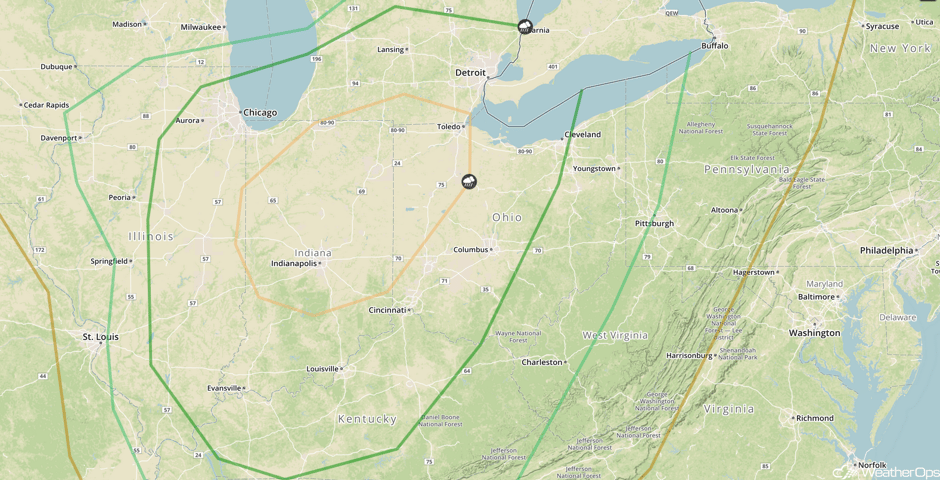 SPC Convective Outlook for Friday
A Look Ahead
An area of low pressure moving into California on Sunday will bring additional rainfall to the state. Rainfall amounts are expected to be between 1-2 inches with locally heavier amounts. Given the already saturated ground, additional flooding is expected.
This is just a brief look at current weather hazards. We can provide you site-specific forecast information for the purpose of protecting your personnel and assets. Try a 7-day demo right away and learn how timely precision weather information can enhance your bottom line.