National Weather Summary for Tuesday, November 29, 2016
by David Moran, on Nov 29, 2016 10:16:26 AM
Thunderstorms capable of large hail, damaging winds, and tornadoes are likely across portions of the Southeast on Tuesday ahead of a cold front associated with an area of low pressure over the Northern Plains. Across portions of the Northeast, a strong system west of the Great Lakes will bring a warm front into the region, allowing for a risk for snow and sleet. As the area of low pressure across the Northern Plains lingers across the region, snow and gusty winds will continue for portions of the Dakotas through Wednesday.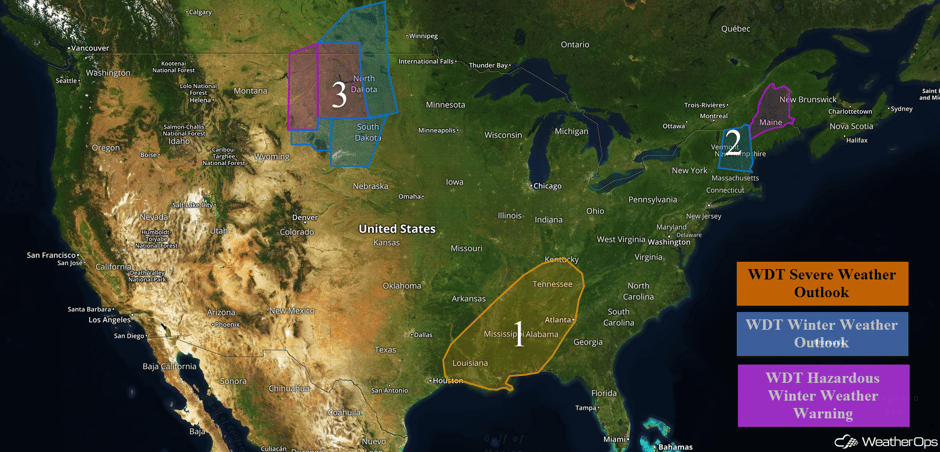 US Hazards
Region 1
An intensifying area of low pressure over the Northern Plains will continue to transport warm, moist air into the Deep South ahead of an approaching cold front. This cold front will act as a lifting mechanism, leading to the development of thunderstorms over eastern Texas by early afternoon, before tracking into Louisiana by mid-afternoon, Mississippi by early evening, and Alabama by late evening. A potent upper-level jet stream will provide large amounts of wind shear, allowing for thunderstorms to become supercellular. Hail larger than one inch in diameter, damaging winds over 60 mph, and tornadoes will all be possible. The greatest threat for severe weather will exist across northern portions of Louisiana, Mississippi, and Alabama where wind shear and instability will be maximized.
Update 11:19am CST: Thunderstorms have developed south of Shreveport, LA. While not severe, thunderstorms could produce some hail.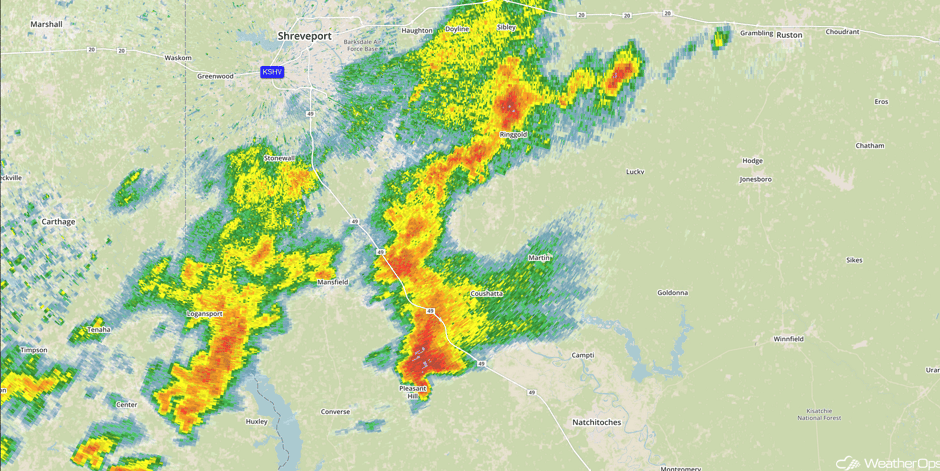 Radar 11:19am CST
Update 12:58pm CST: Severe thunderstorm capable of large hail and damaging winds northwest of Natchez, MS.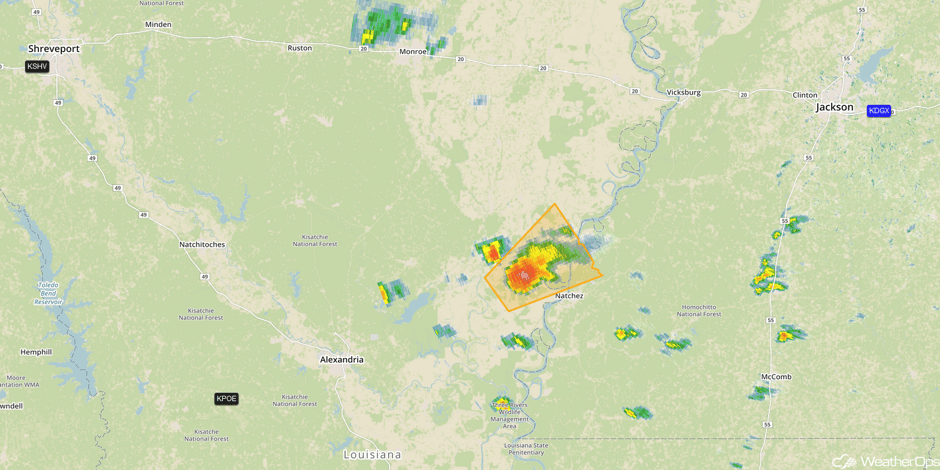 Radar 12:58pm CST
Update 1:33pm CST: Severe Thunderstorm Warnings in North Central and Northeastern Louisiana.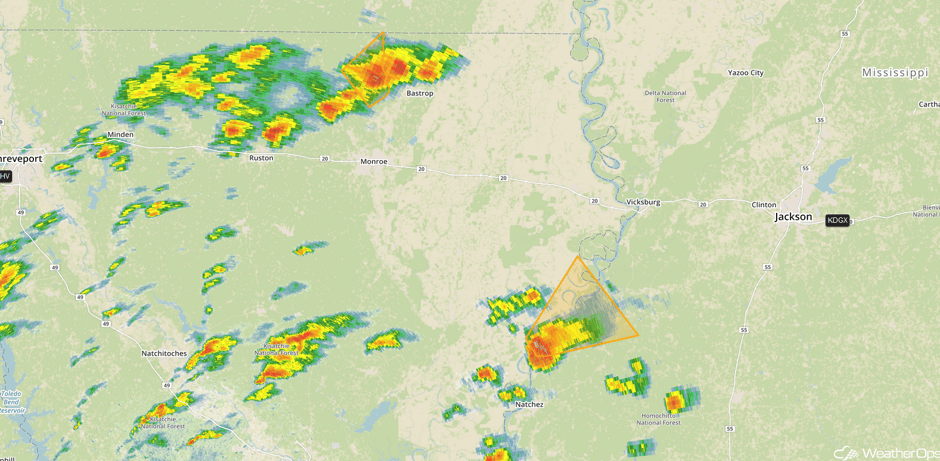 Radar 1:33pm CST
Update 1:54pm CST: Tornado Watch in effect for portions of Arkansas, Louisiana, and Mississippi until 9pm CST. Large hail to 1.5", damaging winds to 70 mph, and a few tornadoes will be the primary hazards.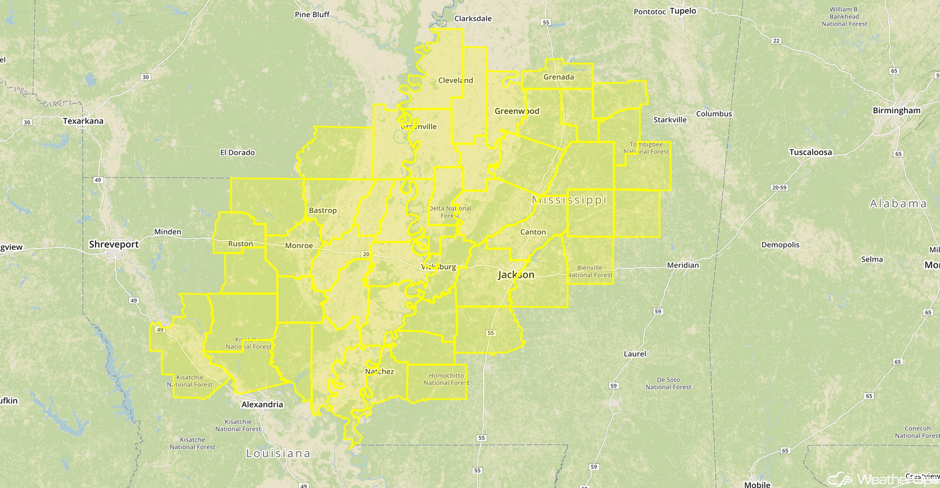 Tornado Watch
Major Cities in Region: Beaumont, TX, New Orleans, LA, Jackson, MS, Memphis, TN, Nashville, TN, Birmingham, AL, Atlanta, GA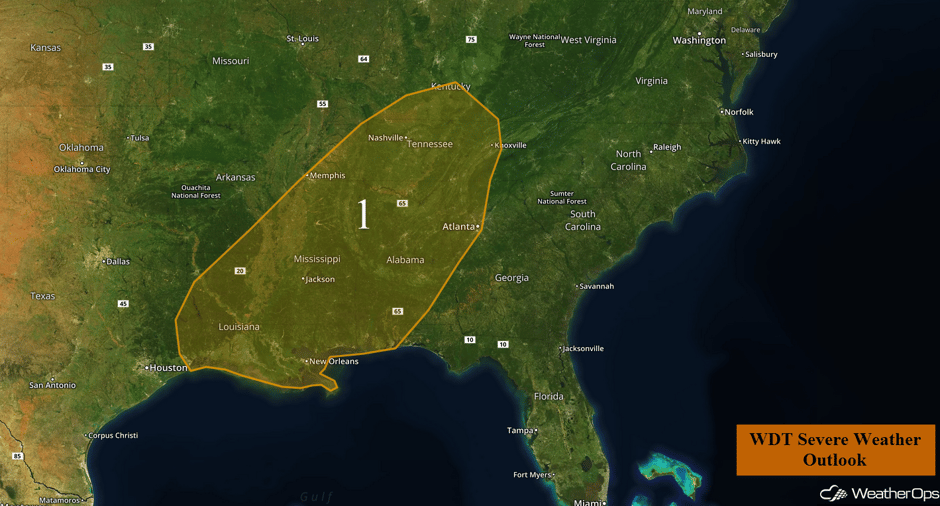 Region 1
Region 2
A wintry mix of snow, sleet, and freezing rain will continue across Region 2 this morning. Precipitation should then transition to freezing rain and rain by afternoon. The result will be a light accumulation of ice and snow that may result in locally difficult travel conditions. Further to the northeast, sleet and freezing rain will be possible for portions of Maine with snow likely in the northernmost areas of Maine. Snow accumulations of 6-10 inches with locally higher amounts in excess of 12 inches will be possible. Snowfall will continue across northern Maine through Thursday with 3 day totals of 14-20 inches with locally higher amounts in excess of 30 inches.
Major Cities in Region: Montpelier, VT, Concord, NH, Caribou, ME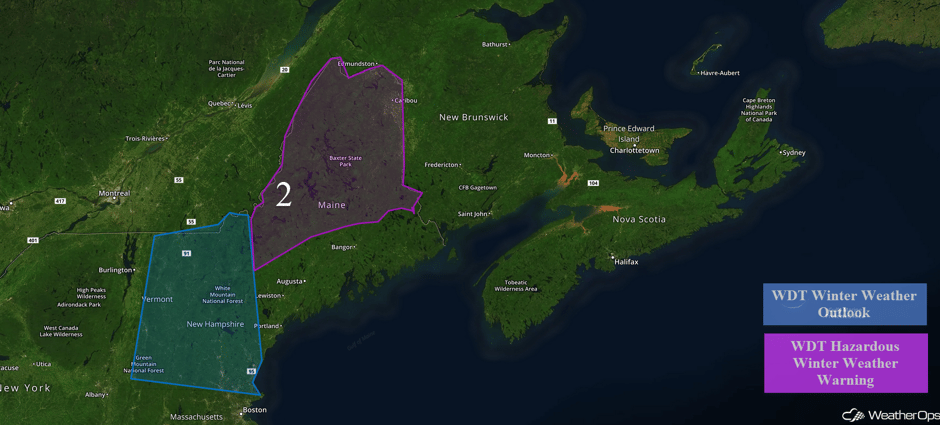 Region 2
Region 3
An area of low pressure over the Dakotas will bring strong winds and snow to Region 3 through early Wednesday. Most locations will only receive a couple to a few inches of snow. Snow accumulations of 2-4 inches will be possible for portions of northeastern Wyoming and western South Dakota with 6-12 inches possible for the northern Black Hills. In addition, winds of 20-30 mph with gusts in excess of 35 mph will be possible. Further to the east across portions of central and eastern North Dakota, 3-5 inches of snow with locally higher amounts will be possible. Winds will range from 15-25 mph with gusts in excess of 30 mph, allowing for visibilities less than half a mile and wind chills of 10-20 degrees.
Major Cities in Region: Rapid City, SD, Pierre, SD, Bismarck, ND, Minot, ND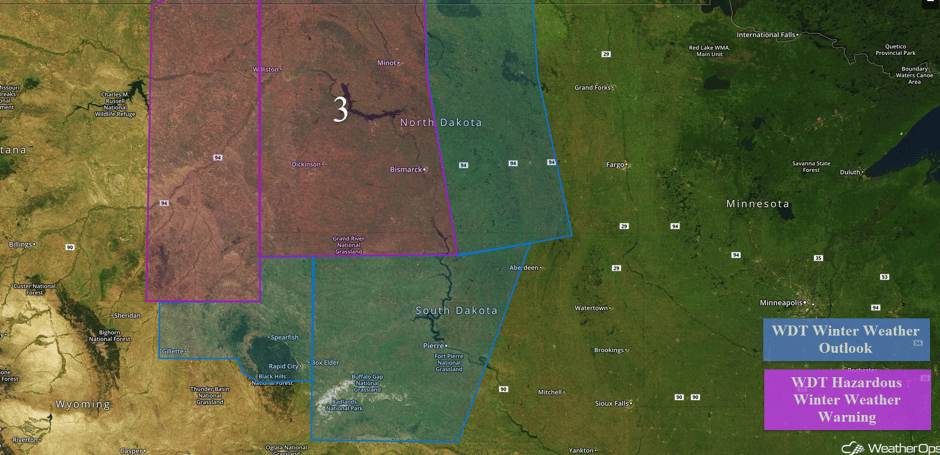 Region 3
Strong to Severe Thunderstorms Possible Wednesday across the Southeast
Thunderstorms will be ongoing Wednesday morning ahead of a cold front moving into the Southeast. Limited instability will likely keep the severe weather threat low across the region, but strong wind shear will allow for wind gusts in excess of 50 mph. Frequent lightning and heavy rainfall will also be likely with these thunderstorms.
Major Cities in Region: Mobile, AL, Atlanta, GA, Charleston, SC, Raleigh, NC, Richmond, VA, Washington, DC, Baltimore, MD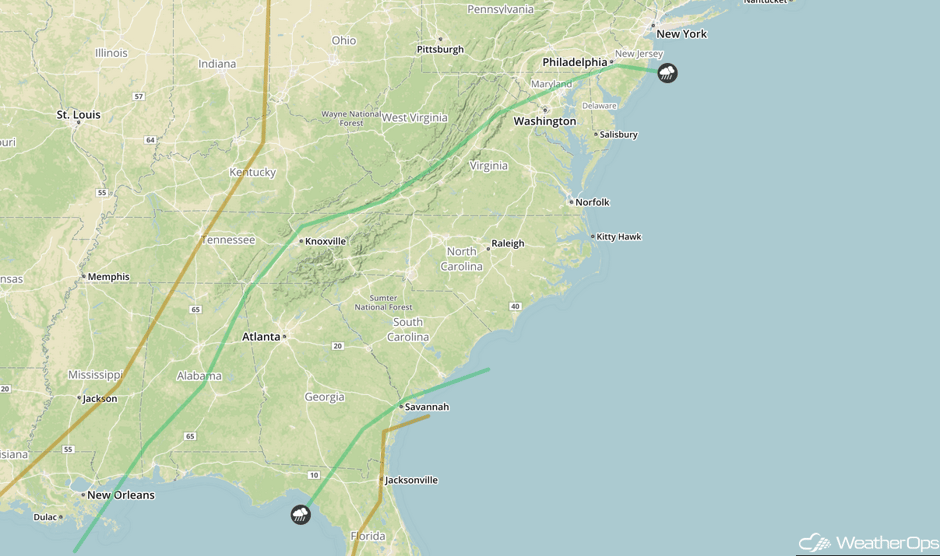 SPC Convective Outlook for Wednesday
Tropical Update
No tropical activity is expected within the next 48 hours.
A Look Ahead
An area of low pressure will develop over northern Mexico. Ahead of the area of low pressure, widespread rainfall will be possible Saturday and Sunday from Central Texas eastward into the Lower Mississippi Valley. Two day rainfall totals of 3-5 inches with isolated higher amounts in excess of 6 inches will be possible.
This is just a brief look at current weather hazards. We can provide you site-specific forecast information for the purpose of protecting your personnel and assets. Try a 7-day demo right away and learn how timely precision weather information can enhance your bottom line.