National Weather Summary for Tuesday, March 7, 2017
by David Moran, on Mar 7, 2017 11:04:59 AM
Thunderstorms will continue to move across the Southeast on Tuesday ahead of a cold front. Light snow and gusty winds across portions of the Northern Plains will allow for blowing snow and low wind chills through Tuesday evening. Elevated winds and seas will continue across portions of the Gulf of Mexico through Tuesday evening as an area of high pressure remains in place over the eastern US.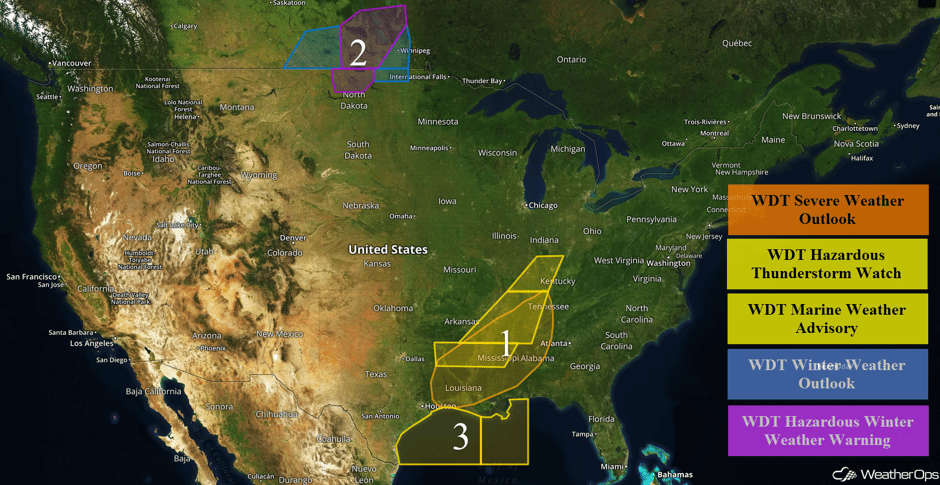 US Hazards
Region 1
A squall line is advancing southeastward near Nashville, Memphis, and Shreveport. This line is ahead of the tail end of a cold front. Instability and wind shear will decrease by mid to late afternoon. In the meantime, damaging winds in excess of 60 mph will be possible along the leading edge of the storms. A few reports of large hail are also expected. A brief tornado cannot be ruled out through the early afternoon. The threat will subside as the cold front reaches the Gulf Coast by early evening.
Update 12:48pm CST: Severe thunderstorm approaching Columbus, MS. Damaging winds will be the primary hazard.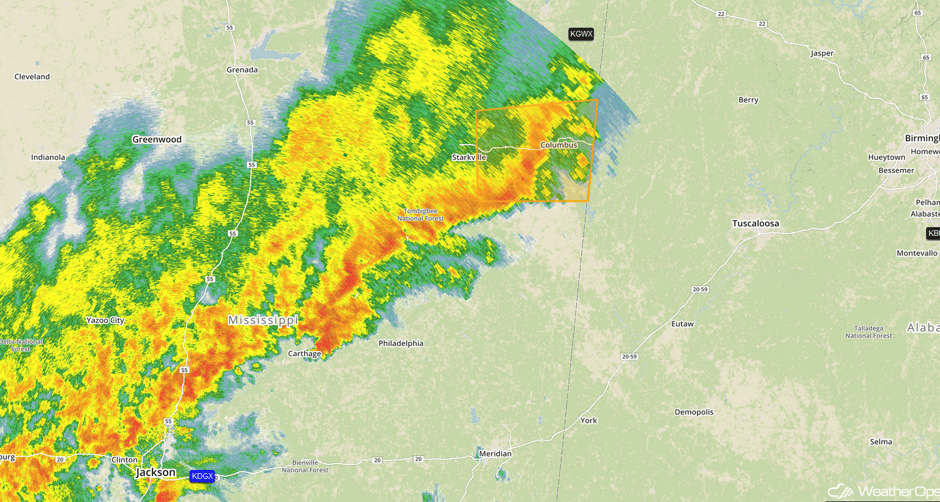 Radar 12:48pm CST
Update 1:26pm CST: Severe thunderstorm capable of large hail and damaging winds southwest of Jackson, MS.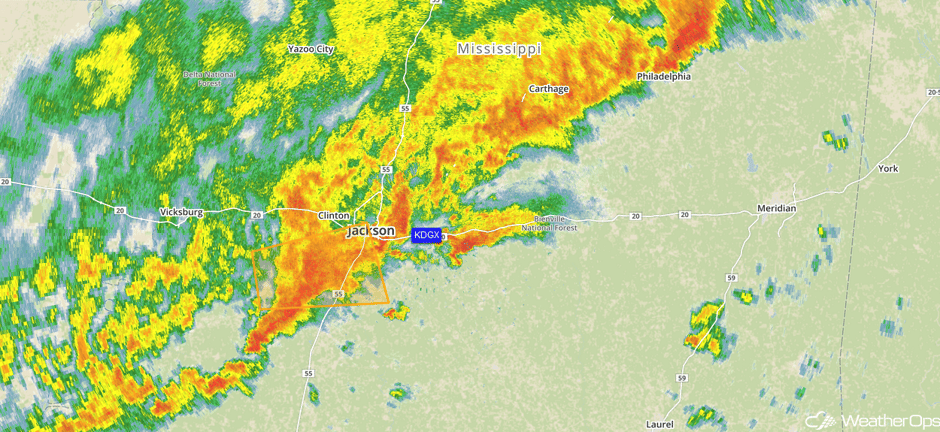 Radar 1:26pm CST
Update 1:39pm CST: Severe thunderstorms are approaching the Birmingham area. Damaging winds will be the main hazard.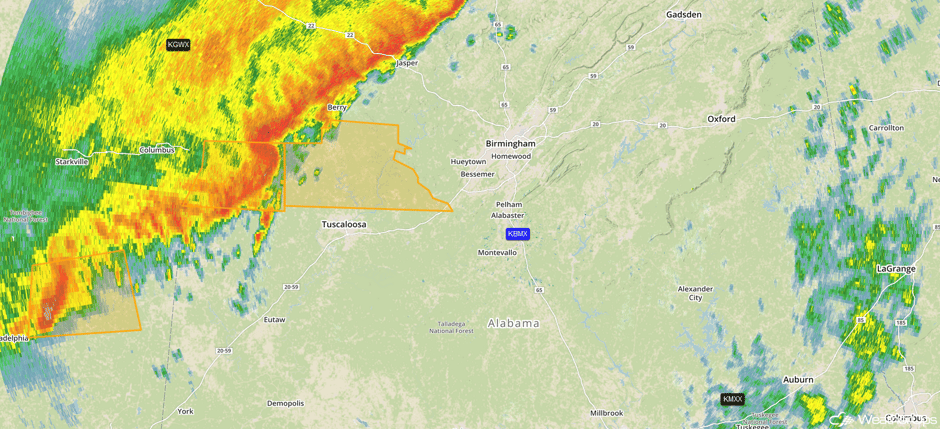 Radar 1:39pm CST
Major Cities in Region: Shreveport, LA, Baton Rouge, LA, Jackson, MS, Nashville, TN, Birmingham, AL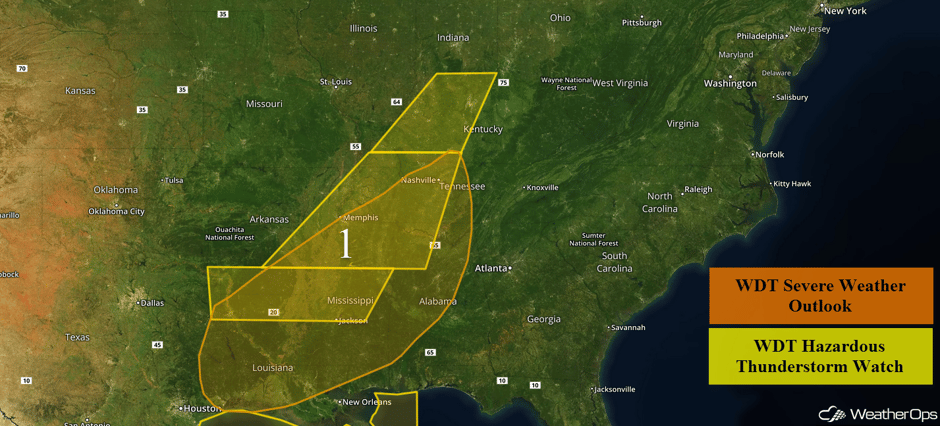 Region 1
Region 2
High winds will continue across Region 2 into the evening. With snow on the ground and continued light snow, blizzard conditions are expected. Snow accumulations of 1-2 inches are expected across northern North Dakota. Further to the east across northeastern North Dakota and northwestern Minnesota, snow accumulations of 3-6 inches with locally higher amounts in excess of 8 inches are forecast. In addition, wind gusts in excess of 55 mph are expected. These strong winds will result in visibilities less than half a mile in some locations and wind chills as low as -10 to -20F.
Major Cities in Region: Minot, ND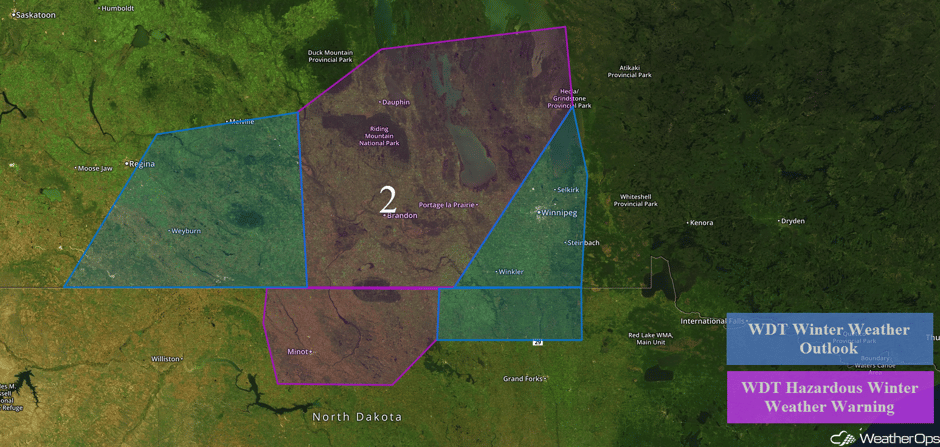 Region 2
Region 3
A cold front will reach the Upper Texas and western Louisiana coasts this evening. This front will push southeastward across the region through the overnight hours before stalling. The front will be accompanied by scattered showers and a wind shift. Ahead of the front, variable winds of 5-10 knots are expected. Behind the front, winds will become northeasterly at 20-25 knots with gusts in excess of 35 knots. These strong winds will persist through early Wednesday. Swells near the shore will be 4-6 feet; in deeper waters, swells of 6-8 feet are expected.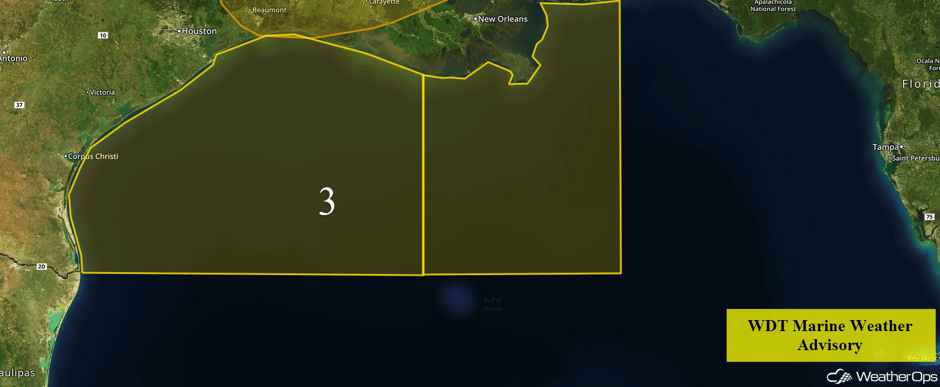 Region 3
Significant Snowfall Possible Wednesday and Thursday Across the Northern Rockies
A surface front over the Northern Rockies is expected to stall across the region Wednesday into Thursday with increasing snowfall for the higher terrain of the region. Snowfall accumulations of 6-10 inches with isolated higher amounts in excess of 12 inches are expected on Wednesday. An additional 3-6 inches are expected on Thursday.
Major Cities in Region: Missoula, MT, Helena, MT, Great Falls, MT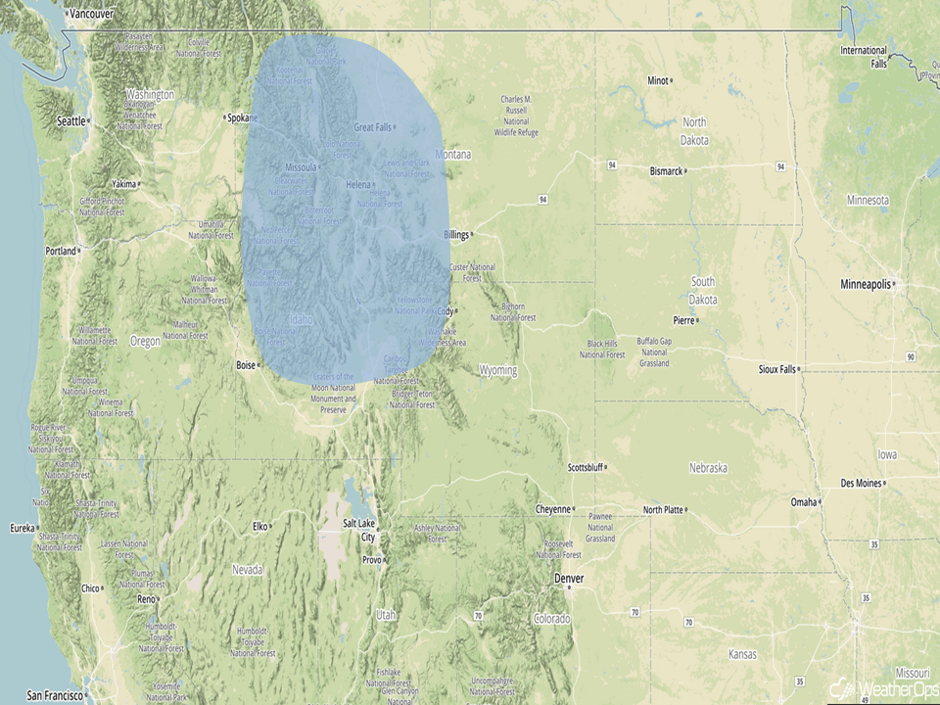 Significant Snowfall Risk Outline for Wednesday and Thursday
A Look Ahead
Snow will continue across the Northern Rockies on Friday as an area of low pressure intensifies over this location. An additional 3-6 inches of snow with locally higher amounts are expected. As the area of low pressure continues to progress eastward on Saturday, snow will move into the Plains. Snow accumulations of 3-5 inches with locally higher amounts are forecast.
This is just a brief look at current weather hazards. We can provide you site-specific weather forecast information for the purpose of protecting your personnel and assets and to assess your weather risk. Try a 7-day demo right away and learn how timely precision weather information can enhance your bottom line..