National Weather Summary for Tuesday, January 3, 2017
by David Moran, on Jan 3, 2017 11:13:53 AM
Thunderstorms will continue along the North Carolina coast Tuesday morning ahead of a cold front. Light to moderate snow will begin to taper off across northern Minnesota, as an area of low pressure moves eastward toward the Great Lakes. As this system moves eastward, it will bring the potential for heavy snow across the Northeast Wednesday through midday Friday. Snow will increase over the Intermountain West and into the Rockies Wednesday through Friday in association with an area of low pressure.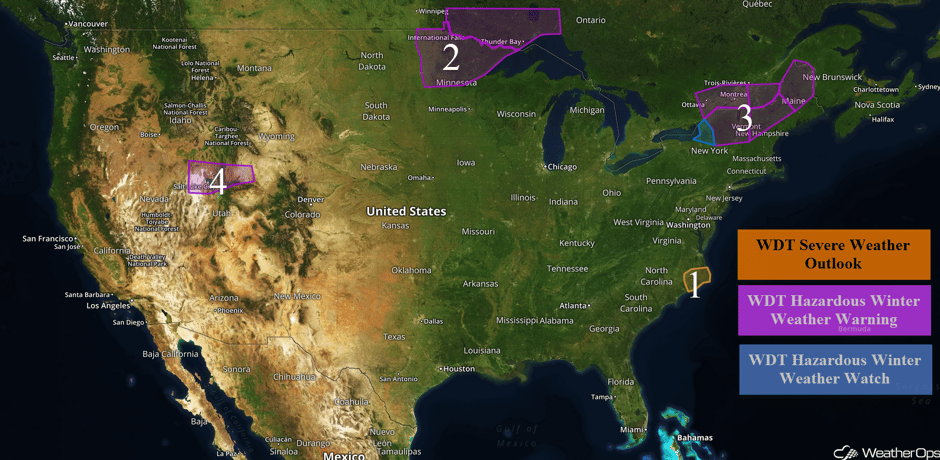 US Hazards
Region 1
Scattered thunderstorms will continue to develop across Region 1 along and ahead of a cold front this morning. A few strong thunderstorms containing gusty winds will be possible. The threat should mostly end by midday as the front begins to move offshore.
Major Cities in Region: New Bern, NC, Kitty Hawk, NC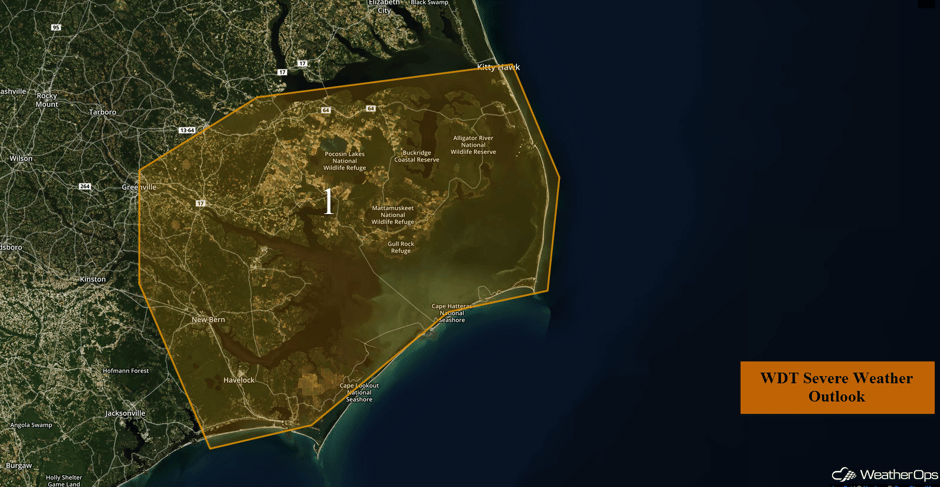 Region 1
Region 2
Light to moderate snow will continue across Region 2 through this morning. Snow will slowly begin to end from west to east. Total snow accumulations of 4-8 inches, with locally higher amounts in excess of 12 inches, are forecast.
Major Cities in Region: International Falls, MN, Duluth, MN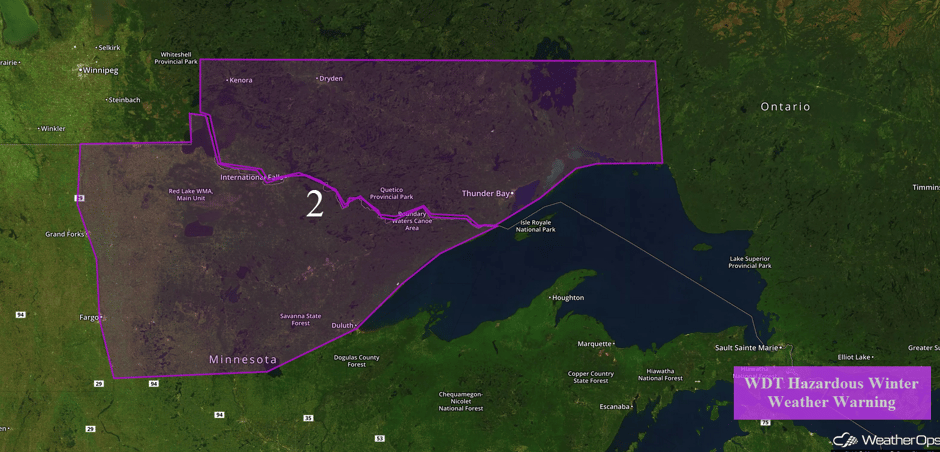 Region 2
Region 3
Westerly winds are forecast to develop on Wednesday as a cold front moves through the region and an associated area of low pressure lifts northward. These winds will be favorable for the development of lake effect snow that will continue into Friday before tapering off. Widespread snowfall accumulations of 8-12 inches are expected across northwestern New York. Heavier amounts will be likely where more persistent snow bands set up.
As an area of low pressure moves northeastward into the Northeast, wintry precipitation is likely. A large area of rain and freezing rain will move over the region early Tuesday afternoon and persist into the evening. Significant ice accumulation is likely, especially in elevations above 1500 feet. Ice accumulations up to a quarter of an inch are possible, but most areas will receive around a tenth of an inch. Precipitation will transition to snow late Tuesday as a cold front passes. Across areas of New Hampshire and Maine, snow accumulations of 1-2 inches are forecast in addition to up to a tenth of an inch of ice and 1-2 inches of sleet. For northern portions of Maine, 4-8 inches of snow are expected, in addition to up to two tenths of an inch and 1-2 inches of sleet.
Major Cities in Region: Watertown, NY, Burlington, VT, Montpeilier, VT, Caribou, ME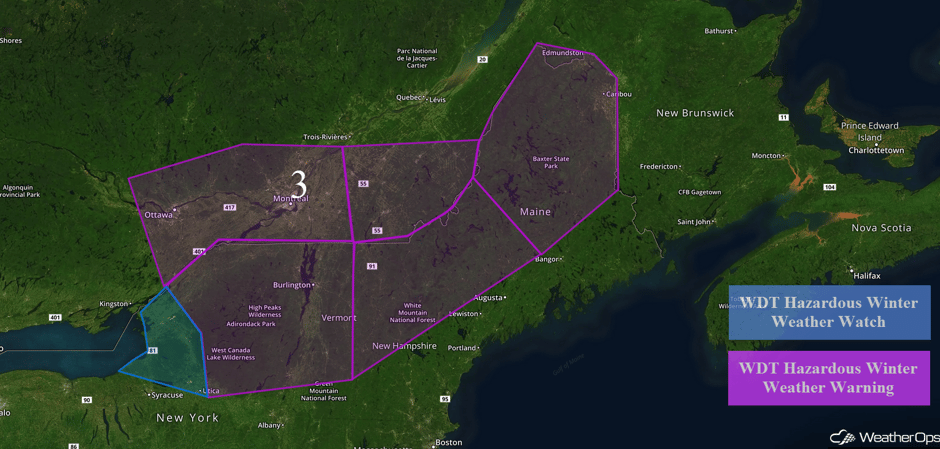 Region 3
Region 4
An area of low pressure over the Intermountain West will track into the central Rockies on Thursday. Snowfall will increase in intensity across Region 4 overnight Tuesday and continue through Thursday afternoon. Snow accumulations of 6 inches are forecast in the valleys with accumulations of over a foot forecast in higher elevations. Snow will taper off from north to south Thursday afternoon as a cold front pushes through.
Major Cities in Region: Salt Lake City, UT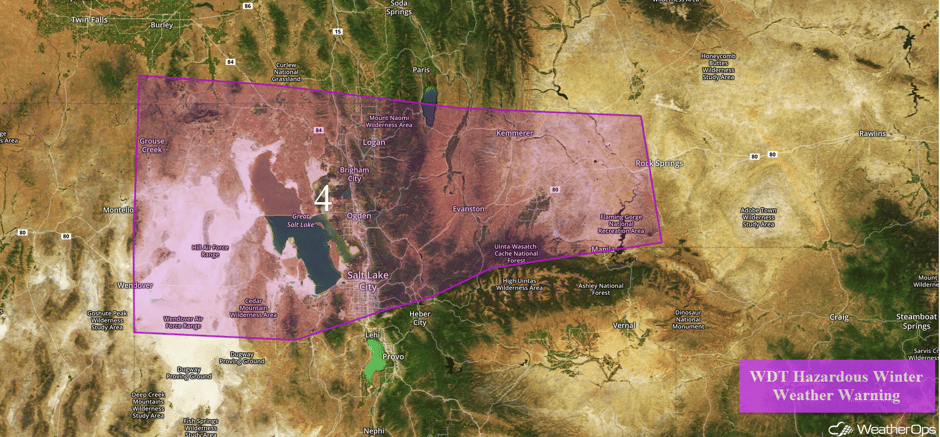 Region 4
A Look Ahead
There is a risk for significant winter weather over portions of the Southern Plains into the Mississippi Valley on Friday. This potential is dependent upon the evolution of an area of low pressure that could track through the region. Into the weekend, the winter weather threat will shift into the Tennessee Valley. Across the Pacific Northwest, an area of low pressure off the coast will bring widespread rain and snow to the region on Saturday. Early next week, a plume of moisture may bring widespread rainfall to portions of central and southern California and snowfall to the higher elevations.
This is just a brief look at current weather hazards. We can provide you site-specific forecast information for the purpose of protecting your personnel and assets. Try a 7-day demo right away and learn how timely precision weather information can enhance your bottom line.