National Weather Summary for Tuesday, February 28, 2017
by David Moran, on Feb 28, 2017 10:56:58 AM
Severe thunderstorms are expected Tuesday across the mid-Mississippi and Ohio Valleys ahead of an upper level trough. Snow will continue across portions of the Southern Rockies as a disturbance moves across the Rockies. Fog will persist through the morning hours on Tuesday along the Texas Gulf Coast.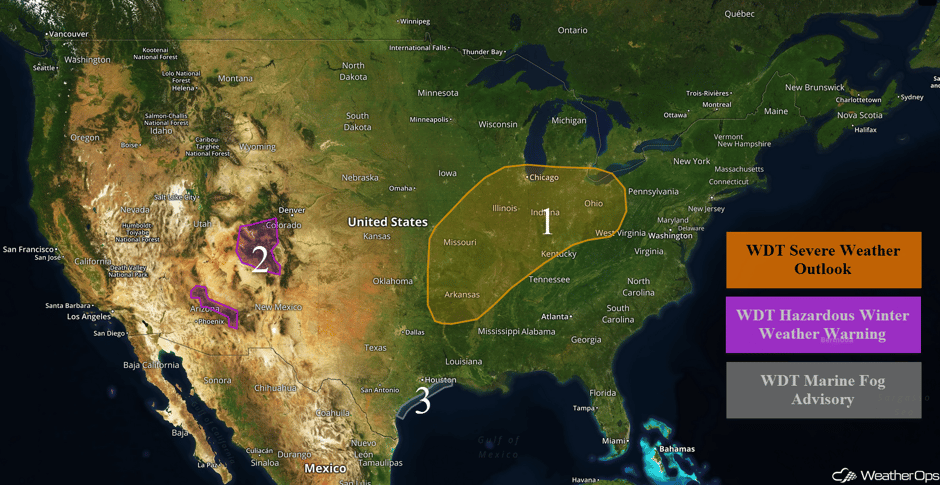 US Hazards
Region 1
Conditions are forecast to become favorable for the development of strong to severe thunderstorms across a large portion of the mid-Mississippi and Ohio Valleys as an intensifying trough moves eastward. Scattered and thunderstorms are currently ongoing along the southern edge of the region and this activity should persist through the early afternoon.
By this afternoon and evening, the more significant threat for severe weather will begin to emerge. Conditions from Arkansas through Missouri into Illinois should be favorable for large hail and damaging winds with any thunderstorms that develop. Thunderstorm coverage will be highest over Missouri and Illinois with coverage remaining limited over Arkansas.
Thunderstorms that develop from Arkansas to Illinois this afternoon and evening will spread north and east across the region into tonight. These storms will evolve into lines, posing a primarily damaging wind risk. The severe weather risk is likely to persist through the overnight hours across the Ohio Valley.
Major Cities in Region: Joplin, MO, Fayetteville, AR, Little Rock, AR, St. Louis, MO, Memphis, TN, Chicago, IL, Evansville, IN, Louisville, KY, Detroit, MI, Columbus, OH, Cleveland, OH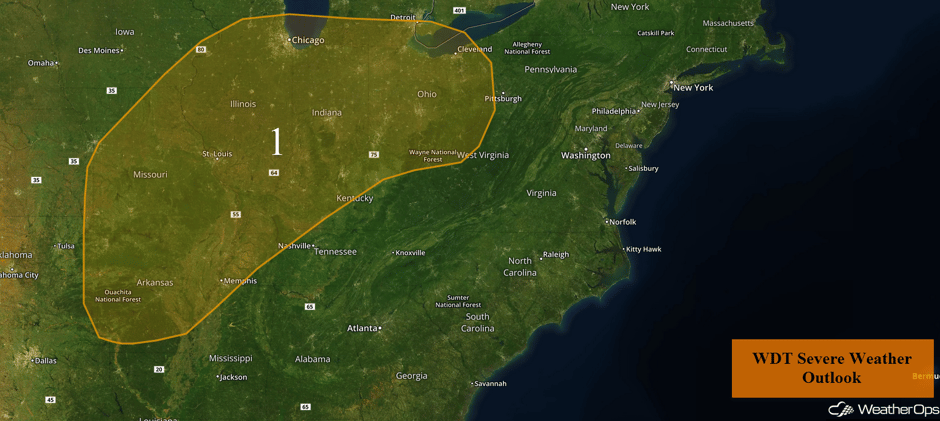 Region 1
Region 2
Snow will continue across Region 2 as a large upper level disturbance continues to move across the region. For portions of Arizona, snow accumulations of 5-12 inches with locally higher amounts in excess of 15 inches are forecast between 6,500 and 8,500 feet. Above 8,500 feet, snow accumulations of 12-20 inches with locally higher amounts in excess of 24 inches are expected.
Further east across western portions of Colorado and northern New Mexico, 12-18 inches are expected above 7,000 feet with higher amounts in excess of 24 inches along the mountain peaks. In addition, winds of 25-35 mph with gusts in excess of 45 mph above 7,000 feet may reduce visibilities to less than half a mile at times.
Major Cities in Region: Flagstaff, AZ, Aspen, CO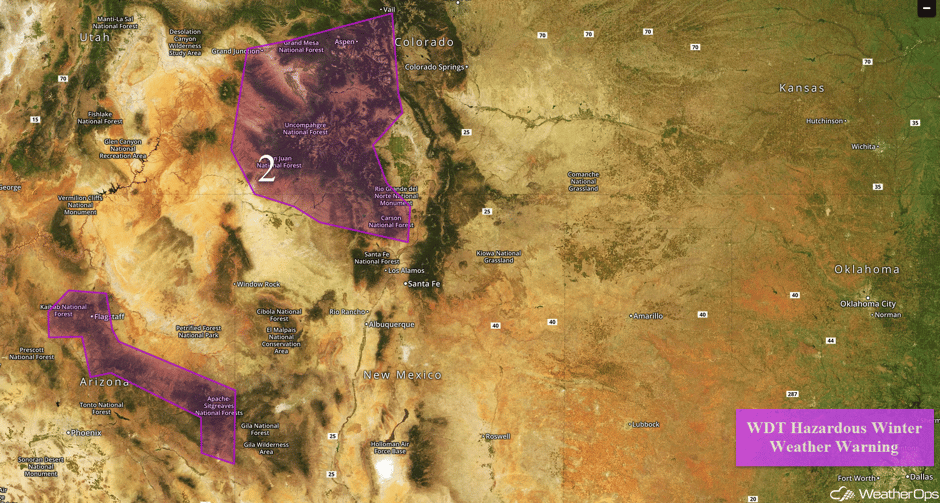 Region 2
Region 3
Fog will persist along the Texas Gulf Coast through the morning hours on Tuesday. Visibilities less than 2 miles are expected.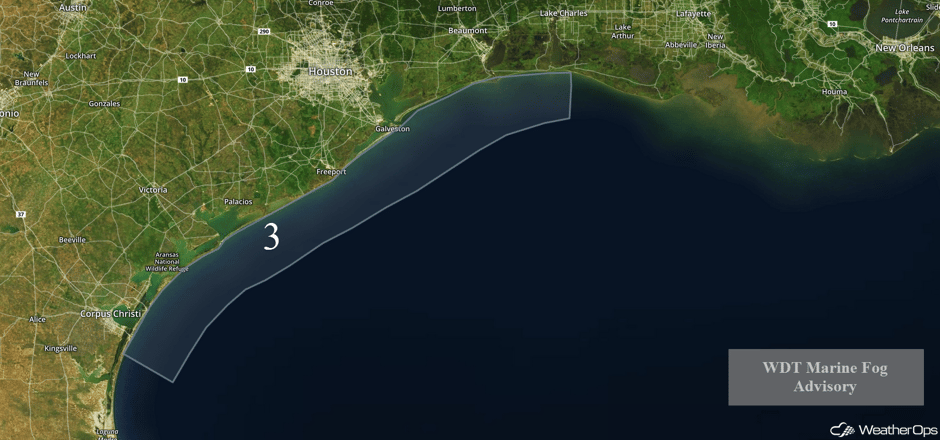 Region 3
Strong to Severe Thunderstorms Possible for the Eastern US on Wednesday
The upper level trough and cold front is forecast to continue to progress eastward toward the Atlantic Coast on Wednesday, with a squall line likely to move through much of the area. Strong wind gusts and tornadoes along the leading edge of the squall line will be possible. With rich moisture in place, the line of thunderstorms is expected to maintain intensity through the Atlantic Coast. In addition to the strong to severe thunderstorm potential, heavy rainfall is forecast with total estimates of 1-3 inches are forecast with locally heavier amounts.
Major Cities in Region: Baton Rouge, LA, Memphis, TN, Jackson, MS, Birmingham, AL, Atlanta, GA, Pittsburgh, PA, Philadelphia, PA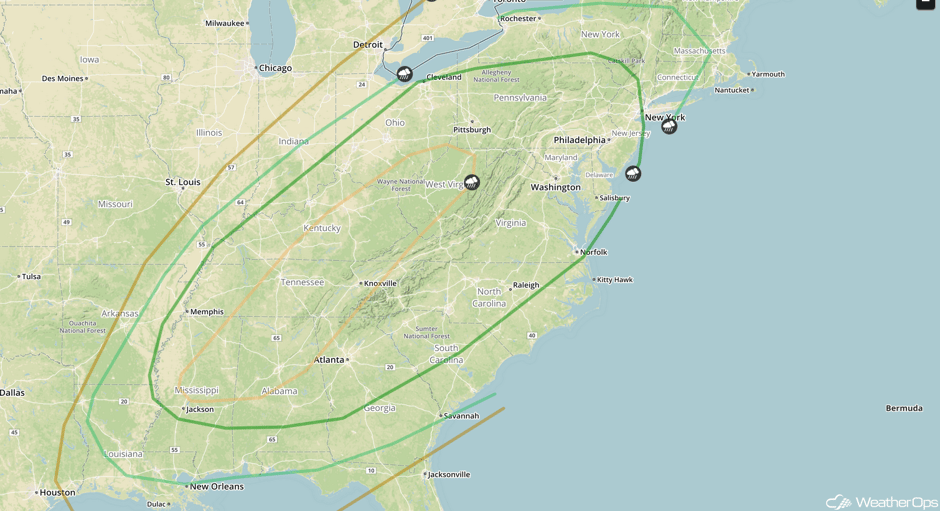 SPC Convective Outlook for Wednesday
Severe Thunderstorms Expected Wednesday Across the Tennessee Valley
The highest potential for severe thunderstorms on Wednesday will be across the Tennessee Valley. With rich moisture and instability in place, thunderstorms will quickly evolve into a linear structure. Strong winds will be the primary hazard, but large hail, isolated tornadoes, frequent lightning, and heavy rain will remain likely.
Major Cities in Region: Birmingham, AL, Nashville, TN, Knoxville, TN, Charleston, WV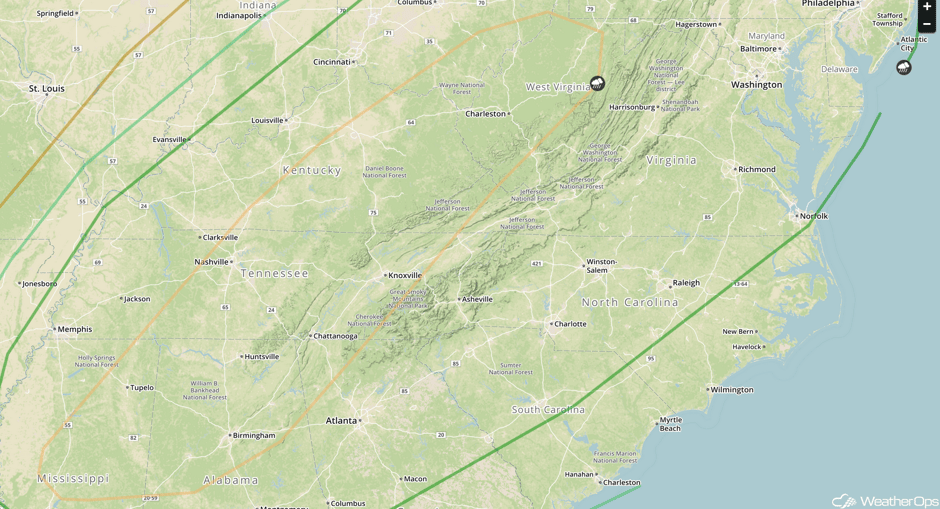 SPC Convective Outlook for Wednesday
A Look Ahead
There will be the potential for heavy snow across the mountains of the Northwest on Saturday as the cold front associated with an area of low pressure pushes onshore. While some snow is likely on Friday, the heaviest snow is forecast into Saturday. Total snowfall accumulations of 12 inches or higher will be possible through Sunday over the region within the higher elevations.
This is just a brief look at current weather hazards. We can provide you site-specific weather forecast information for the purpose of protecting your personnel and assets and to assess your weather risk. Try a 7-day demo right away and learn how timely precision weather information can enhance your bottom line.