National Weather Summary for Thursday, May 26, 2016
by David Moran, on May 26, 2016 11:06:27 AM
Severe thunderstorms and excessive rainfall are possible across portions of the central and southern Plains on Thursday. Further to the east, thunderstorms are ongoing from eastern Missouri into western Indiana. The severe thunderstorm potential will shift southeastward on Friday across Arkansas, Louisiana, Oklahoma, and Texas. By Saturday, thunderstorms will be possible across the Southern Plains and into the Missouri Valley.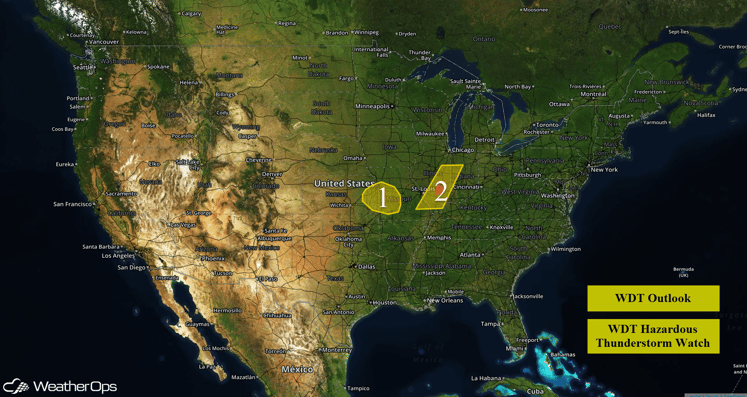 US Hazards
Region 1
In addition to the potential for severe weather, locally heavy rainfall will be possible across Region 1. Given the widespread nature of thunderstorms that will likely impact the Missouri Valley today and tonight, as well as the deep moisture in place across the region, some thunderstorms will have the potential to produce heavy rainfall. Widespread rainfall accumulations of 1-3 inches with locally higher amounts in excess of 4 inches will be possible. These heavy rainfall amounts could lead to flooding in flood-prone areas.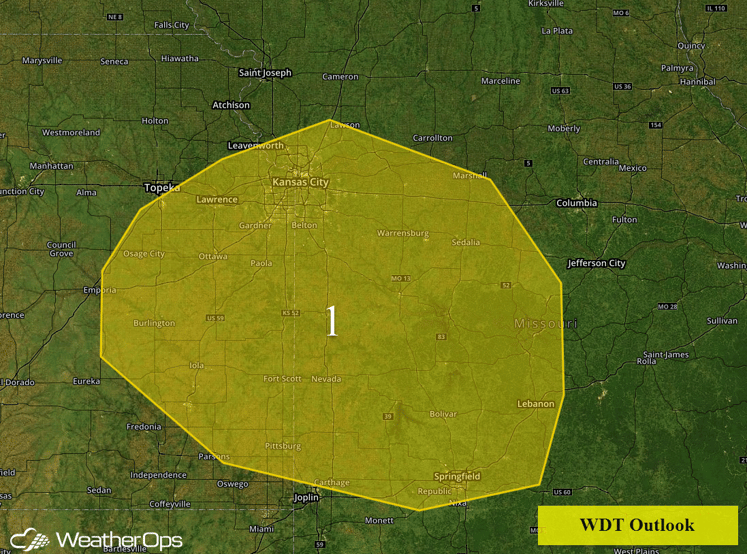 Region 1
Region 2
A line of thunderstorms extends from portions of Illinois into southeastern Missouri. This activity will continue to progress eastward through the morning. While conditions are not overly favorable for significant severe weather, localized wind gusts in excess of 45 mph and small hail will be possible as the line advances eastward through the morning hours.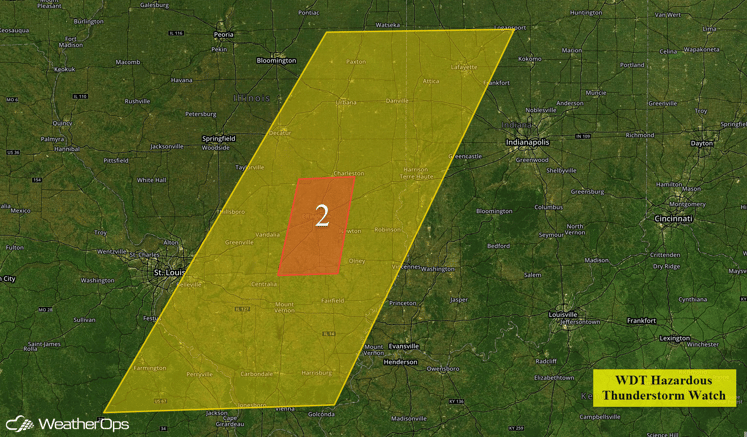 Region 2
Severe Thunderstorms Likely on Thursday for Central and Southern Plains
A large upper level trough over the western US will continue to move east through the day. At the surface, a low is forecast to develop over the Central High Plains during the day, transporting warm, moist air into the region. The combination of strong instability, wind shear, and ascent from the upper level trough will allow for an increased risk of severe weather for much of the Plains; large hail, damaging winds, and isolated tornadoes will be possible. The greatest tornado risk will be across Central Kansas.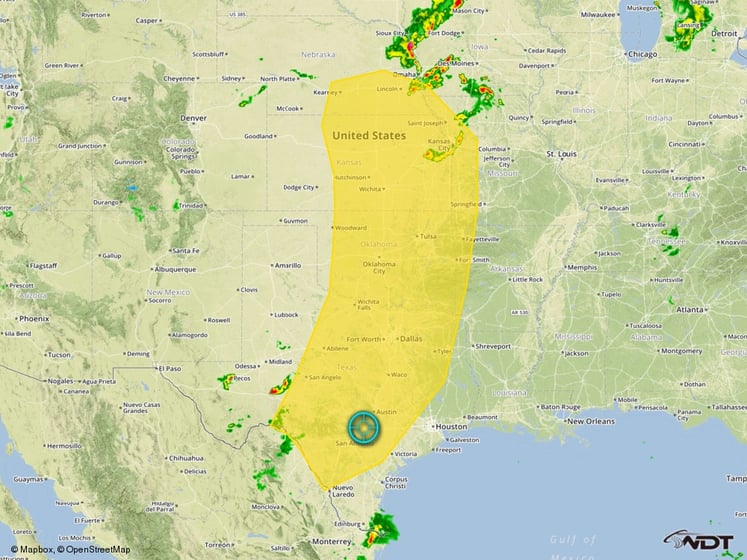 Severe Thunderstorm Risk Outline for Thursday
Severe Thunderstorms Possible Across Southern Plains on Friday
The threat for severe weather will shift south and east into portions of southeastern Oklahoma, southwestern Arkansas, northwestern Louisiana, and eastern Texas. Given the strong instability and wind shear that will be present, thunderstorms with the potential for large hail, damaging winds, and tornadoes will be possible. The greatest tornado threat will likely exist over portions of Texas and Oklahoma where thunderstorms are expected to be more discrete. To the east, the tornado threat will be lower with damaging winds the primary hazard.
In addition to the severe weather threat, the widespread nature of these thunderstorms will lead to heavy rainfall in some locations. Widespread rainfall accumulations of 1-3 inches will be likely with locally higher amounts in excess of 4 inches possible.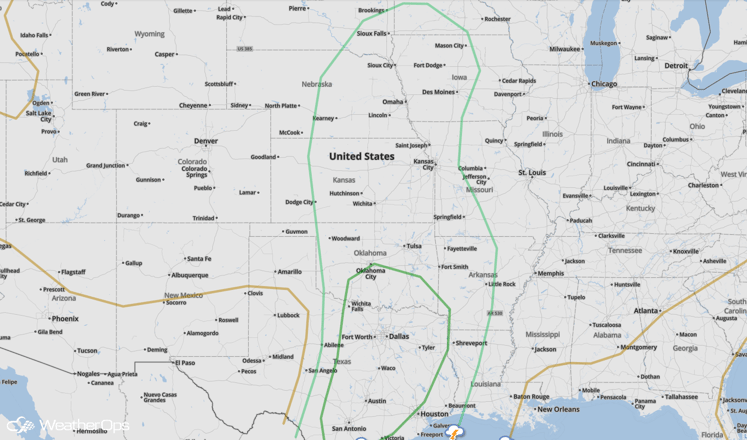 SPC Convective Outlook for Friday
Severe Thunderstorms Possible on Saturday for the Southern Plains and Missouri Valley
An isolated severe weather potential will exist on Saturday. Large scale lift will be somewhat limited, which will prevent the severe weather threat from becoming particularly widespread, but given modest forcing that will likely exist due to a weakening cold front moving into the region, as well as numerous outflow boundaries that will be in place from thunderstorms on Friday night, some thunderstorms are expected to develop. Given the strong instability and wind shear that will be in place, these thunderstorms may become severe, with large hail and damaging winds expected to be the primary hazards. A few tornadoes will also be possible.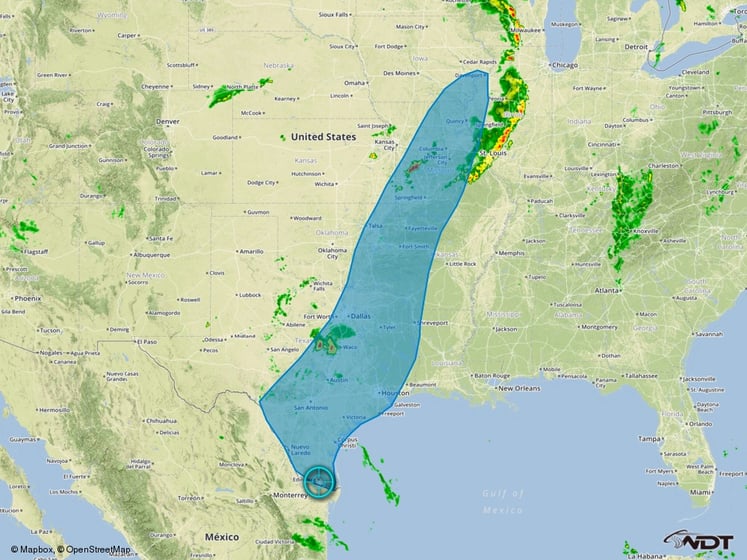 Thunderstorm Risk Outline for Saturday