National Weather Summary for Thursday, March 24, 2016
by David Moran, on Mar 24, 2016 10:34:16 AM
A late season winter storm is continuing to move across the Great Lakes and into the Northeast. A cold front moving off the Texas coast will allow for thunderstorms, strong wind gusts, and moderate to rough seas for portions of the Gulf of Mexico.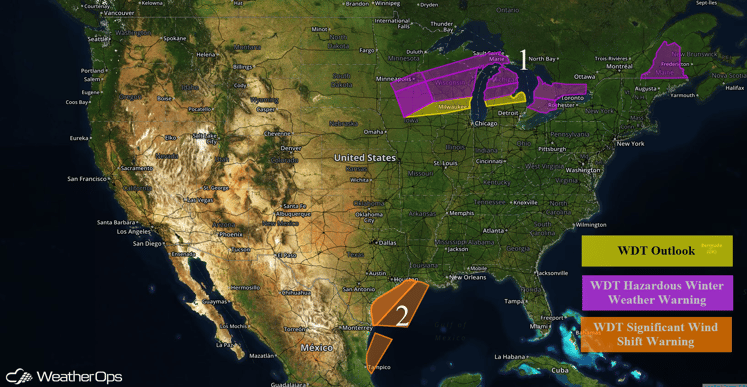 US Hazards
Region 1
A potent upper level low will move across the Upper Midwest and Great Lakes, allowing for areas of moderate to heavy snow. Some areas of Wisconsin may see 7-10 inches of snow with locally higher amounts in excess of 12 inches. Across areas of Michigan, 2-4 inches of snow will be possible with locally higher amounts. In addition, northerly winds of 15-25 mph with gusts to 35 mph will be possible. Visibilities of less than half a mile will be possible at times. By Thursday evening, a wintry mix of freezing rain, sleet, and snow will be possible. Snow accumulations of 4-8 inches of snow will be possible in northern portions of Maine and 2-4 inches to the south. In addition, sleet accumulations of less than an inch and freezing rain accumulations between a quarter and a half of an inch of ice will be possible.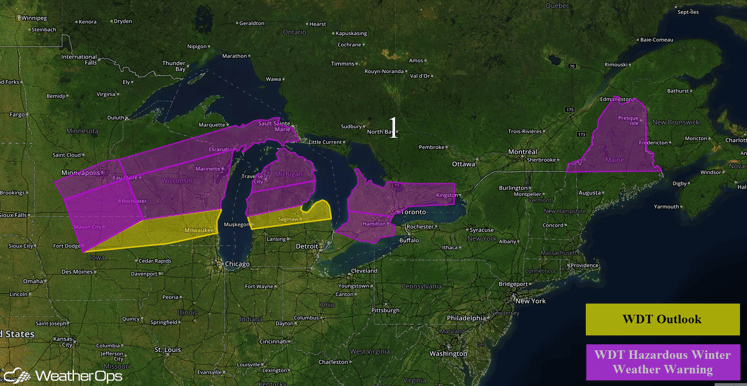 Region 1
Region 2
A cold front moving off the Texas coast will slowly track eastward through the afternoon. Fresh to strong southerly winds are expected ahead of the front. Behind the front, winds will shift to the north-northwest with gusts in excess of 32 knots. Deepwater seas of 6-9 feet will be possible. In addition, thunderstorms will be possible along and ahead of the front. There may also be the potential for a few strong thunderstorms with gusty winds in excess of 45 knots and frequent lightning.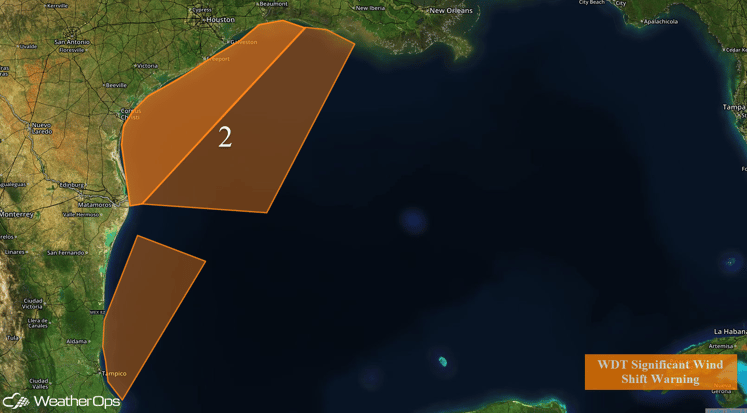 Region 2