National Weather Summary for Thursday, March 10, 2016
by David Moran, on Mar 10, 2016 11:29:59 AM
Thunderstorms will continue throughout the day on Thursday across portions of Louisiana and Mississippi. Enhanced seas will continue on Thursday across the Gulf of Mexico.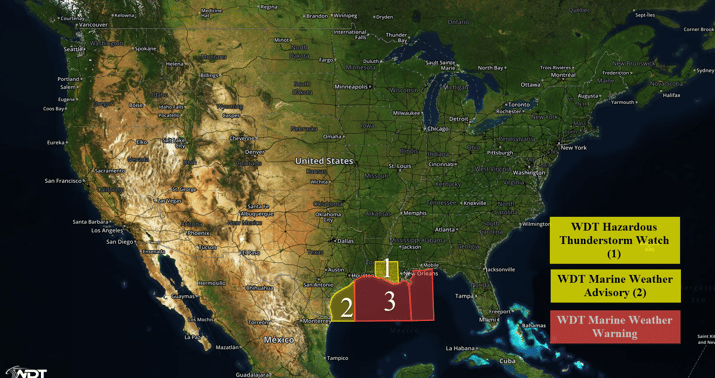 US Hazards
Region 1
Gulf moisture will continue to stream northward into Region 1 with an area of low pressure positioned over Texas. Ongoing thunderstorms from Louisiana and southward into the Central Gulf of Mexico should move slowly to the northeast during the next few hours. Conditions should become favorable to produce a few severe thunderstorms capable of producing wind gusts in excess of 50 mph, heavy to excessive rainfall, frequent lightning, and possibly a few isolated tornadoes.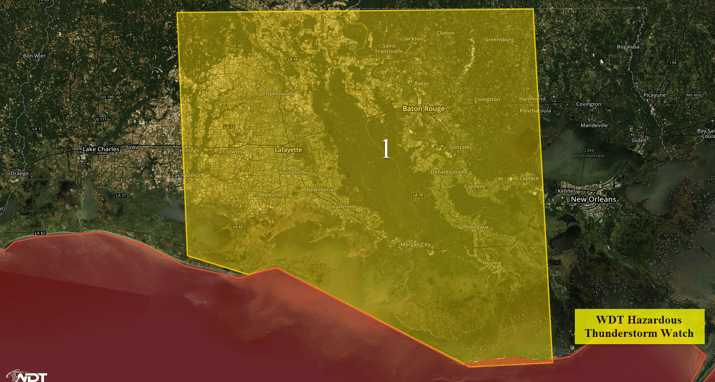 Region 1
Region 2
A frontal boundary extending from an area of low pressure along the Texas coast and the associated front extending southward through the western Gulf of Mexico will interact with strong high pressure over the western Atlantic over the next couple of days. This interaction will continue to generate widespread rough seas across Region 2 as elevated southwesterly swells track across the region. Additionally, strong to perhaps severe thunderstorms will be possible through Wednesday morning. These storms could produce gusty winds, lightning, and gusty winds. Winds will be somewhat variable across the region with winds generally expected to remain below 25 knots but higher gusts will be possible due to thunderstorm activity. Nearshore seas of 7-10 feet and deepwater seas of 11-14 feet will be possible.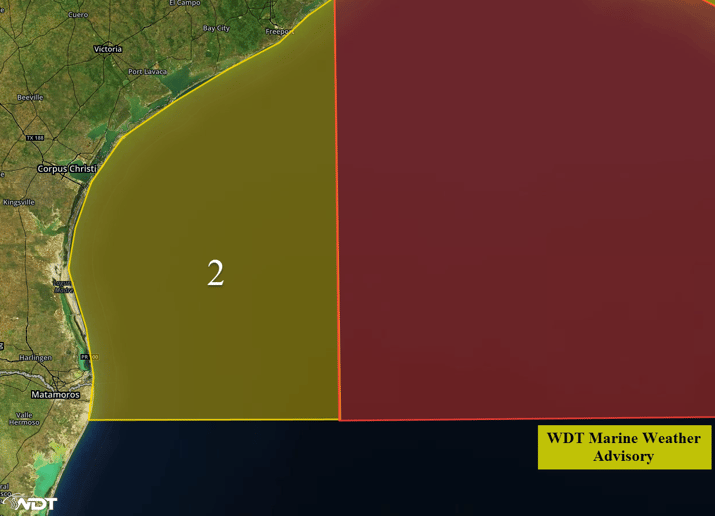 Region 2
Region 3
Enhanced conditions and severe thunderstorms will be possible across portions of Region 3 as an intense area of low pressure continues to move slowly to the east. As a result, a prolonged period of enhanced conditions and severe thunderstorms will be possible. Southeasterly winds and seas will continue to increase through Thursday ahead of the approaching low and the associated front. The front will move eastward across the region throughout the day on Thursday with the primary hazard will be strong to severe thunderstorms. Southeasterly winds of 25-35 knots with frequent gale force winds will be possible. Near shore swells of 6-10 feet and deep water swells of 12-16 feet will be possible.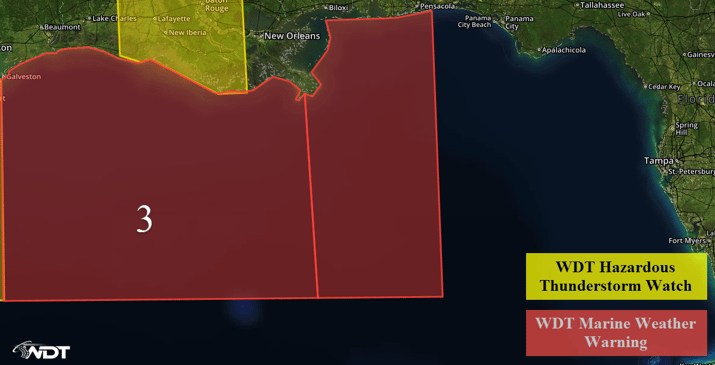 Region 3