National Weather Summary for Thursday, August 11, 2016
by David Moran, on Aug 11, 2016 12:11:04 PM
An area of low pressure and cold front will be the focus for thunderstorm development across the Upper Midwest and Northern Plains on Thursday. Heavy rain and flooding will continue along the Gulf Coast and Lower Mississippi Valley through Friday, as an area of low pressure begins to slowly drift northwestward. Strong to severe thunderstorms will be possible across portions of the Northeast and into the eastern Great Lakes as a warm front moves across the region. By Saturday, heavy rain will be possible for portions of the Mississippi and Ohio River Valleys along a stalled front. Heavy rain will also be possible across eastern Texas and western Louisiana as an upper level low continues to move westward.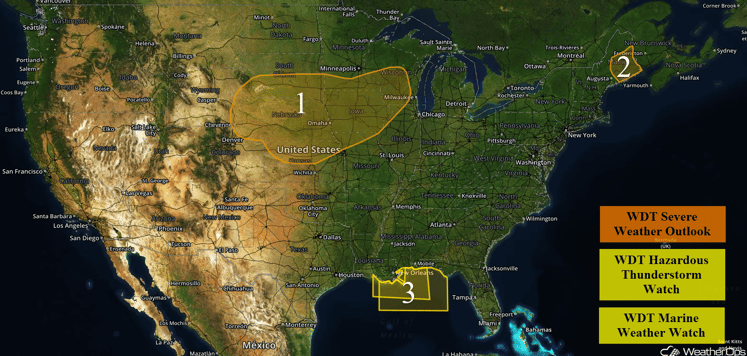 US Hazards
Region 1
Leftover thunderstorm activity is currently making its way through Iowa and Wisconsin, bringing the threat of damaging wind gusts to portions of the Midwest this morning. This thunderstorm activity is expected to continue eastward and southeastward through the remainder of the morning and will slowly weaken as the morning progresses. As a result, only isolated areas of strong winds are forecast with this thunderstorm complex by late morning into the early afternoon. Behind the early morning thunderstorm activity, instability is expected to return to portions of South Dakota, Nebraska, Iowa, and Southern Minnesota later this afternoon. With warm moist air being pumped into the region, and wind shear increasing ahead of an approaching cold front from the west, shower and thunderstorm activity is forecast to increase in intensity and coverage as the afternoon and early evening progresses. Some of these thunderstorms could be strong to severe with a few supercells possible especially in the early afternoon. Any thunderstorms that form will become linear in nature as the evening progresses. The primary threats with any storms that develop will be large hail and damaging winds, however an isolated tornado or two cannot be ruled out. In addition, heavy rainfall will be possible; rainfall amounts of 1-3 inches with locally higher amounts in excess of 5 inches will be possible.
Update 1:24pm: Severe thunderstorms are moving across southeastern South Dakota. Large hail, damaging winds, and frequent lightning are possible.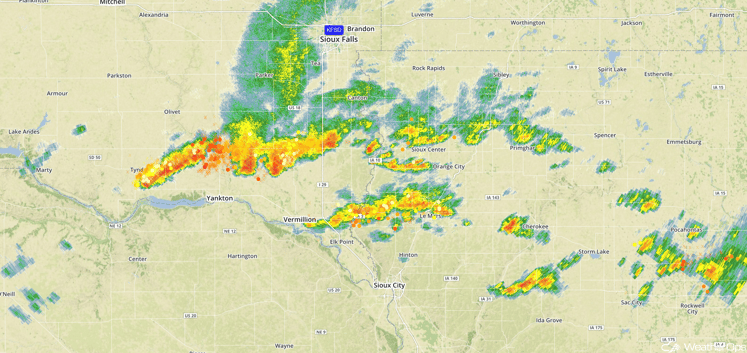 Radar 1:24pm CDT
Major Cities in Region: Sioux Falls, SD, North Platte, NE, Omaha, NE, Des Moines, IA
Region 1
Region 2
A stalled front across northern New England will be the focus for thunderstorm development through the early afternoon and into the early evening. Daytime heating combined with warm moist air across the region will lead to some moderate instability across the region. Combined with marginal wind shear ahead of the front, shower and thunderstorm activity is expected this afternoon. A few of these storms may be strong to severe, with the primary hazards being damaging winds and isolated large hail. Thunderstorm activity is forecast to begin to diminish as the sun sets tonight and daytime heating begins to decrease across the area.
Major Cities in Region: Bangor, ME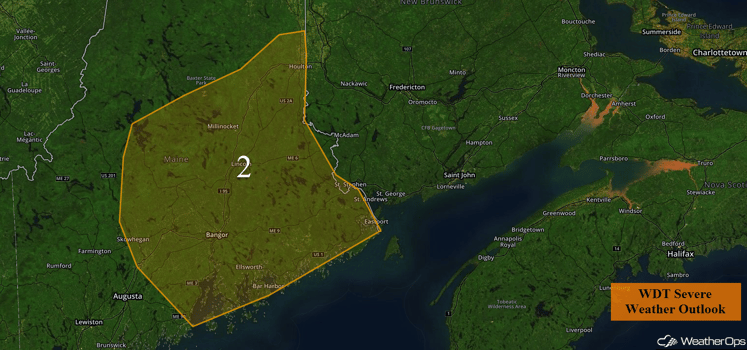 Region 2
Region 3
Low pressure over the southeastern US will continue to produce areas of strong to near gale force winds and widespread thunderstorm activity across the northern Gulf today. Current indications are that thunderstorms may increase in coverage and intensity across Region 3 during the next few hours before decreasing during the late afternoon and evening. Winds 30-40 mph with higher gusts will be possible in addition to rough seas and waterspouts.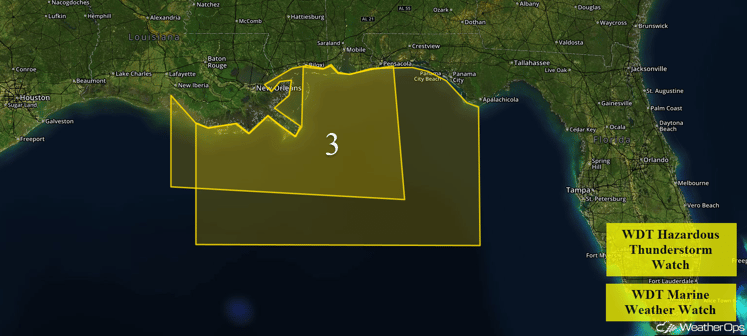 Region 3
Excessive Rainfall Possible Thursday through Saturday Along the Gulf Coast and the Lower Mississippi Valley



Widespread showers and thunderstorms will continue across the Gulf Coast as an area of low pressure drifts northwestward. Tropical moisture will allow for very high rainfall rates. Three day rainfall totals of 5-9 inches with locally higher amounts in excess of 12 inches will be possible. Flash flooding will be a serious concern.
Major Cities in Region: New Orleans, LA, Jackson, MS, Shreveport, LA, Lake Charles, LA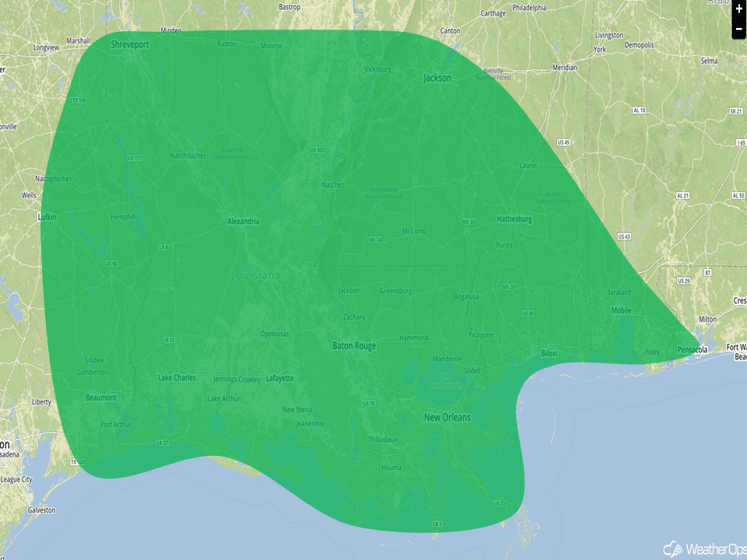 Excessive Rainfall Risk Outline for August 11-13
Strong to Severe Thunderstorms Possible Friday Across the Eastern Great Lakes and Northeast
Scattered showers and thunderstorms are expected across portions of the Northeast into the southern Great Lakes as a warm front moves through the region. By the afternoon hours, the atmosphere will be marginally favorable for severe weather, with some activity becoming strong or severe. Damaging winds will be the primary hazard.
Major Cities in Region: Detroit, MI, Cleveland, OH, Buffalo, NY, Syracuse, NY, Augusta, ME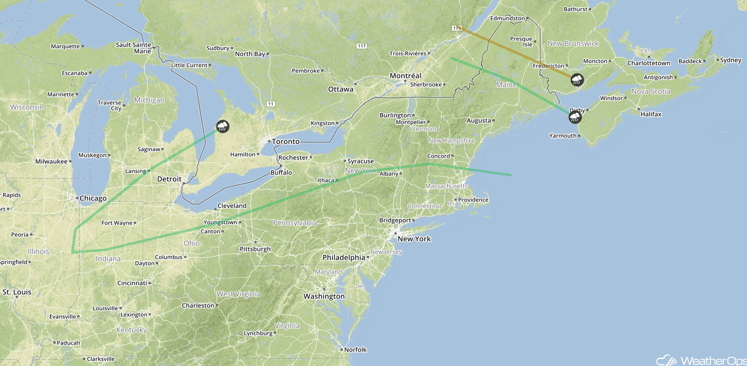 SPC Convective Outlook for Friday
Excessive Rainfall Possible for Eastern Texas and Western Louisiana on Saturday
An upper level low will shift westward on Saturday, bringing a threat for excessive rainfall leading to flooding to eastern Texas and Western Louisiana. Showers and thunderstorms will move into the area during the morning and persist for much of the day into the evening. Rainfall accumulations of 1-2 inches will be likely with locally higher amounts in excess of 3 inches possible.


Major Cities in Region: Baton Rouge. LA, Shreveport, LA, Beaumont, TX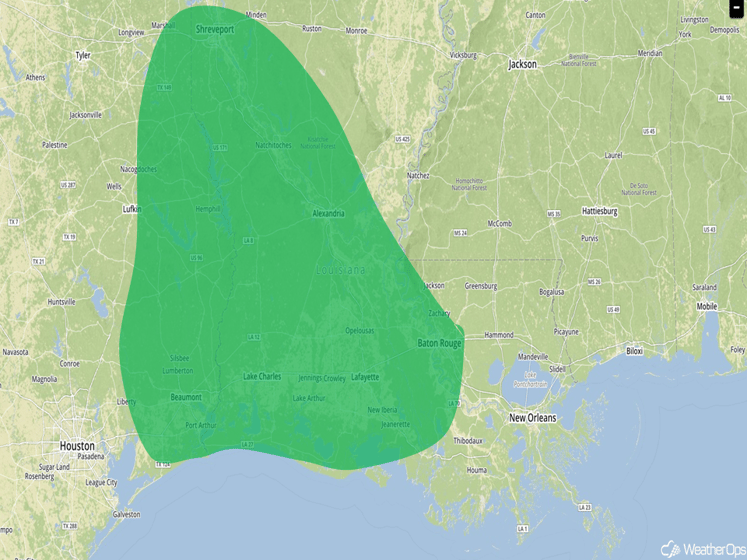 Excessive Rainfall Risk Outline for Saturday
This is just a brief look at current weather hazards. We can provide you site-specific forecast information for the purpose of protecting your personnel and assets. Try a 7-day demo right away and learn how timely precision weather information can enhance your bottom line.