National Weather Summary for Monday, September 12, 2016
by David Moran, on Sep 12, 2016 12:05:53 PM
Thunderstorms are expected across portions of the Midwest and Central Plains ahead of a cold front on Monday. On Tuesday, heavy rain is expected across portions of the Southern Plains ahead of a slow moving cold front.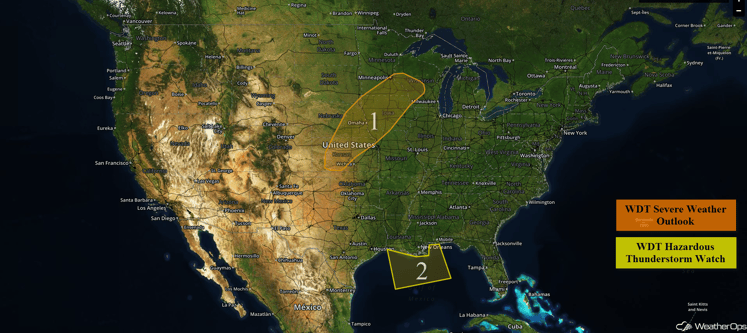 US Hazards
Region 1
As a cold front moves through Region 1 later today, shower and thunderstorm activity is expected to increase in coverage and intensity as the afternoon progresses. Ahead of the cold front, warm moist air will lead to moderate instability. Combined with moderate wind shear, thunderstorms are expected to become strong to severe. Thunderstorms will begin as supercells over portions of Nebraska and Kansas, but will quickly evolve into squall lines as they move eastward into Minnesota, Iowa, and Missouri. The primary hazards with any thunderstorms that do form will be large hail and damaging winds. The severe threat is forecast to slowly diminish around midnight tonight.
Update 1:37pm CDT: Thunderstorms are developing across portions of the Plains.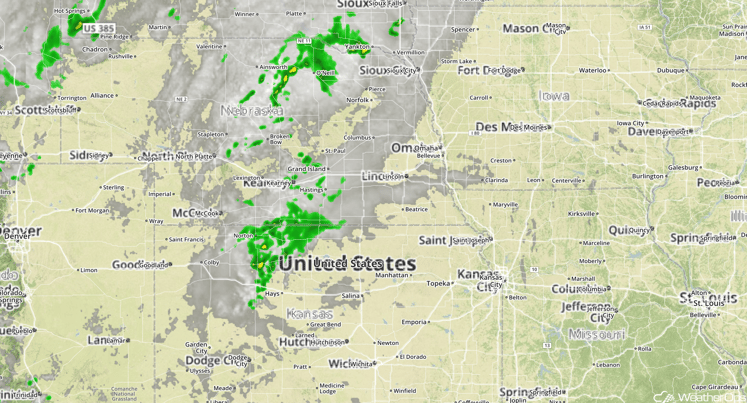 Central Plains Radar and Satellite
Major Cities in Region: Dodge City, KS, Omaha, NE, Des Moines, IA, Minneapolis, MN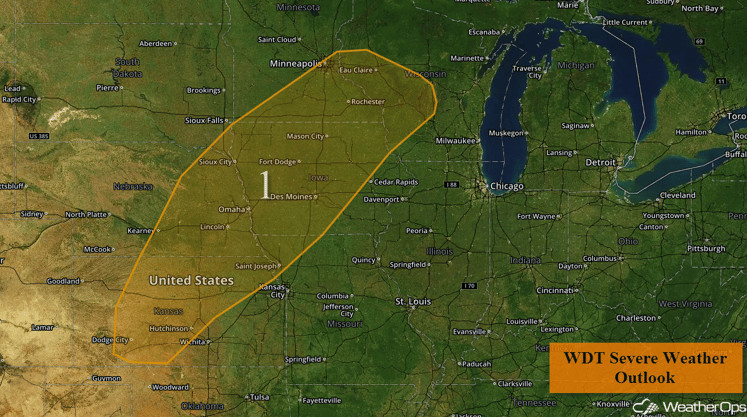 Region 1
Region 2
Scattered areas of thunderstorms have been developing and dissipating in the Gulf of Mexico in response to high moisture content throughout the region, and this trend is expected to continue through the morning hours today. Some of these storms could produce locally heavy rainfall and wind gusts in excess of 45 mph before weakening. Many of these storms will be nearly stationary or slightly northeastward.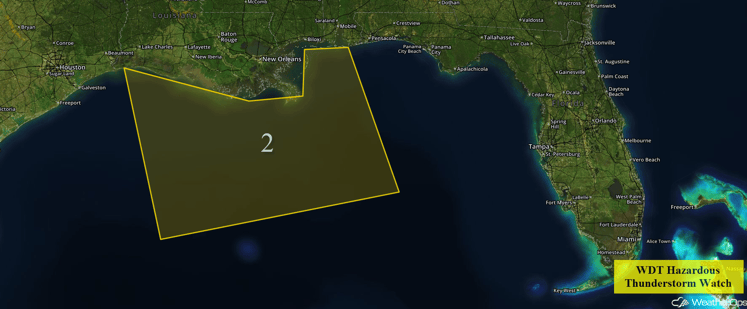 Region 2
Excessive Rainfall Possible Tuesday across the Southern Plains



Rain showers are forecast to develop across much of the Southern Plains on Tuesday ahead of a slow moving cold front. Deep moisture in place will allow for heavy rainfall. While widespread rainfall accumulations across the threat area are expected to be around one inch, locally heavier amounts in excess of three inches may be possible in some locations.
Major Cities in Region: Lubbock, TX, Amarillo, TX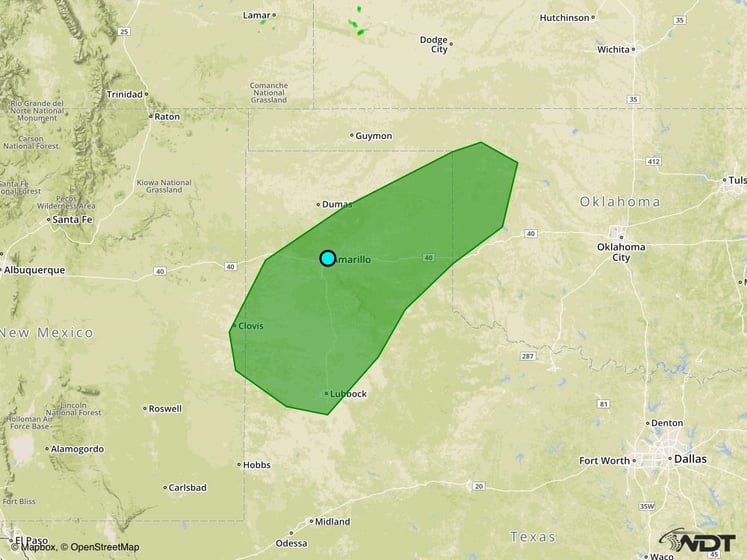 Excessive Rainfall Risk Outline for Tuesday
Tropical Update
Tropical Storm Ian has formed and is moving toward the northwest at 13 mph. Ian is forecast to turn toward the northwest over the next day or so. On the current forecast track, the center will continue to move over the Central Atlantic through Tuesday.
Disorganized thunderstorm activity continues in association with a disturbance near the central and northwestern Bahamas. There are no signs of a closed circulation, and conditions do not appear conducive for significant development of this disturbance while moving west-northwestward. Locally heavy rainfall will be possible over portions of the central and northwestern Bahamas today, and portions of Florida on Tuesday.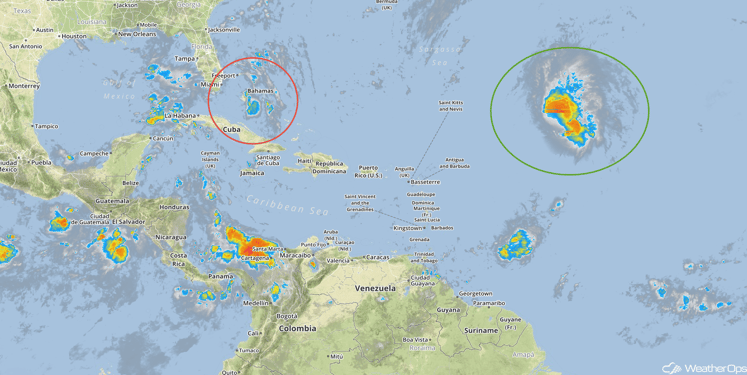 Tropical Infrared Satellite
A Look Ahead
Showers will continue across a large area of the Southern Plains, through the Central Plains, and into the Midwest on Wednesday. Rainfall amounts in most areas should remain below an inch, though a few areas may see rainfall totals in excess of an inch. Rain and thunderstorm chances will continue along the Gulf Coast and across the Southeast, but widespread hazardous weather is not anticipated. Rain will continue across the Southern and Central Plains into Thursday. Rainfall amounts of 1-2 inches with isolated higher amounts in excess of 4 inches possible, leading to the potential for flash flooding. By Saturday, heavy rain will be possible for portions of West Texas ahead of a cold front. Widespread rainfall accumulations around two inches with isolated higher amounts in excess of 4 inches will be possible. These heavy rains could lead to the potential for flash flooding, especially in the mountainous areas of the Texas Big Bend area.
This is just a brief look at current weather hazards. We can provide you site-specific forecast information for the purpose of protecting your personnel and assets. Try a 7-day demo right away and learn how timely precision weather information can enhance your bottom line.