National Weather Summary for Monday, October 15, 2018
by David Moran, on Oct 15, 2018 10:57:44 AM
A cold front will be the focus for thunderstorm development along the Atlantic Coast on Monday. Excessive rainfall will continue for portions of Texas through Tuesday as a cold front moves southward. Elevated winds and seas are expected along the Texas coast through early Thursday.
Thunderstorms along the Atlantic Coast on Monday
Excessive Rainfall through Tuesday across Texas
Elevated Winds and Seas along the Texas Coast through Early Thursday Morning
Tropical Update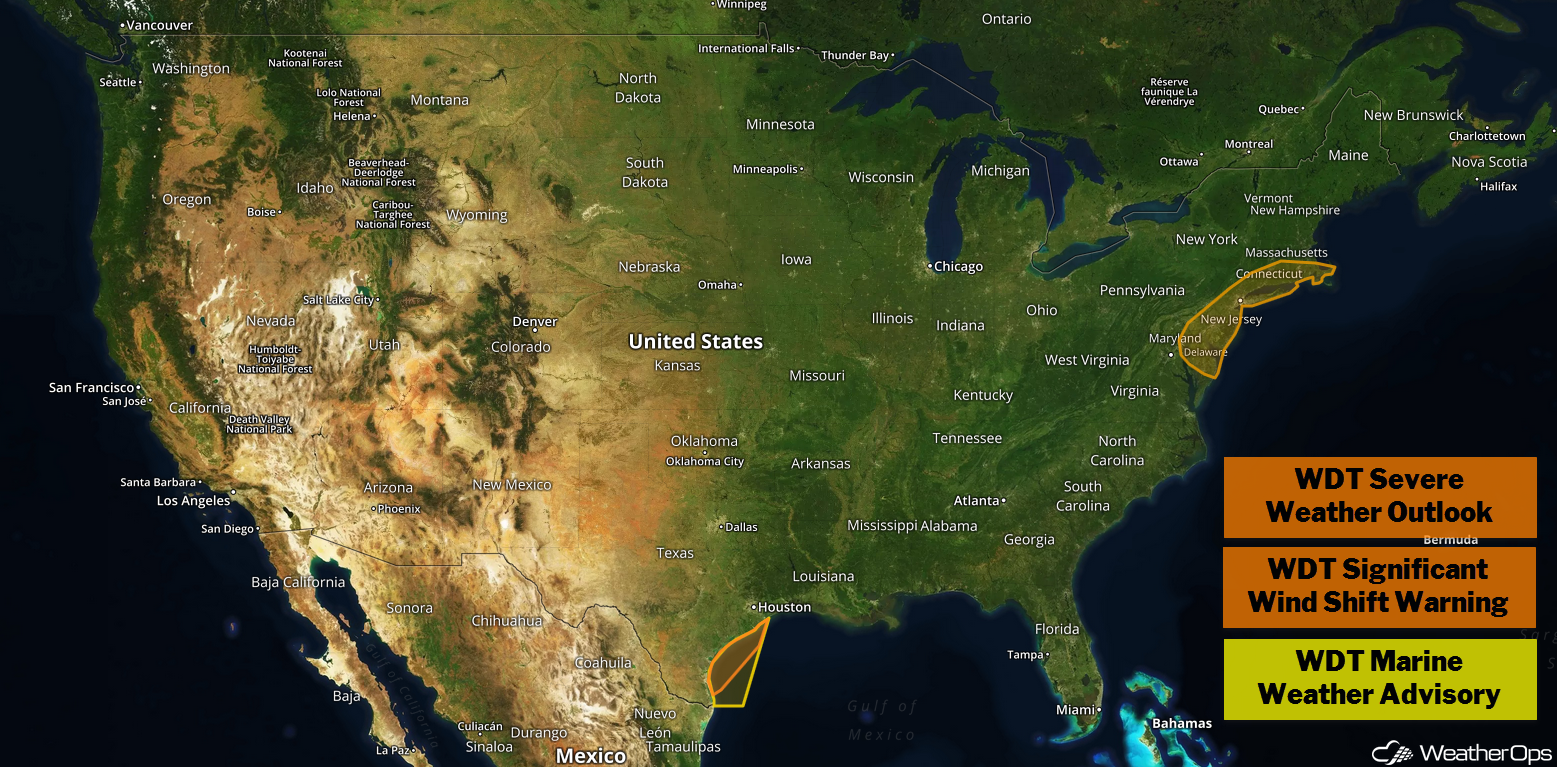 US Hazards
Thunderstorms along the Atlantic Coast on Monday
A cold front is expected to move across the Northeast with strong to severe thunderstorms developing along the Atlantic Coast. Relatively warm temperatures are forecast ahead of the front; with enough instability and forcing along the front, thunderstorms will develop. Strong wind gusts, along with lightning and heavy rain, will be the primary hazards with these storms.
Major Cities in Region: Atlantic City, NJ, New York, NY, Boston, MA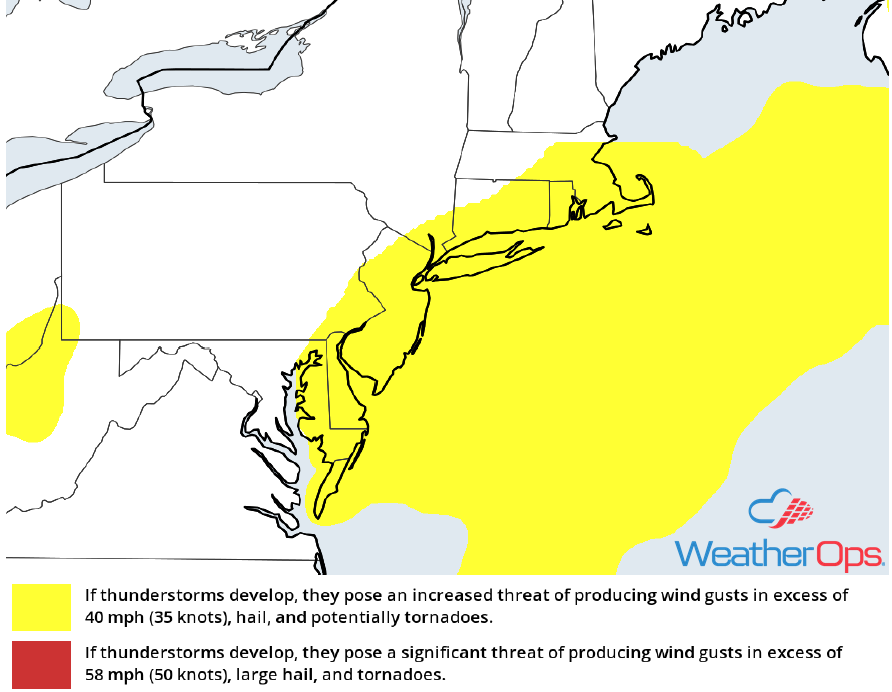 Thunderstorm Risk for Monday
Excessive Rainfall through Tuesday across Texas
Behind a cold front across southeast Texas, increased moisture and the potential for moderate to heavy rainfall will remain across the region. With plentiful moisture across Texas, moderate instability will lead to widespread shower and thunderstorm activity. While thunderstorms are expected to be weak due to the lack of upper level support, heavy to excessive rainfall will be possible. Rainfall amounts will range 2-4 inches with locally higher amounts in excess of 6 inches. Due to the saturated soil across Texas, there will be a potential for flooding and flash flooding Monday and Tuesday.
Major Cities in Region: Del Rio, TX, Abilene, TX, Dallas, TX, Texarkana, TX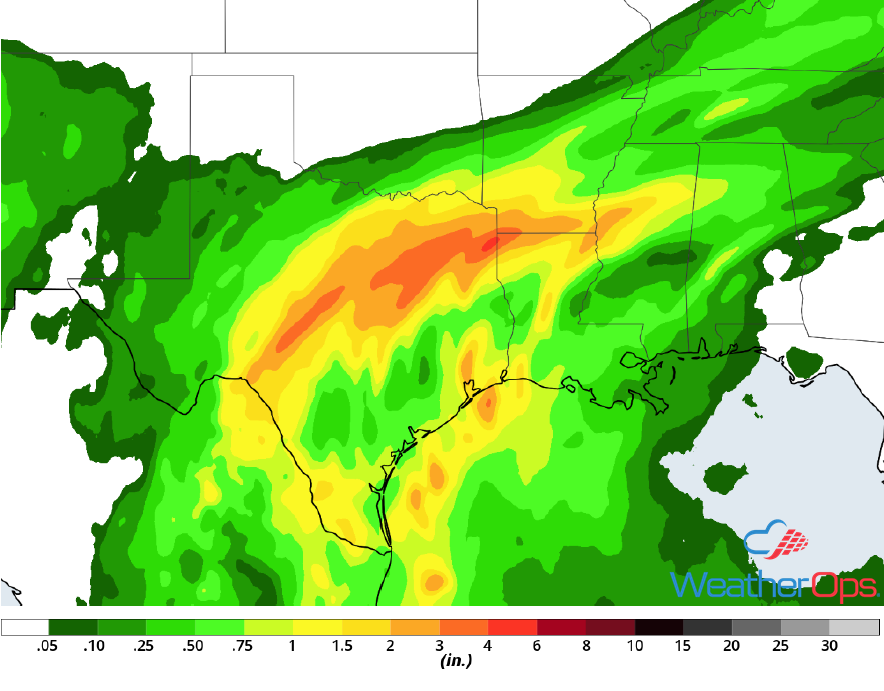 Rainfall Accumulation through Tuesday
Elevated Winds and Seas along the Texas Coast through Early Thursday Morning
A cold front is forecast to slowly move off the Texas coast Monday afternoon and evening into the overnight hours. There is some uncertainty in how far the front will make it offshore, however, increasing north-northeast winds and building seas can be expected just offshore the Texas coast. The front will make another push eastward Tuesday night into Wednesday, with the entire region experiencing enhanced winds and seas. With high pressure building into the region, elevated conditions are forecast to persist into Thursday morning before decreasing. Ahead of the front, winds will be southeasterly at 10-15 knots. Winds will be northerly to northeasterly at 20-30 knots with gusts to 35 knots behind the front. Seas will range 4-7 feet near shore and 6-9 feet in the deeper waters.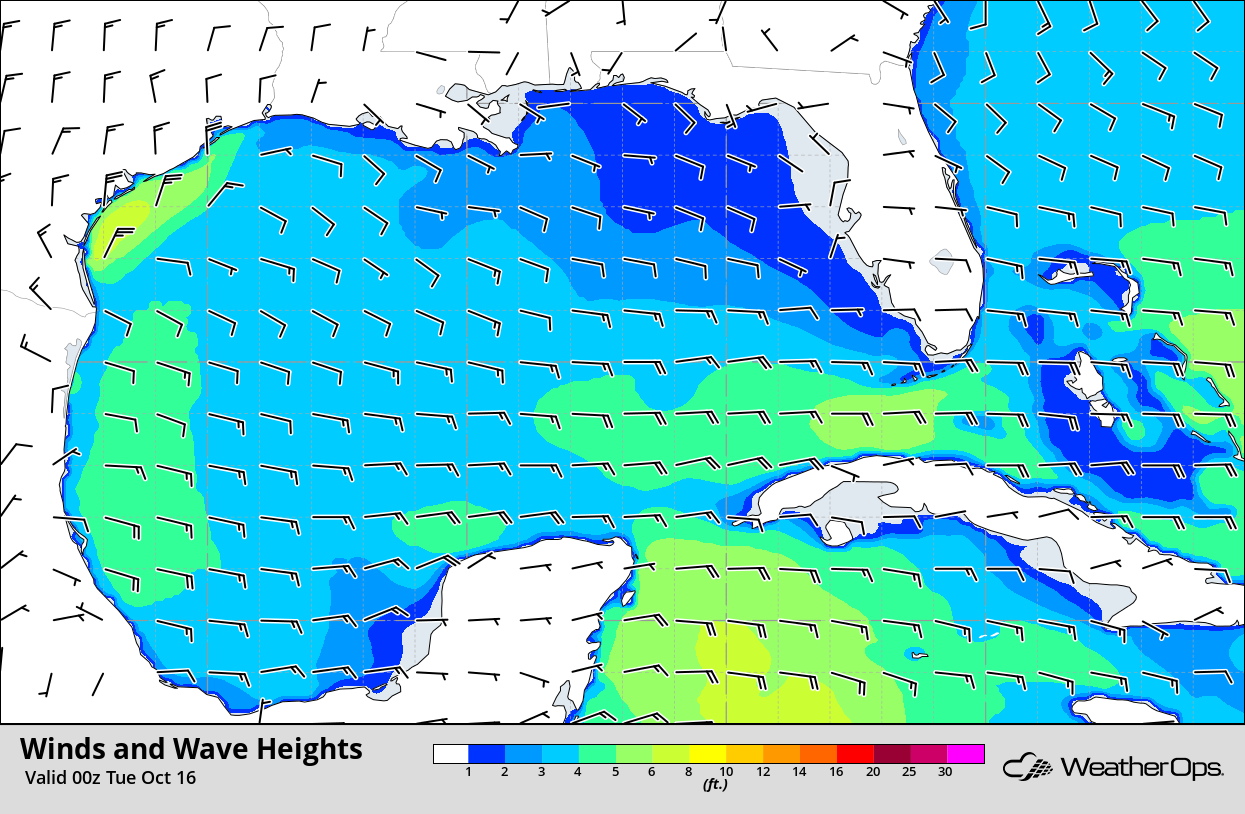 Winds and Wave Heights 7pm CDT Monday
Tropical Update
Showers and thunderstorms associated with a broad area of low pressure over the southwestern Caribbean are showing signs of organization. The system is moving west-northwestward and it could become a tropical depression before it moves inland over Central America by Tuesday. Regardless of development, locally heavy rainfall and flash flooding is forecast across portions of Central America for much of the week.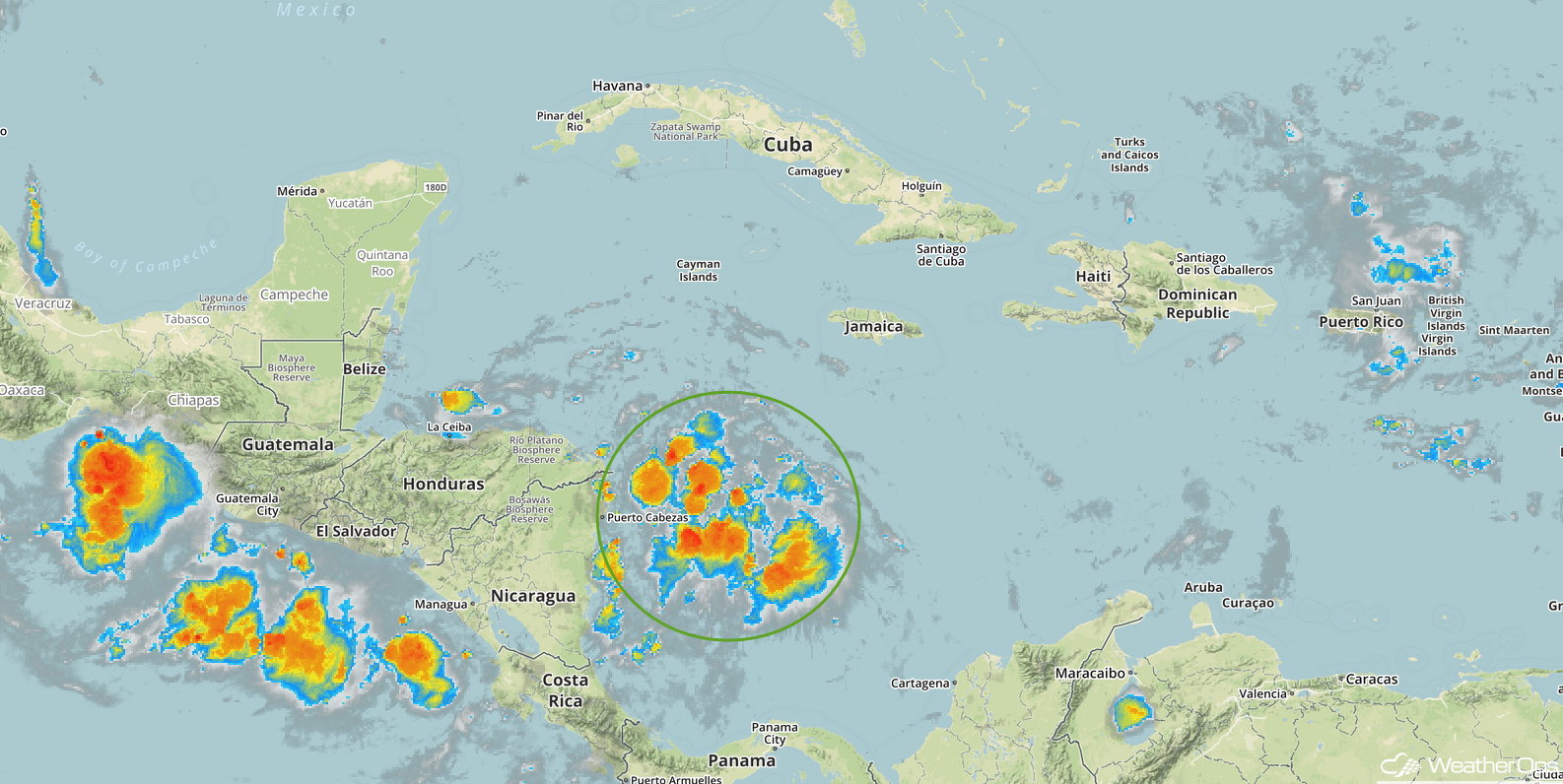 Enhanced Infrared Satellite
A Look Ahead
Light snow may develop over portions of the Northeast on Thursday as an area of low pressure moves out of the region. Another round of heavy rain is expected over portions of Western and Southern Texas. This rain will move into the Lower Mississippi Valley on Friday. Rain and snow will move into the Great Lakes on Saturday as a cold front moves eastward. Another round of light snow may move into the Northeast on Sunday.