National Weather Summary for Monday, February 15, 2016
by David Moran, on Feb 15, 2016 11:50:43 AM
Moderate to heavy winter weather is likely on Monday from the Appalachians through the Northeast. Strong to severe thunderstorms are possible along the Gulf Coast.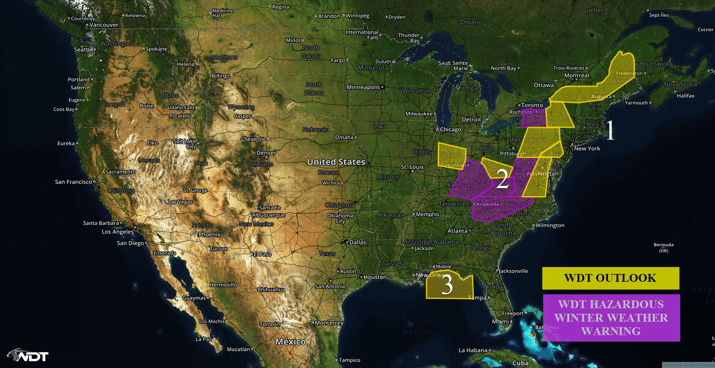 US Hazards
Region 1
An area of low pressure will push moisture and a frontal boundary into region 1, allowing for the potential for snow into Tuesday night. Snowfall accumulations of 3-6 inches of snow expected with locally higher amounts possible. On Tuesday as a warm front moves northward, a mixture of winter precipitation will be possible before transitioning entirely to rain during the afternoon and into the evening. Snowfall will resume into the evening before exiting the region. Lake effect snow will also be possible across Western New York through Tuesday evening. Snow accumulations of 7-10 inches with locally heavier amounts in excess of 12 inches will be possible. In the heaviest bands, snow accumulations could exceed 18 inches. Winds of 15-25 miles per hour with gusts in excess of 30 miles per hour will create wind chills of 5-15°F. Visibilities below one mile will be possible at times and near zero in the heaviest bands. Hazardous travel conditions across western New York will be possible by late Monday into Tuesday. Conditions will likely not improve until Wednesday.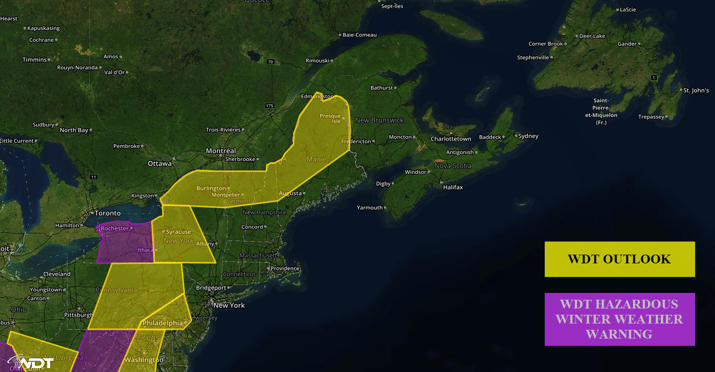 Region 1
Region 2
Snow ongoing over the Ohio Valley will gradually move into the Appalachians by this evening. Precipitation will start out as snow across the region with widespread accumulations of 4-8 inches expected. Locally higher amounts in excess of 10 inches will be possible, particularly in the mountainous areas. By Monday morning, warm air aloft will move in, allowing for a changeover to sleet and freezing rain across the valleys. Ice accumulations will range from a light glaze in mountainous areas to one third of an inch in valleys. Locally higher amounts in excess of half an inch will be possible. Hazardous travel will be likely through Tuesday.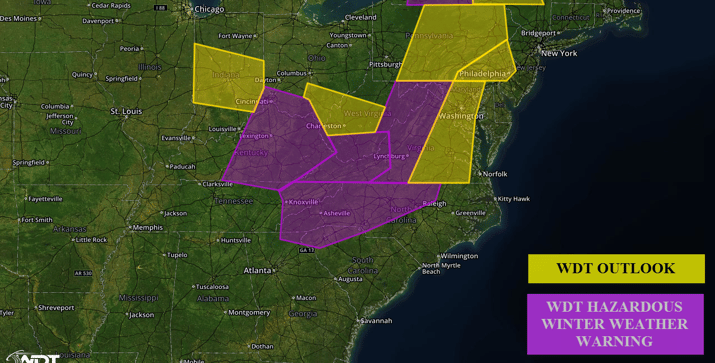 Region 2
Region 3
South southeasterly winds are expected to begin increasing early Monday morning in response to a developing surface low over the Southeast. The deep fetch of south southeasterly winds will lead to building waves in excess of 7 feet. Along with southeasterly to east southeasterly swells of 4-6 feet, combined seas of 6-8 feet are expected throughout much of the day on Monday and into early Tuesday morning. In addition to the increased conditions, widespread thunderstorms are exoected across the region by late Monday morning and continuing into late Monday night. Some thunderstorms could be strong with wind gusts in excess of 40 knots and frequent lightning. As these thunderstorms push through the region, winds will gradually veer from south southeast to southwest two west, with winds finally becoming northwesterly at 10-20 knots by Tuesday afternoon.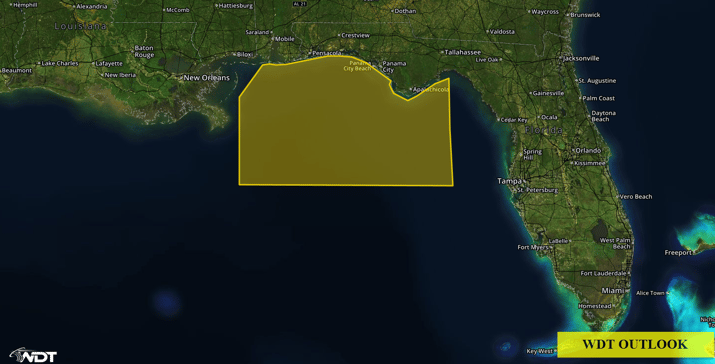 Region 3