National Weather Summary for Friday, January 13, 2017
by David Moran, on Jan 13, 2017 11:14:49 AM
A large winter storm will impact a large portion of the country from the Colorado Front Range to the Mid Atlantic through the weekend. Thunderstorms may develop across portions of the Southern Plains Saturday and Sunday as an upper level system moves into the Plains.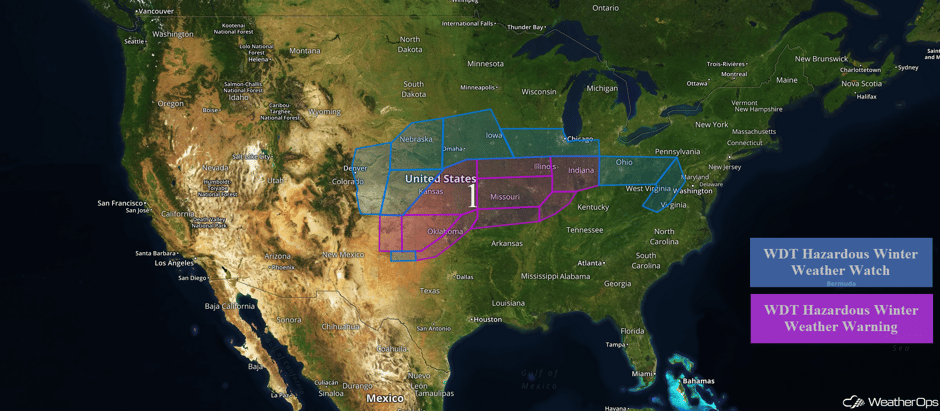 US Hazards
Region 1
Freezing rain has commenced across portions of the Texas Panhandle and Oklahoma. Freezing drizzle is expected Friday with precipitation rates increasing Saturday into Sunday. The Texas and Oklahoma Panhandles may see between a quarter and a half inch of ice, making travel hazardous. Further to the east across western Oklahoma, as much as 0.75 inch of ice is expected through Sunday morning. Power outages will be possible in these areas. From southwestern Oklahoma to northeastern Oklahoma, between a tenth and a quarter of an inch of ice is forecast. Ice accumulations between 0.25 and 0.75 inch is expected for much of the state and eastward into Missouri. Southern portions of Missouri and northern Arkansas may see between a tenth and a quarter inch of ice. By Friday evening, freezing rain will begin across portions of Illinois and Indiana with ice accumulations between 0.25-0.50 inches with locally higher amounts in excess of 0.75 inch. From Indiana into the Appalachians, ice accumulations of 0.1-0.3 inches are forecast in addition to snow and sleet accumulations up to an inch.
As the storm system begins to move eastward on Sunday, snow is expected from the Colorado Front Range northeastward into the Midwest. Along the Front Range, snow accumulations of 3-6 inches are forecast with locally higher amounts in excess of 8 inches. Across western Kansas and southwestern Nebraska, 4-6 inches of snow are expected in addition to ice accumulations between a tenth and a quarter of an inch and locally higher amounts through Monday evening. A mixture of wintry precipitation is expected from eastern Nebraska to central Iowa Sunday afternoon through Monday evening. Ice accumulations from 0.10-0.25 inches of ice are forecast through Monday evening. From eastern Iowa through northern portions of Illinois and Iowa, up to 0.25 inches of ice are expected through Monday morning.
Update 12:22pm CST: Freezing rain in St. Louis metro area.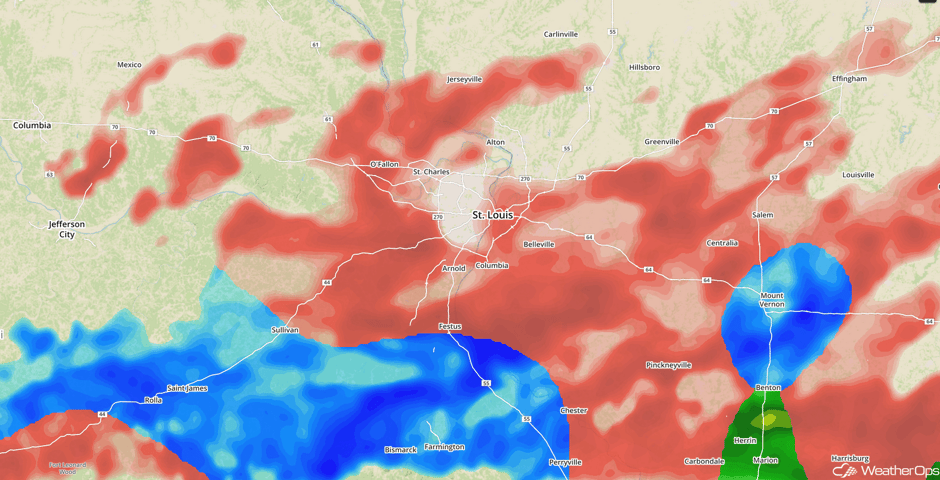 Radar 12:22pm CST
Update 1:21pm CST: Freezing rain is falling in north central Oklahoma.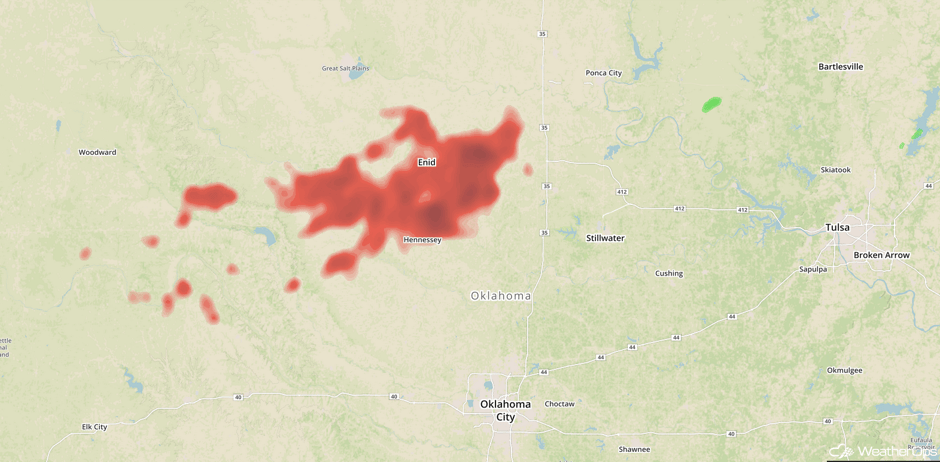 Radar 1:21pm CST
Update 2:21pm CST: Rain moving northward out of Texas will transition into freezing rain across Oklahoma.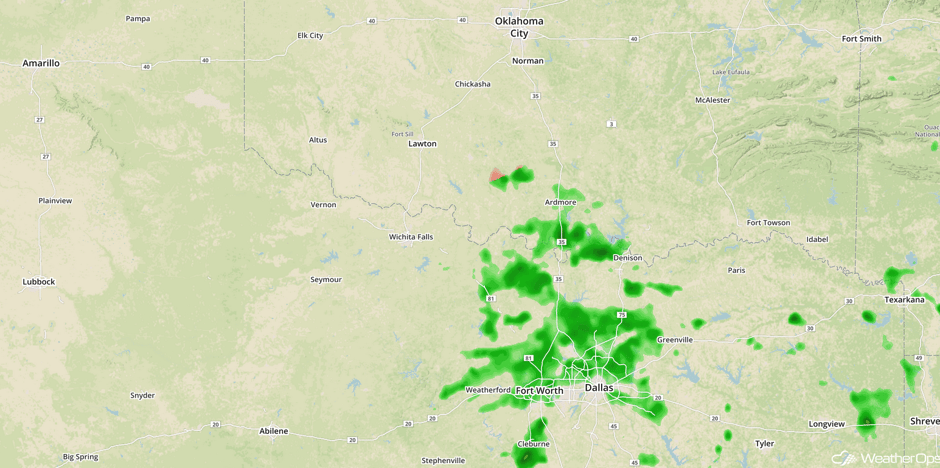 Radar 2:21pm CST
Major Cities in Region: Denver, CO, North Platte, NE, Amarillo, TX, Oklahoma City, OK, Tulsa, OK, Topeka, KS Kansas City, MO, St. Louis, MO, Chicago, IL, Indianapolis, IN, Columbus, OH, Pittsburgh, PA

Region 1
Strong to Severe Thunderstorms on Saturday across the Southern High Plains
As an upper level low over the Southwest begins to move eastward, thunderstorm development will be possible in the vicinity of a stationary front over portions of eastern New Mexico and western Texas. The main timing for thunderstorms will be during the evening and overnight hours as instability increases, with a marginal risk for a few strong to severe thunderstorm across the region. The primary hazard will likely be hail, but some of the stronger storms may also produce gusty winds.
Major Cities in Region: Roswell, NM, Midland, TX, Lubbock, TX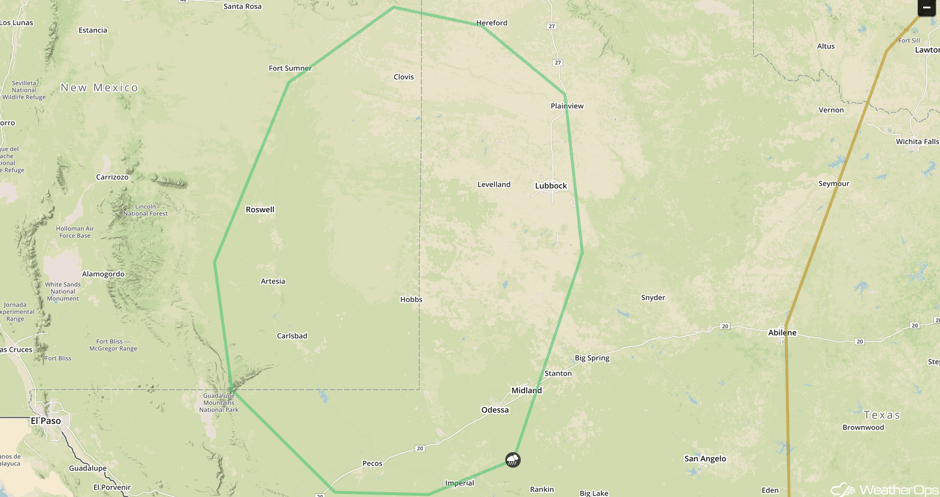 SPC Convective Outlook for Saturday
Strong to Severe Thunderstorms Possible across the Southern Plains on Sunday
As the upper level low mentioned above continues to move into the Plains, a surface low and the associated cold front will move eastward across the Southern Plains on Sunday. Thunderstorms are forecast to develop along and ahead of the front. With favorable lift and increasing instability, conditions are favorable for the development of severe thunderstorms across the region, especially during the afternoon and early evening hours. The primary hazards will be large hail and damaging winds, though an isolated tornado cannot be ruled out. In addition, there will be a potential for excessive rainfall, mainly across central and southwest Texas. Rainfall amounts of 1-2 inches with isolated higher amounts in excess of 3 inches will be possible.
Major Cities in Region: Midland, TX, Fort Worth, TX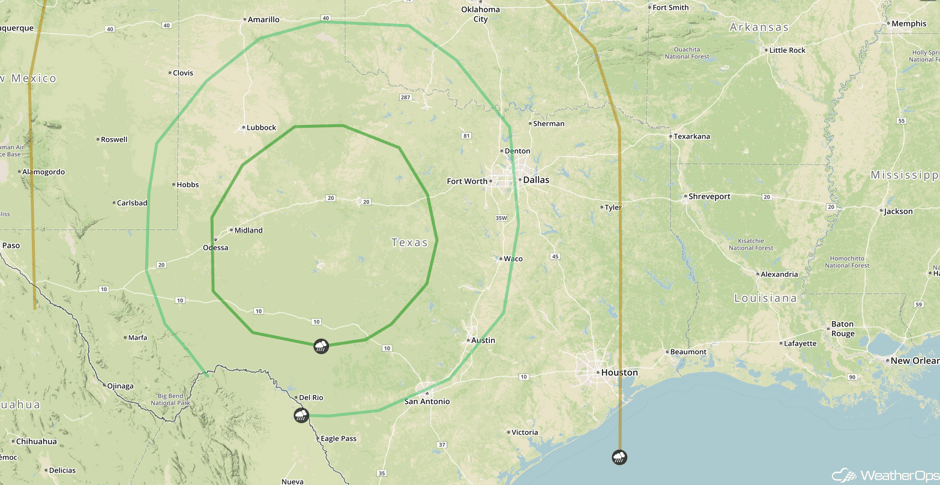 SPC Convective Outlook for Sunday
A Look Ahead
A storm system will approach the Pacific Northwest on Tuesday. It is likely to generate widespread showers across the region throughout the day, bringing a threat for excessive rainfall to western portions of Washington and Oregon. This activity will spread into northern California on Wednesday. Two day rainfall amounts of 4-8 inches with locally higher amounts in excess of 10 inches are expected.
This is just a brief look at current weather hazards. We can provide you site-specific forecast information for the purpose of protecting your personnel and assets. Try a 7-day demo right away and learn how timely precision weather information can enhance your bottom line.