National Weather Summary for Friday, February 24, 2017
by David Moran, on Feb 24, 2017 11:00:41 AM
Thunderstorms are expected to increase in coverage and intensity from portions of the Great Lakes to the Southeast ahead of a cold front. As the area of low pressure associated with the cold front mentioned above continues to move northeastward, snow will continue across the Upper Midwest and Great Lakes. A cold front moving through the Gulf of Mexico will allow for elevated winds and seas late Friday through early Sunday.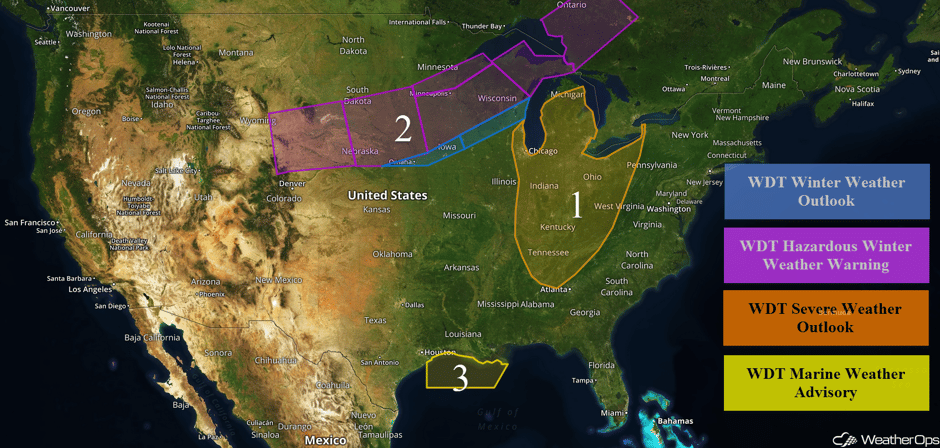 US Hazards
Region 1
An intensifying area of low pressure and its associated cold front will track northeastward across the Great Lakes today. As this occurs, instability is forecast to increase ahead of this cold front. With strong wind shear in place, strong to severe thunderstorms will increase in coverage and intensity this afternoon and evening. Initially, a few supercells and some squall lines will be possible. Heading into the evening, this activity will transition into a larger squall line ahead of the cold front. During the afternoon hours, large hail, damaging winds, and tornadoes will all be potential hazards with any storms that develop. Once thunderstorm activity evolves into a squall line, damaging winds and isolated tornadoes will be the primary hazards.
Update 2:38pm EST: Severe Thunderstorm Warning southwest of Detroit, MI.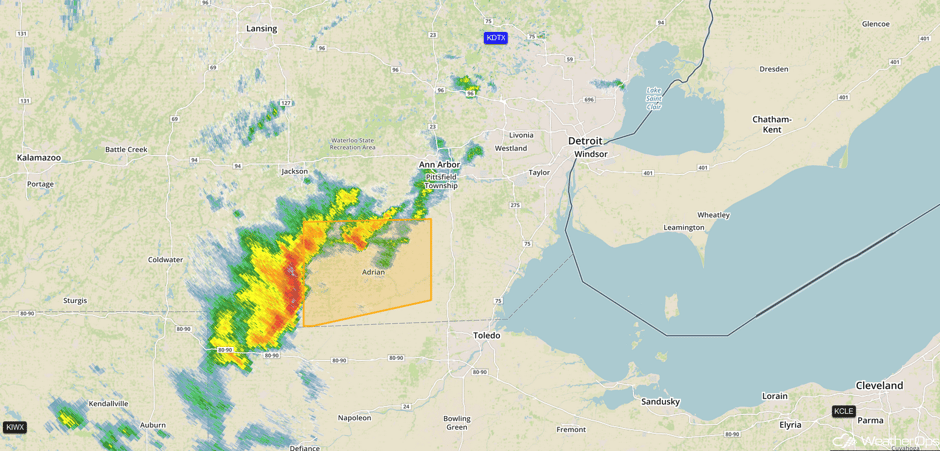 Radar 2:38pm EST
Major Cities in Region: Milwaukee, WI, Chicago, IL, Nashville, TN, Indianapolis, IN, Cleveland, OH, Pittsburgh, PA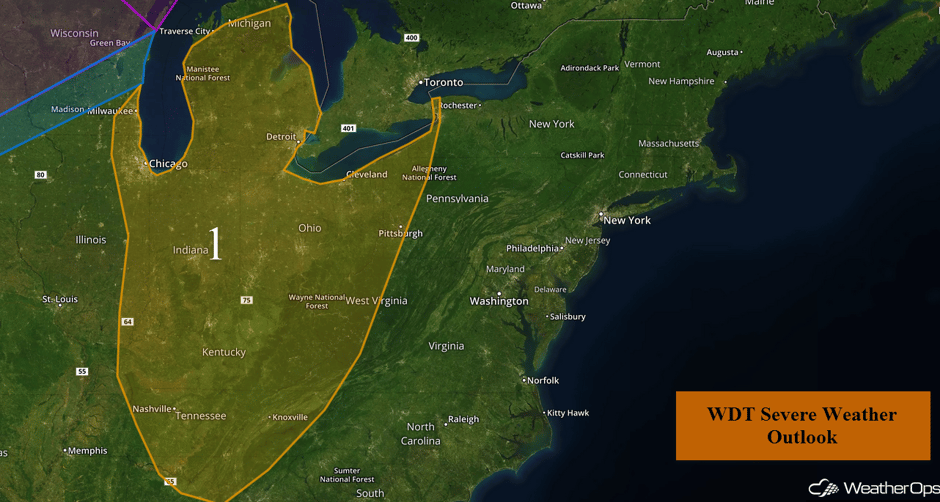 Region 1
Region 2
Snow will continue across the Plains and the Great Lakes through early Saturday afternoon as an area of low pressure continues to move northeastward. Snowfall amounts of 6-12 inches with locally higher amounts in excess of 14 inches are forecast from Nebraska into the Great Lakes. From Omaha northeastward to Green Bay, snow accumulations of 2-4 inches with isolated higher amounts in excess of 6 inches are expected. Winds of 15-25 mph with gusts in excess of 35 mph will allow for low visibilities and wind chills near 0.
what did that groundhog see again? :) #mnwx #rochmn pic.twitter.com/dKRQ6YhlSd

— VBCvideo.com (@VBCvideo) February 24, 2017
Snowfall update from Owatonna. Up to 11" of snow measured. Thanks for the report! #mnwx https://t.co/ySp5qm9Gt7

— NWS Twin Cities (@NWSTwinCities) February 24, 2017
Major Cities in Region: Sioux Falls, SD, Omaha, NE, Des Moines, IA, Minneapolis, MN, Green Bay, WI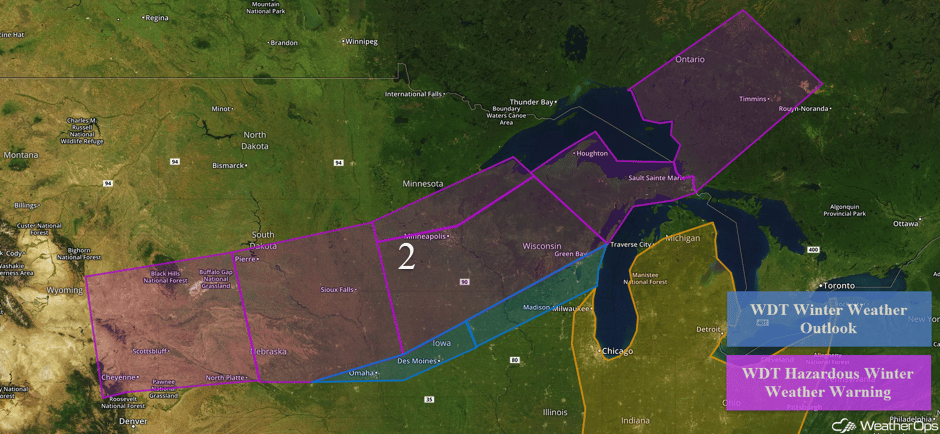 Region 2
Region 3
A cold front moving into the northwestern Gulf of Mexico late Friday will move quickly across the north central Gulf through the morning hours on Saturday. This front will cause moderate winds to become westerly and eventually north-northeasterly behind it. Winds may increase in excess of 25 knots behind the front.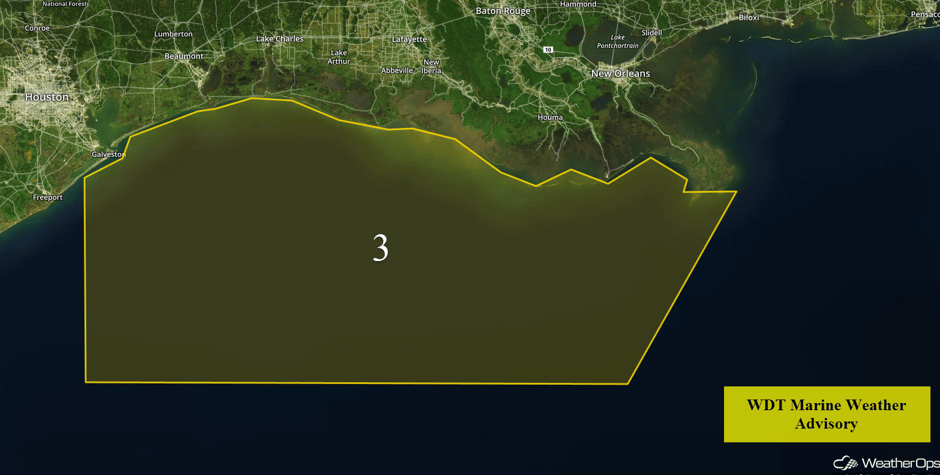 Region 3
Strong to Severe Thunderstorms Possible for the Northeast and Mid Atlantic on Saturday
A line of strong to potentially severe thunderstorms is expected to be ongoing early Saturday along an eastward advancing cold front. The storms will spread eastward into portions of the Northeast and Mid Atlantic throughout the day, Gusty winds and hail will be the primary hazards with these storms.
Major Cities in Region: Rochester, NY, Philadelphia, PA, Washington, DC, Norfolk, VA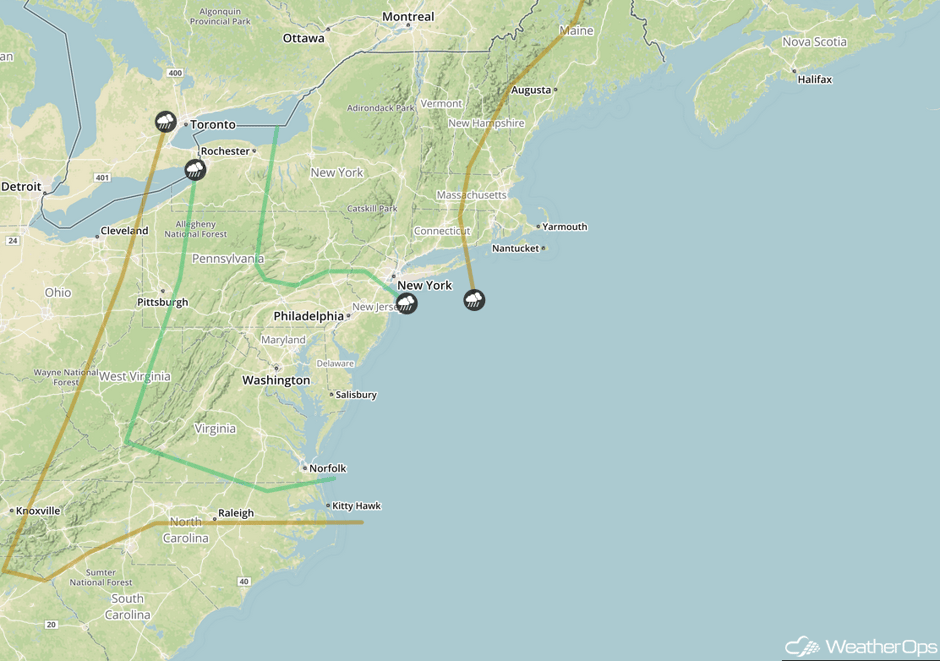 SPC Convective Outlook for Saturday
A Look Ahead
Model guidance continues to indicate the potential for wintry weather across northern portions of the US on Tuesday. An area of low pressure is forecast to lift northeastward toward the Upper Midwest throughout the day, with accumulating snow expected to develop over northern portions of the low. While confidence is not high due to the time frame as well as some model discrepancies, there appears to be a potential for a few to several inches of snow across North Dakota eastward into Minnesota.
This is just a brief look at current weather hazards. We can provide you site-specific weather forecast information for the purpose of protecting your personnel and assets and to assess your weather risk. Try a 7-day demo right away and learn how timely precision weather information can enhance your bottom line.