Nocturnal Tornadoes Cause Damage in the South
by Daphne Thompson, on Nov 6, 2018 2:59:03 PM
Overnight on November 5, tornadoes were spotted across the southern states. Nocturnal tornadoes are especially tough on communities since they are near impossible to see, and many are asleep and not alert to the conditions.
The event began in Louisiana during the early evening when a tornado was spotted near Natchitoches.
CST At 515 PM CST, a confirmed #tornado was located near Campti, LA, or 7 miles northwest of Natchitoches, moving northeast at 30 mph. #lawx pic.twitter.com/dkZ2hTeip7

— RadarScope (@RadarScope) November 5, 2018
I-49 10 miles south of Natchitoches. I was North bound. This was around 4pm. pic.twitter.com/HP7Vx807nO

— Lance Scott (@LanceScott4) November 5, 2018
By the time the storms reached Mississippi, night had fallen. Many tornado warnings were issued, and damage surveys will be ongoing today to determine how many occurred. For a while, Tupelo was under the gun as a large tornado was reported doing damage.
At 1122 PM CST, a large and extremely dangerous #tornado was located near Sandy Springs, or 10 miles southeast of Baldwyn, moving east at 45 mph. #mswx #ThinkWeather pic.twitter.com/wNllaxDI4N

— RadarScope (@RadarScope)

November 6, 2018
More damage in Colonial Estates. Several houses are destroyed in West Tupelo. pic.twitter.com/qF788sGldV

— Jacob Dickey (@jacobdickeywx)

November 6, 2018
Near midnight, the line of severe thunderstorms had tornado warnings stretched from Mississippi to Tennessee.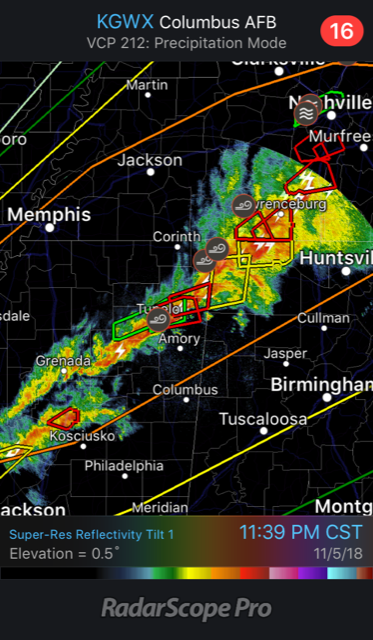 This nocturnal event reached Tennessee by midnight, and unfortunately, there was a fatality recorded in Christiana. The Nashville National Weather Service has surveyed the damage and rated this tornado as an EF-2.
At 1159 PM CST, a severe thunderstorm capable of producing a #tornado was located 9 miles southeast of Spring Hill, or 14 miles north of Lewisburg, moving northeast at 55 mph. #tnwx #ThinkWeather pic.twitter.com/2nalQpCdId

— RadarScope (@RadarScope)

November 6, 2018
A sad start to this Election Day. Overnight a possible tornado ripped through Christiana, TN. One person was killed. These damage pictures are just coming in from #Sky5 pic.twitter.com/6EJ8SCOTdy

— Chris Conte (@chrisconte) November 6, 2018
One of our survey teams is down in Christiana. Unfortunately, there is one confirmed fatality. Preliminary EF-2 rating with 135 mph winds. There were injuries too, waiting on additional information. pic.twitter.com/dXXFrN9ZUd

— NWS Nashville (@NWSNashville) November 6, 2018
Nighttime tornadoes are not unusual in the southern states. It's always important to be aware of the weather, especially before you head to bed, have multiple ways to get warnings and have a safety plan. The NOAA Storm Prediction Center currently has eight confirmed tornadoes from last night. This number may increase as damage surveys are completed. Luckily, the weather should be better today as people head to the polls.