How Weather Changed the Course of History for Houston
by Daphne Thompson, on Sep 8, 2016 11:32:25 AM
The course of history was significantly changed for the city of Houston, Texas by a single weather event. Today is the 118 year anniversary of the Great Galveston Hurricane of 1900. When it struck this thriving city as a Cat 4 hurricane, the course of history changed.
Galveston, Texas was a growing city in the late 1800s. It was the first city in Texas to have a post office, an opera house, an orphanage, telephone lines and electric lights. The natural harbor by the Gulf of Mexico meant that it was the center of trade along the Gulf Coast and the second busiest port after New York. The area known as The Strand was where all business took place and was once called the "Wall Street of the South". This is where the wealthy came to live and in 1890, the census population was just over 29,000. It was one of the largest cities in Texas.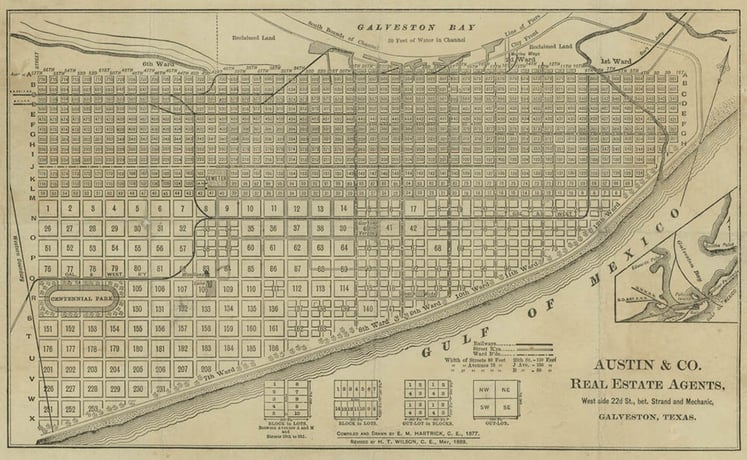 Galveston 1889
Houston, Texas, by contrast, was an inland city built along the banks of Buffalo Bayou. While also a port city, it could not support the ships that went to Galveston due to the depth of the water. As a major exporter of lumber, they asked Congress for money to become a deepwater port. This was approved in 1899. The town was growing and the 1890 census showed a population of 27,500. It was not yet the size of Galveston.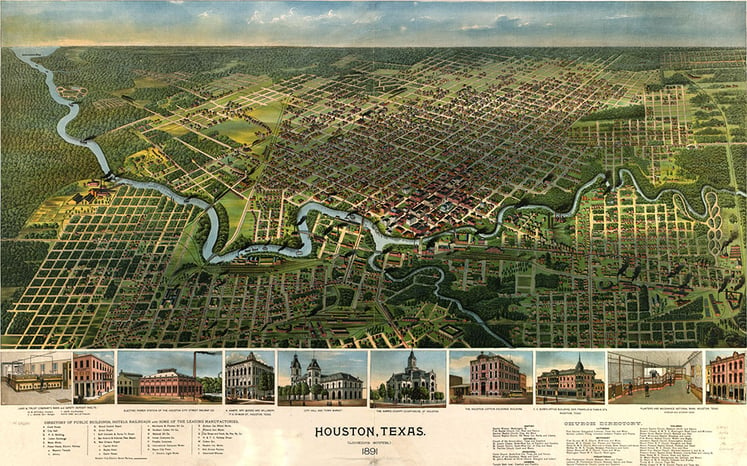 Houston 1891
In 1900, the history of both Galveston and Houston would change. On September 7, large swells were being produced by the Gulf of Mexico. The fairly new National Weather Bureau instructed Galveston to put out the flags for a hurricane warning. Without satellite and aircraft, ship reports were the main way the people knew a storm was coming. The deadliest storm in Texas history was about to strike. On Saturday, September 8, the Cat 4 hurricane struck with the worst of it coming during the night. By the end, somewhere around 8,000 people were dead. The island metropolis was in ruins.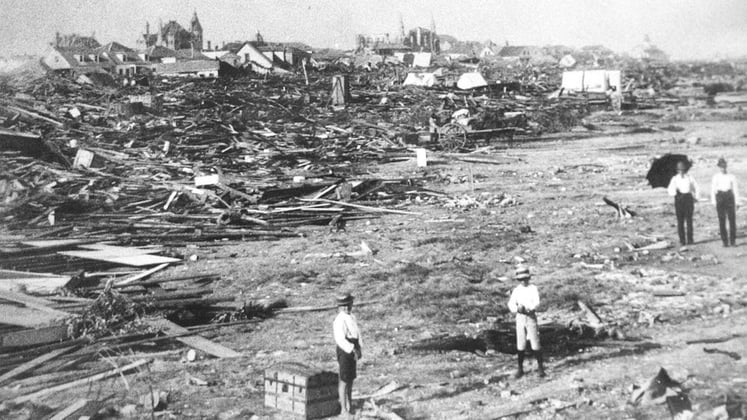 Investors now considered Galveston a dangerous place for shipping and other commercial ventures. Many fled to Houston where it had been decided that an inland port would be safer. In 1901, oil was discovered in Beaumont, Texas. With this new industry came the need for an even bigger shipping port. The Houston Ship Channel was established in 1902. By 1913, Houston was now considered a city with 25 "tall buildings" over 6 stories high and a dozen oil companies.
The population of Galveston now hovers at just over 50,000 while that of Houston is 2.3 million. Weather can change history. Keep track of the weather with WeatherOps and don't allow it to change the course of history of your organization.