Historic Christmas Day Snowfalls
by David Moran, on Dec 24, 2018 10:32:59 AM
When the trees and ground are covered with a nice layer of snow, and big flakes are falling, it always seems a bit more like late December. Are you dreaming of a white Christmas? Let's take a look back at some of the more notable ones.
One of the events that will likely be remembered for years is the Erie, Pennsylvania snowfall on Christmas Day in 2017. From Christmas Eve through the morning on December 27, 65.1 inches fell; 34 of those fell on Christmas Day with the additional 26.5 inches the following day. The snow on Christmas Day broke the record for the most in one day in Erie; the previous record was 20 inches set in November 1956. The additional snow on the 26th broke the record for that date as well, 8.2 inches in 1926. This amount also broke a two-day snowfall record for the state of Pennsylvania initially set in 1958 when 44 inches fell on March 20-21 in Morgantown. December 2017 became the snowiest month on record for Erie, receiving 121.3 inches of snow. The previous record was 66.9 inches set in December 1989.
Crazy snow situation in Erie PA. My parents driveway was plowed last night - this is 7a this morning. pic.twitter.com/hPu1WtnanQ

— Courtney Powell (@courtpowell_) December 26, 2017
If you're from the Central Plains, the Christmas blizzard of 2009 is probably a vivid memory. Snow extended from Nebraska into Oklahoma with blizzard conditions across southern Nebraska and northern Kansas. Winds ranged from 30-60 mph, creating near zero visibilities. In Grand Island, Nebraska, 8 inches of snow fell, breaking the old record of 3 inches set in 1941. In Hastings, Nebraska, 9 inches of snow were reported, breaking a record set in 1945.
The blizzard of Christmas 2009 was one for the record books. Not even Bing Crosby would have been too happy. Climatologists confirm that year's snowfall was the most snow ever recorded in the Dorchester area on Christmas. https://t.co/tukgXg8jnj pic.twitter.com/t0odsGw9EM

— Vil Dweller (@vil_dweller) December 24, 2017
Colorado is no stranger to snow, but their white Christmas in December 2007 broke records for the day. Snowfall accumulations of 7.8 inches were reported. While this may not seem like much for Colorado, this exceeded the original record set back in 1894 (6.4 inches). Approximately 2,500 flights were canceled out of Denver International Airport over the next three days. Winds and snowfall were so intense that the airport crews were not able to keep up with maintenance operations. Roads were shut down, and mail delivery was interrupted.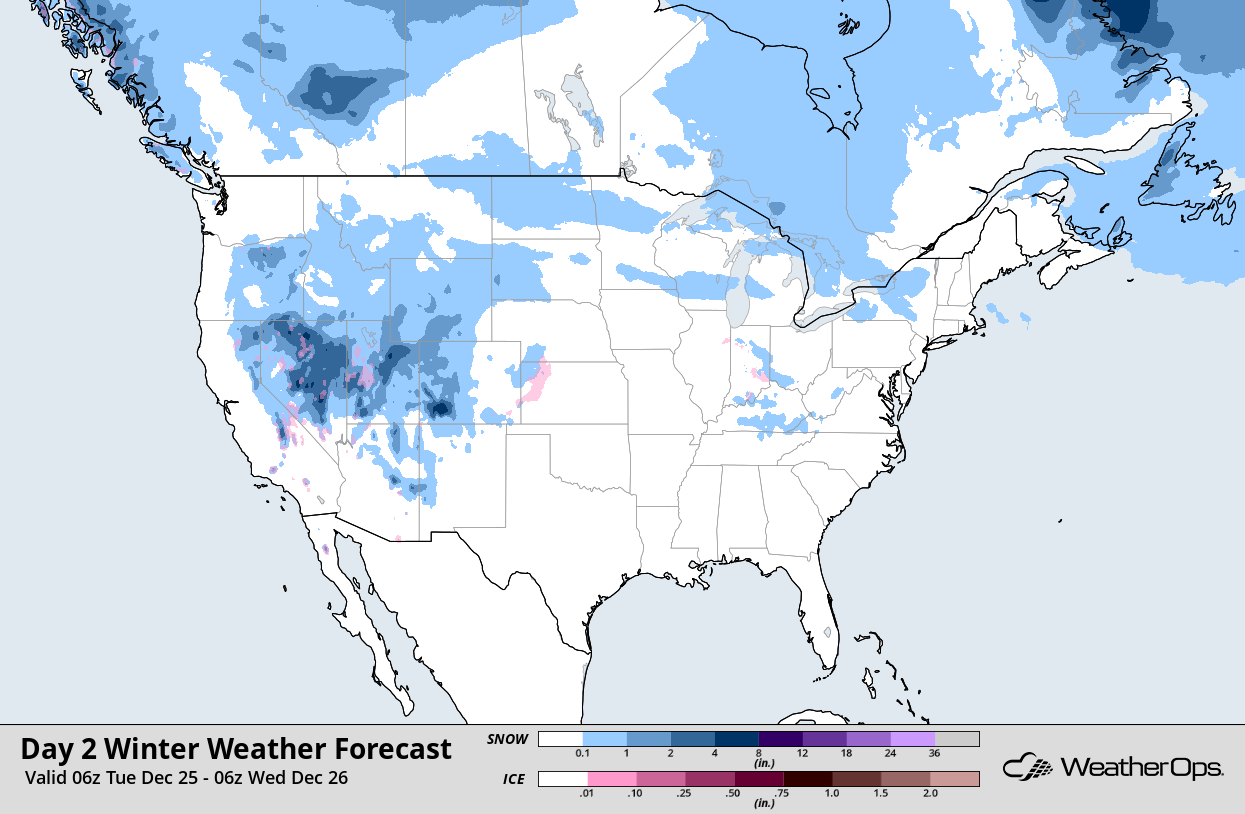 Forecast Snowfall Accumulations for Christmas Day

Many of us dream of a white Christmas. Will your dream come true this year? Check out the latest WeatherOps snow and ice forecast, and if you live in South, you probably should keep dreaming!