Game 6 of the World Series Tonight
by Daphne Thompson, on Nov 1, 2016 2:02:46 PM
It's time for the Cubs to head back to Cleveland for Game 6 of the World Series tonight. There is a long list of Fall Classic games that have been postponed due to rain, as it is the most likely weather phenomena to upset a baseball game. We've already had one game in this series adjusted due to rain, but will weather be a factor tonight?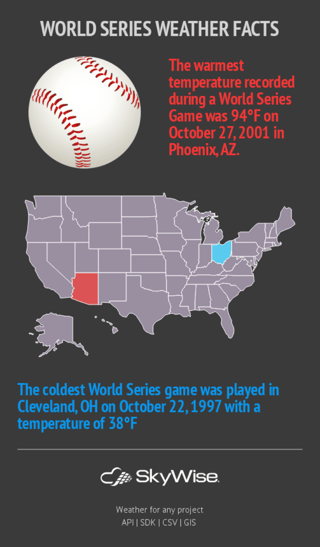 Game 5 in Chicago proved to be a great one for the Cubs. Winning by 1, they gave themselves a chance to continue the series. However, you may have noticed how the fans were dressed in caps and scarfs. As a north wind blew, temperatures that night dropped into the upper 40s.
While not yet considered the World Series, 1884's Game 3 between the Providence Grays and New York Metropolitans had a crowd of only 300 due to the cold. The Sun is quoted as saying "The cold and blustering wind made accurate fielding difficult and fielding errors excusable."
In 1903, the Fall Classic between Boston Americans and Pittsburgh Pirates was postponed three times, twice due to rain and once due to the cold.
The coldest World Series game played happened in 1997. That year Cleveland was battling the Miami Marlins and Game 4 ended up being a very old night for baseball. Temperatures fell and the game low was recorded at 38 degrees with snow flurries. The wind chill that night dropped as low as 18 degrees! Cleveland, more used the the cold than Miami, won that game and tied the series 2-2.
Tonight's weather is forecast to be pretty nice for November 1 in Cleveland. Game time temperatures will be in the mid to low 60s. With dew points in the 50s, it won't get too cold overnight. Winds will be light, at under 10 mph, from the south. And unlike Game 2, there is no rain in the forecast.
Will the series end tonight with a Cleveland win or will Chicago prevail and take this series to Game 7? One thing's for sure, the weather will be a winner tonight.