Florida in Trouble as Hurricane Matthew Closes In
by Daphne Thompson, on Oct 6, 2016 1:27:32 PM
As Hurricane Matthew closes in on Florida, trouble is expected. Winds have increased as this powerful storm moves over warm water around the Bahamas. Matthew is once again a Category 4 hurricane with max winds at 140 mph. Additional strengthening is possible as it approaches Florida.
If you haven't evacuated, it is time to go now. A hurricane of this strength has not hit in over 10 years and just because you made it through a storm before, it doesn't mean you will be fine this time. In addition, coastal population has exploded over the years. Make time for an exit strategy if you're still in the track. Once the hurricane gets closer, emergency vehicles will not be able to get to you. It has been publicized that emergency crews will not respond once winds exceed 40mph in many areas. Satellite shows a very symmetrical storm with an eye apparent. Outer rainbands are already reaching northern parts of Florida.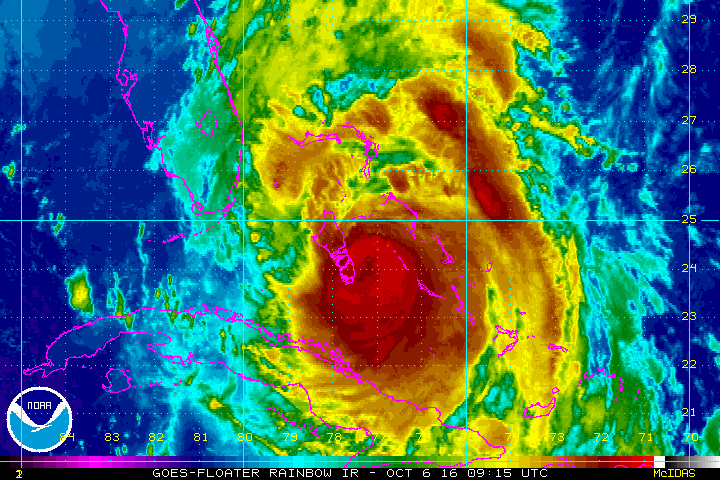 Matthew is now close enough to the radar in Miami, Florida so that the eye is showing up on RadarScope. If you don't have this mobile app, download it now so that you can keep a close eye what is going on. Don't forget that tornadoes are possible in the bands of a hurricane.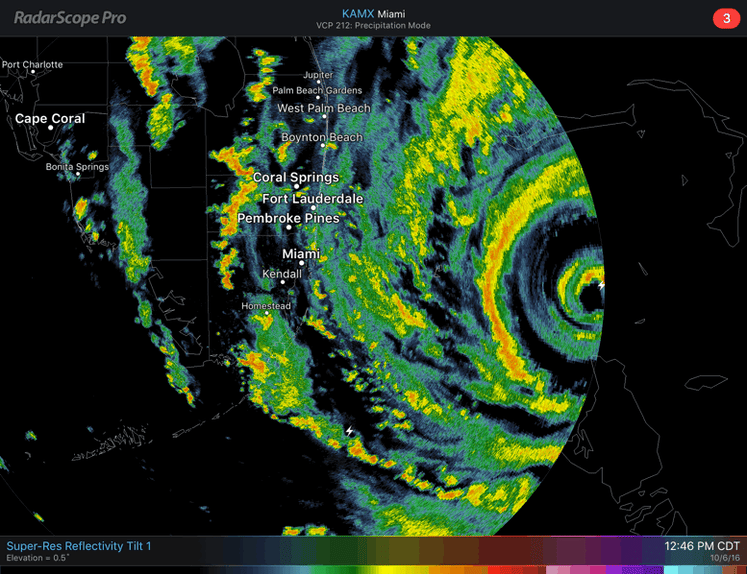 Hurricane Matthew is almost finished with the Bahamas and is getting closer to Florida. The storm is currently centered about 65 miles south-southeast of Freeport in the Bahamas, or 125 miles east-southeast of West Palm Beach, Florida. It is moving toward the northwest at about 14 mph. Winds are steady at 140 mph but the central pressure continues to fall, so some more strengthening appears likely this afternoon. The hurricane force winds extend as much as 60 miles out from the center, while the tropical storm force winds extend as much as 160 miles out.
As Matthew continues moving almost parallel to the coast the center could make landfall tonight or early Friday in Florida. Hurricane conditions will then shift into central and northern Florida Friday and into coastal Georgia and South Carolina Friday night into Saturday. Land interaction and lower oceanic heat content should cause Matthew to begin weakening on Friday, though it should remain a hurricane into the weekend. Most of the preferred weather forecast models depict Matthew curling away from the Southeast coast this weekend and then at least lingering for a few more days offshore. From there some of those models take Matthew back toward Florida again (though it would be weaker by that time), while others eventually show the storm moving away toward the northeast.
In the interest of those in coastal areas, we are currently offering WeatherOps for free throughout Hurricane Matthew. Our focus is on the protection of life and asset and, for that reason, we will attempt to put the full WeatherOps suite in the hands of decision makers throughout the region. Simply give us a little info about yourself and we'll get things started for you: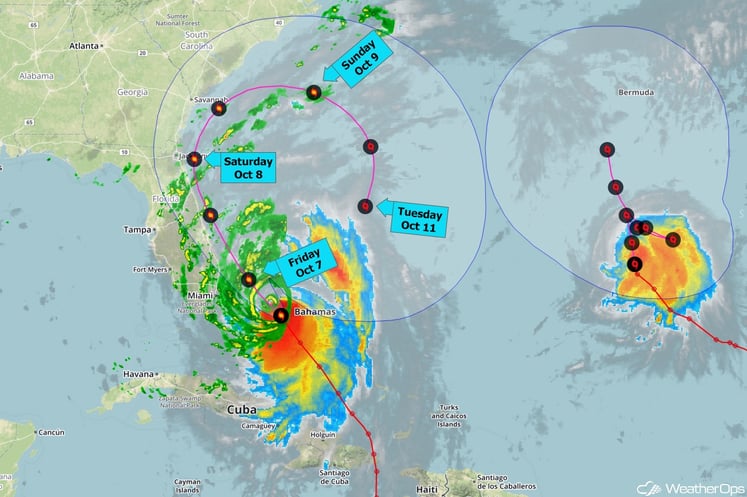 Storm surge from Hurricane Matthew is expected to be extremely damaging to coastal areas. Cape Canaveral and Kennedy Space Center could have water greater that 9 feet above ground. Many coastal inlets along the entire southeast have the potential of more than 6 feet from the storm surge.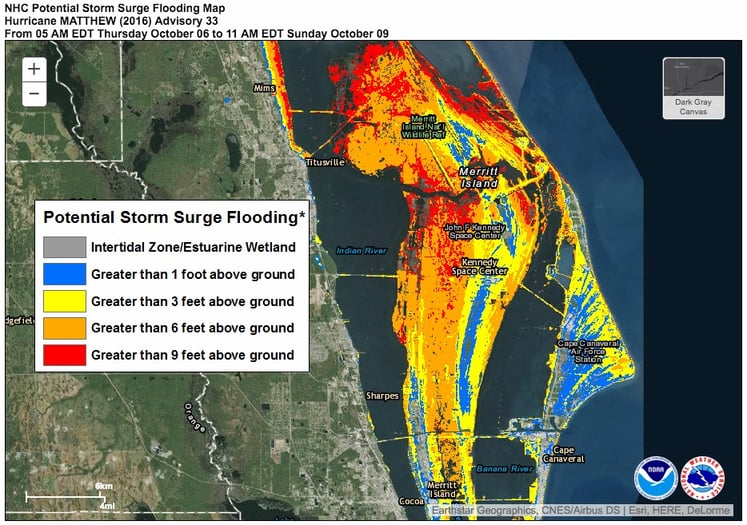 Even those who don't live right on the coast are expected to lose power for a significant amount of time. There are numerous power plants in the line of fire from this Category 4 hurricane. Other states, including here in Oklahoma, already have power trucks on the way to assist with clearing trees off power lines and getting power back to residents. Never touch a downed power line as it may still be hot and could lead to electrocution.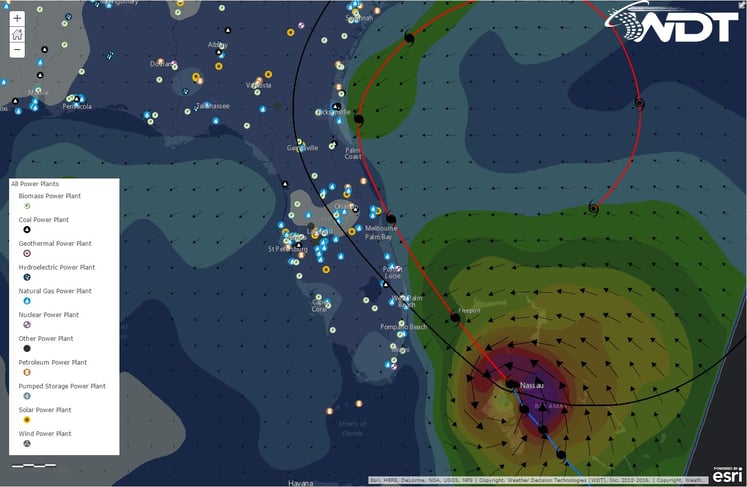 For those not in an evacuation area, but still in the path, there are a few things you can do before the storm hits. Many stores are already out of bottled water and non-perishable food items, but if the power goes out then this is something you will need. Batteries and gas are another hot commodity at this time. Charge your cell phones and make sure you have cash on hand. You can also fill bathtubs with water for flushing commodes. Check on elderly neighbors and make sure they are safe and aware of the storm. Once the storm gets closer, stay away from windows and shelter in interior rooms. Stay safe and be prepared to fend for yourself should an emergency happen.