Flooding in Oklahoma and Texas Causes Extensive Damage
by Daphne Thompson, on Sep 24, 2018 3:01:41 PM
"Turn around, don't drown" is an actionable tagline and something we should all keep in mind when rain begins to fall. Late last week, Oklahoma and Texas both experienced flash flooding that led to multiple road closures, water rescues, and damage to homes and businesses.
Oklahoma
The Digital Storm Total Accumulation from RadarScope shows around 11 inches of rain falling in southeast Oklahoma. Gages in the area recorded over 14 inches of rain in Fittsville, breaking a record for the most rainfall ever for the Oklahoma Mesonet.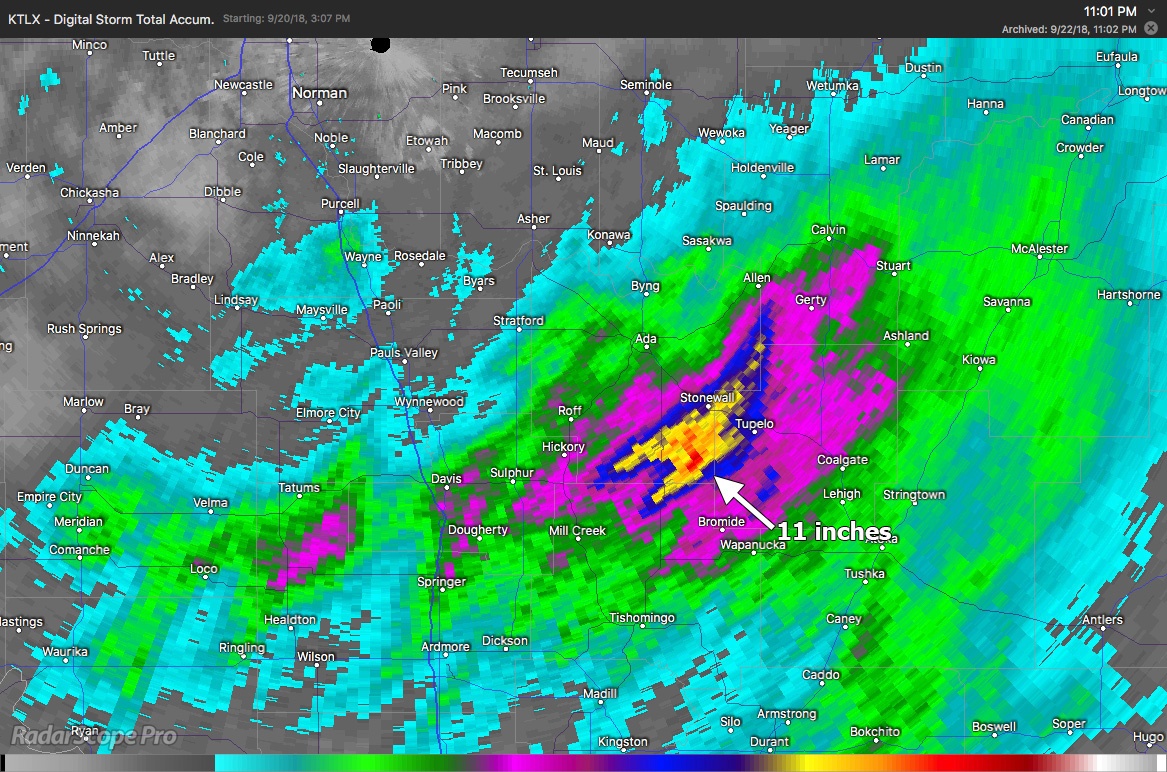 The Clear Boggy Creek crested at just slightly below record levels on Sunday morning. As of today, the river is still at moderate flood stage and won't be back to normal levels until late in the week.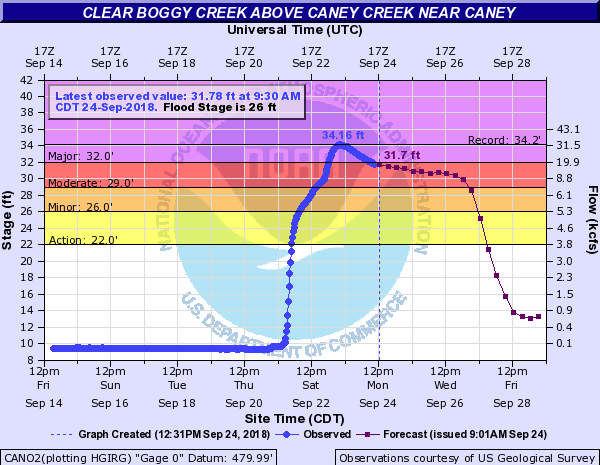 Along with videos of water rushing over roads and Turner Falls flash flooding, there was also the following disturbing video of cattle being washed away.
Terrible! I just watched a herd of cattle get swept away under a bridge in floodwaters just SE of Fittstown, OK after 13+ inches of rain flooded their entire field. #okwx #rain #flood #flooding pic.twitter.com/k4RP6jZGS3

— Alex Spahn (@spahn711) September 22, 2018
Oklahoma has now had over 100% of its rainfall this year statewide, making it the 32nd wettest year on record. The South Central part of the state, where the flooding outlined above took place, is now ranked in 8th. While it is good not to be in a drought, this seems to be a feast or famine place to live.
Texas
The rain did not miss Texas either, and when flash flooding hits a major metropolitan area, you can expect a multitude of problems. RadarScope shows over 8 inches of rain in multiple locations north of Dallas. Heavy rain to the south of the metro led to homeowners seeking refuge on their roofs while awaiting rescue.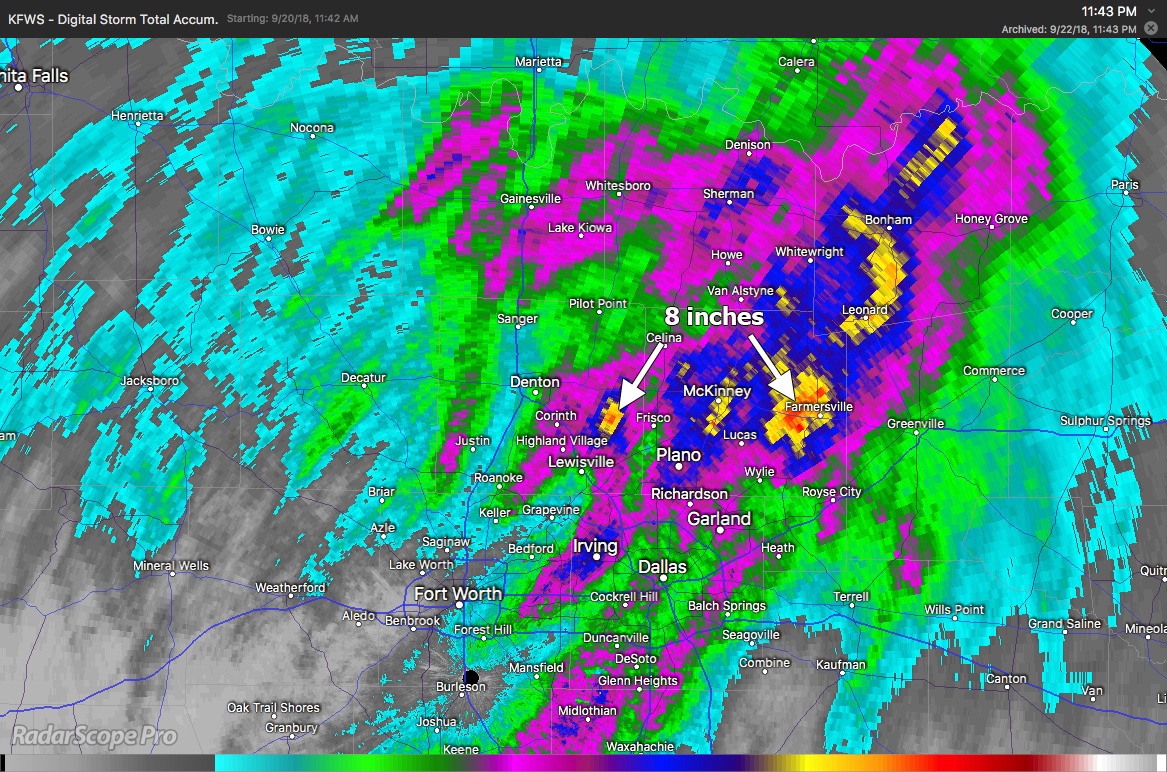 The heavy rain caused White Rock Creek in Dallas to exceed 91 feet, breaking a record. You can see how the water rose fast by observing the nearly vertical graph of the gage. Levels have now dropped to near normal.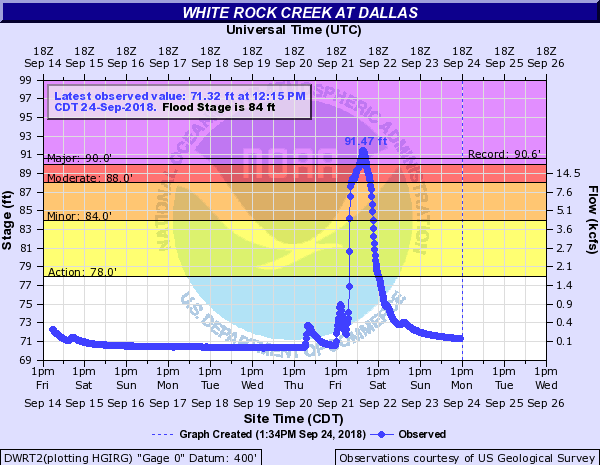 Take a look at this video and check out the damage the flooding caused. Windows were broken, cars swept away, and debris left from the high water lines can be seen.
Significant damage along Red Oak Creek in Ellis County from last nights rain. The clean up started this morning. @NBCDFW @NBCDFWWeather pic.twitter.com/xbDeCBV9mJ

— Mike Heimbuch (@HeimbuchMike) September 22, 2018
There was one fatality in Texas when a man was washed off a flooded bridge near the University of Texas at Arlington. Swift water rescue teams helped numerous others get to safety. DFW has now had its wettest September on record with 10.91 inches listed as the official total.