Fire Weather Concerns Continue for the Plains
by Chris Kerr, on Apr 5, 2016 2:04:49 PM
Despite a rapid greening of vegetation during the past few weeks across areas generally along and east of the I-35 and I-44 corridors, there are still several areas across the region with dry/dormant vegetation. As has been the theme many times this spring, gusty winds, very low relative humidity, and high temperatures will lead to extreme to critical fire danger today and Wednesday.
Temperatures will soar into the 80s and low 90s across a majority of the region this afternoon. A tightened pressure gradient will allow sustained winds to average 25-35 mph and some gusts in excess of 50 mph are certainly possible. Any fire that starts will have the ability to rapidly spread.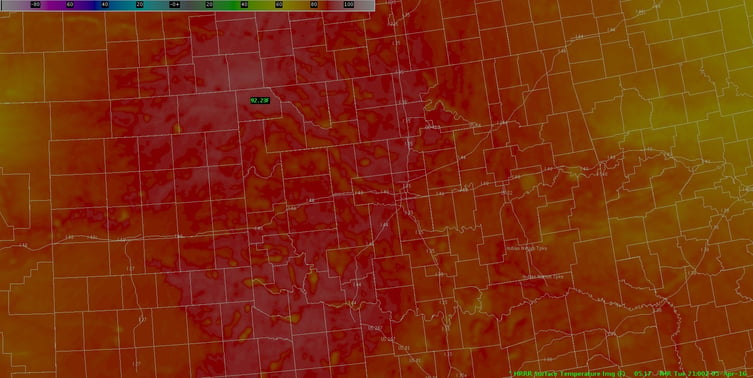 Afternoon high temperatures (F) from the 17Z April 5 2016 run of the High Resolution Rapid Refresh model
A wind shift will occur later this evening across southwest Kansas and into Northwestern Oklahoma and the Texas panhandle as a frontal boundary pushes through the region. This wind shift will potentially hamper firefighting efforts as any ongoing fires may rapidly change direction.
You may recall in a blog post from March 23 when there was a massive wildfire (Anderson Creek) that affected parts of northwest Oklahoma and southern Kansas a few weeks ago, burning nearly 400,000 acres. In the below image, courtesy of CIMSS at the University of Wisconsin, the burn scar is clearly evident. Here's hoping that a fire of this magnitude does not occur again across this area.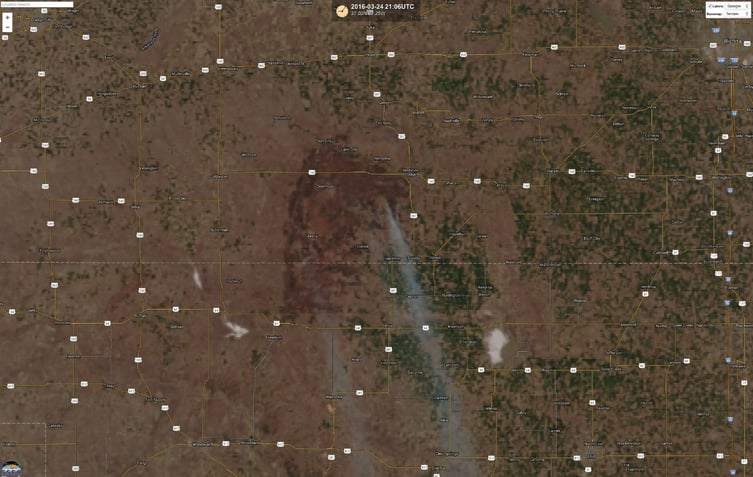 Burn scar from March fire in Kansas and Oklahoma
Unfortunately, as this blog was being written a fire has started in Woodward, Oklahoma. People and businesses are currently being evacuated.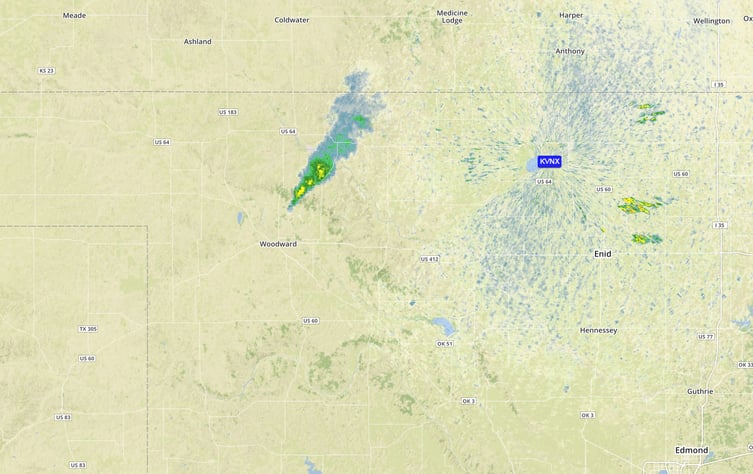 Fire in Woodward, OK as seen by radar
When will there be some relief?
Fire weather conditions will remain in place through at least this week across the Plains. However, some minor relief looks possible by late this weekend and into early next week as shower/thunderstorm chances increase ahead of a trough of low pressure tracking through the Southwestern US. As we get into mid and late April, better chances for showers and thunderstorms may occur as the current ridge of high pressure over the West Coast/Eastern Pacific ocean breaks down and the frequency of troughs moving into the central US increases.