Fire in the Yosemite National Park Continues to Burn
by David Moran, on Jul 18, 2018 3:31:39 PM
The Ferguson Fire on the western edge of Yosemite National Park started on Friday night. It is currently unknown how the fire started, but the hot and dry weather in the area has not been helpful. As of Wednesday, more than 17,300 acres have burned, and the fire is 5% contained.
Highways, including the main route in, Highway 140, continue to be closed due to the fire and the heavy smoke in the area. There are mandatory evacuations in place, but campgrounds and hotels remain open in the valley. In this video, you can see smoke envelop the Half Dome and Yosemite Valley.
The smoke plume can also be observed in RadarScope using the radar site in Reno, NV. Where the reflectivity values are higher, such as southwest of Reno, the smoke is thicker. In the right panel, the correlation coefficient is shown. Blue shades represent low correlation coefficient values, indicating that the echoes that are being observed by the radar are not meteorological.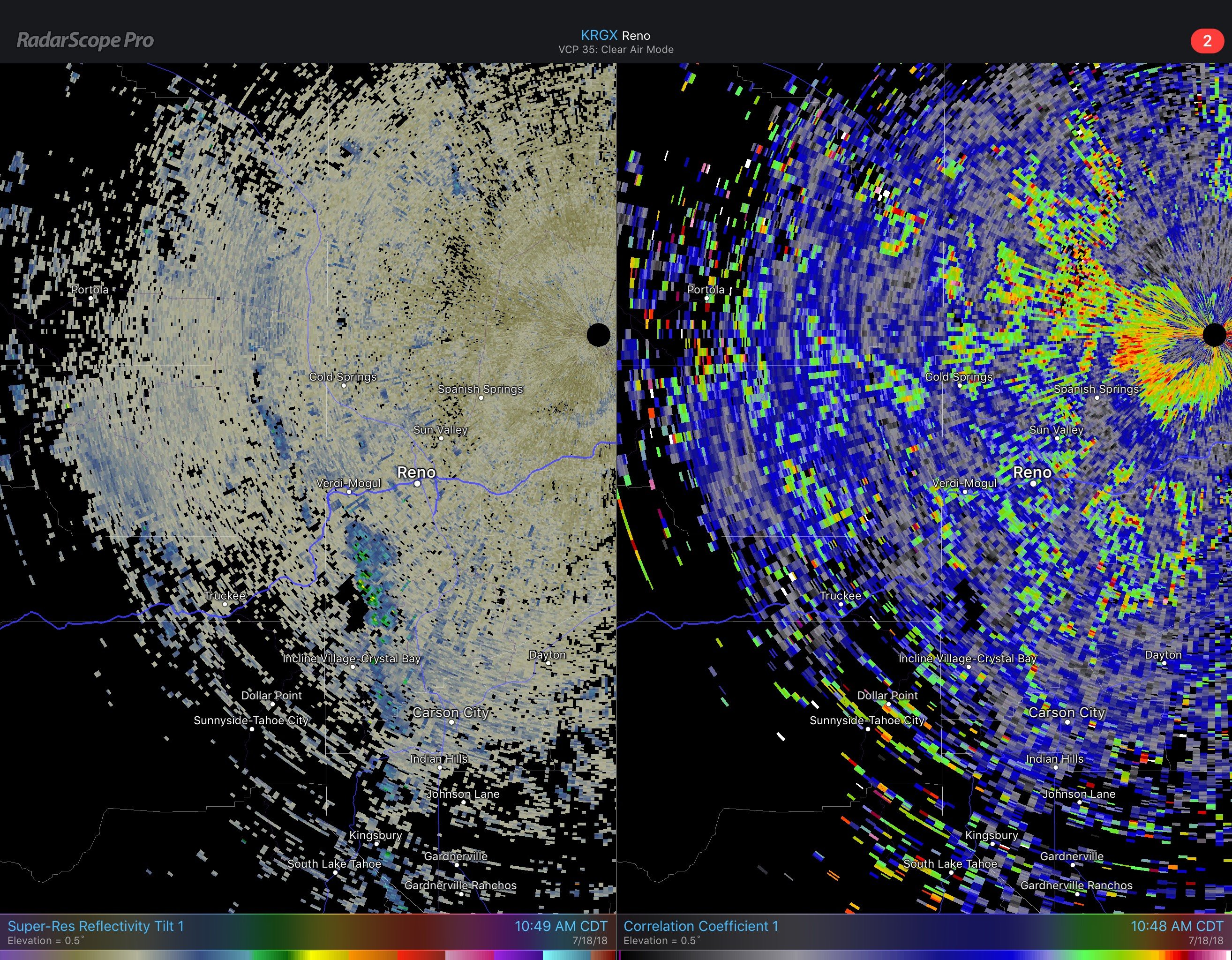 Smoke Plume Reflectivity and Correlation Coefficient
Seen from satellite, heavy smoke is visible near the heart of the fire, but smoke is also spreading out over a large area.
#GOES17 shares some first #wildfire imagery from the satellite of the deadly fire burning over 12,000 acres near #Yosemite. #FergusonFire @Cal_Fire (GOES-17 data is preliminary, non-operational). More imagery: https://t.co/P1F11zXUHI pic.twitter.com/0g4mA0WQZj

— NOAA Satellites (@NOAASatellites) July 17, 2018
Fire conditions are expected to continue over the next several days as a result of low relative humidity values. In the image below, orange shades indicate relative humidity values of less than 20%, providing fuel for the fires. As temperatures warm throughout the day, relative humidity will continue to decrease.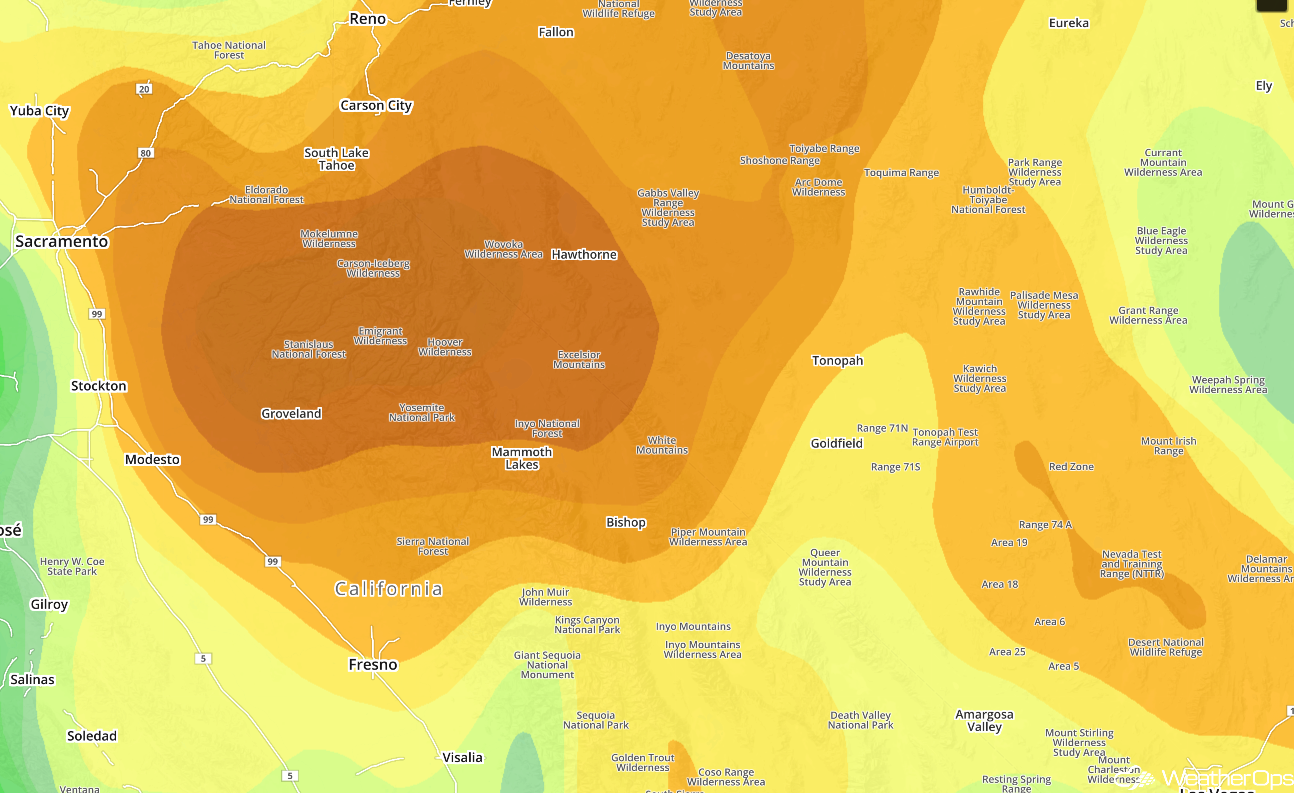 Air quality has been and will continue to be a concern in the vicinity of the fire. Just west of Yosemite, ozone values have exceeded the national standards over the last three days. This can cause unhealthy conditions, especially for those with breathing difficulties and the elderly. A graph of ozone levels over the past four days is shown below. The horizontal hashed line indicates the national air quality standard for ozone levels.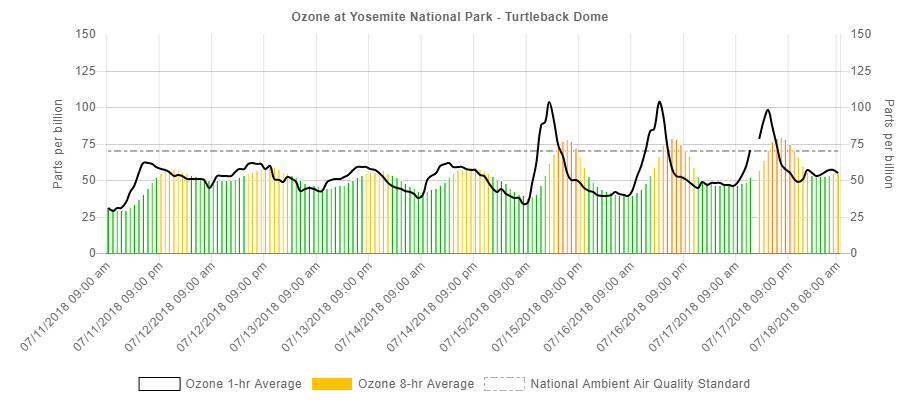 Ozone Levels near Yosemite National Park
While precipitation chances increase through the weekend, it is unlikely to provide much relief to the firefighters. A temperature inversion is also keeping the smoke trapped close to the ground and reducing visibilities.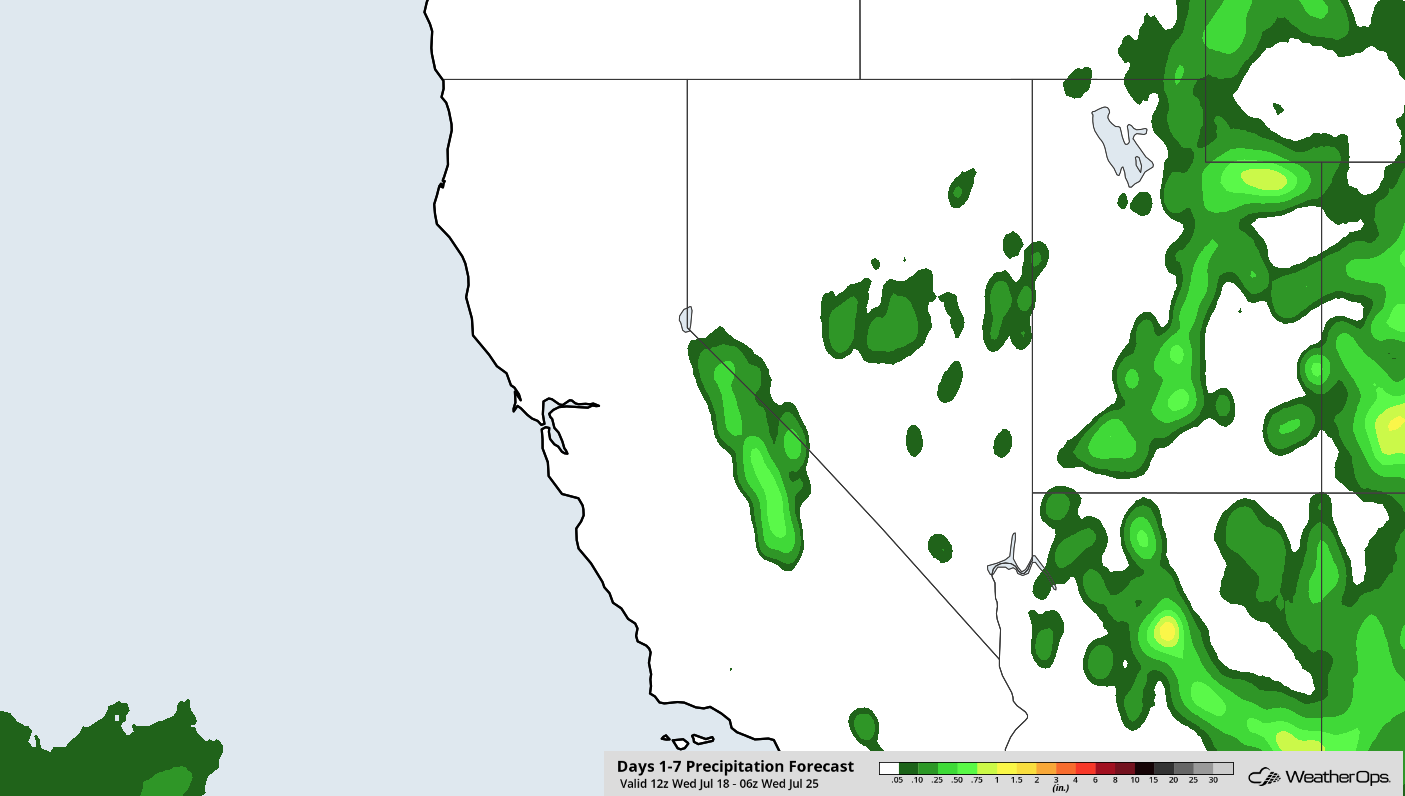 Forecast Precipitation through July 24
Over half a million people visit Yosemite National Park in July. If you plan on being in the area, make sure you stay aware of the weather conditions.