Even Niagara Falls Doesn't Like the Cold
by Daphne Thompson, on Jan 22, 2019 1:45:25 PM
Have you seen the icy images of Niagara Falls? Anything outside that can freeze, has frozen. Extreme cold in New York has set some records this week, and wind chills have been unusually harsh.
It will be another bitterly cold start to the day, with wind chills below zero. The good news is a warming trend will start today ahead of the next weather system. By Wednesday, afternoon temperatures will be in the upper 30s-mid 40s. #nywx pic.twitter.com/xkxnpIy6HD

— NWS Buffalo (@NWSBUFFALO) January 22, 2019
Niagara Falls was covered in ice this morning. Every few years it will partially freeze and appear as if Disney's Elsa has come for a visit.
Niagara Falls is beautiful this time of year, cold, but beautiful pic.twitter.com/osZvf6elHx

— Mike Arena (@MikeArenaTV) January 22, 2019
The New York Mesonet shows numerous locations reaching wind chills down to near -30ºF during the past couple of days. One of their stations had a temperature of -35ºF, making it the coldest location in the contiguous states.
With the recent snow came very cold wind chills over the past few days, and very cold temperatures this morning. Here's a map of both!

Fun fact - our Philadelphia station got all the way down to -35.2 F this morning - good for coldest in the lower 48 states! pic.twitter.com/kDkUjakFOQ

— NYS Mesonet (@nysmesonet) January 22, 2019
It's cold enough that when you throw boiling water into the air, it crystalizes before hitting the ground.
The cold temps aren't *all* bad 🤯❄️

Boiling water vs -20 degrees pic.twitter.com/42t0Z9Qko2

— UPROXX (@UPROXX) January 21, 2019
It is also cold enough that when you blow a soap bubble, it too freezes! As fun as this looks, I don't want to experience temperatures that do this.
Frozen bubbles ... that's how cold it is. Thanks to an @ABC7NY viewer for passing along the pic pic.twitter.com/RnFDz67kdK

— Kristin Thorne (@KristinThorne) January 21, 2019
By mid-morning, temperatures started climbing out of the single digits. New York wasn't the only state experiencing brutally cold temperatures and wind chills. All of New England is under this chill. A state of emergency was issued for Newport County in Rhode Island after gas service was cut to thousands.
However, by Wednesday afternoon, heavy snow and freezing rain will move into the area. Freezing rain is expected and snow accumulations of 2-4 inches, with locally higher amounts over 6 inches, are forecast by WeatherOps.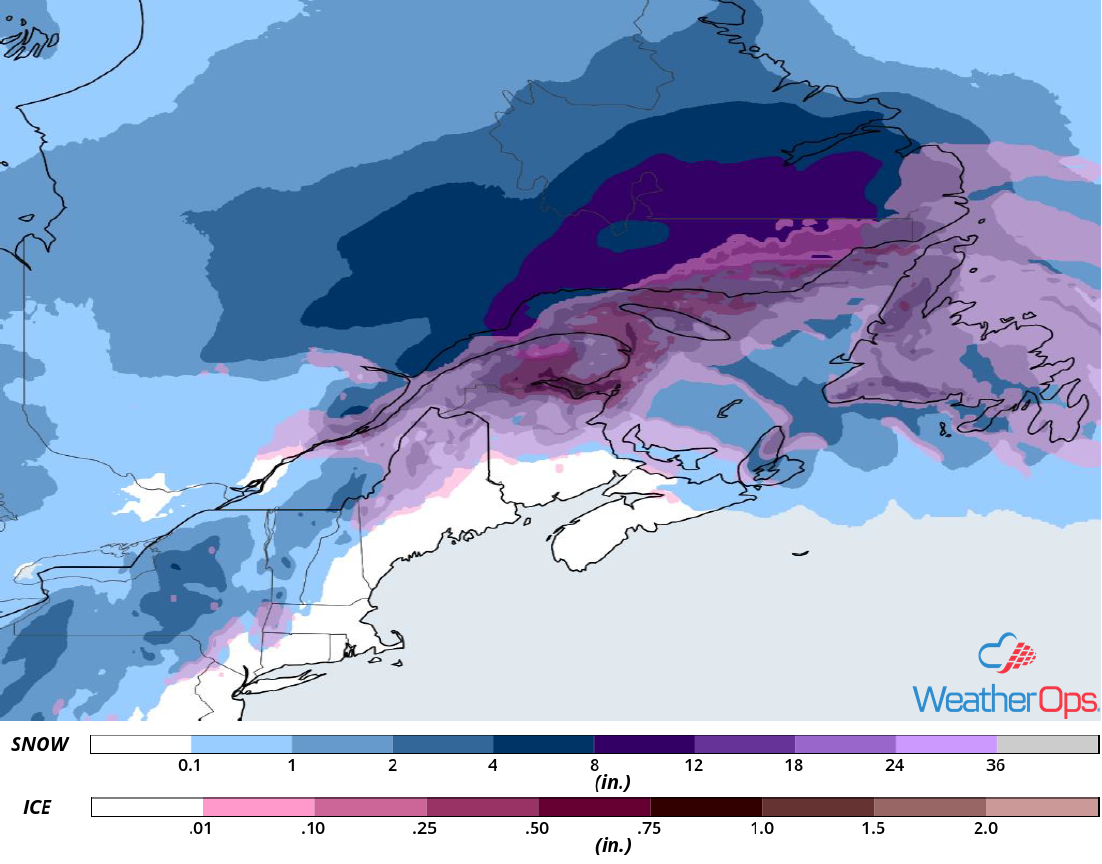 A storm system currently affecting the West Coast will make it across the US by early next week bringing more snow and cold temperatures to New England. Winter still has a lot of time to go, so those in New England can expect more cold in the coming weeks.