COMPANIES RAISING THE BAR FOR DAILY ENERGY MARKET RESEARCH AND ANALYSIS
by Steve Miller, on Oct 22, 2015 10:53:05 AM
New daily analysis of natural gas prices and demand based upon weather changes and forecasts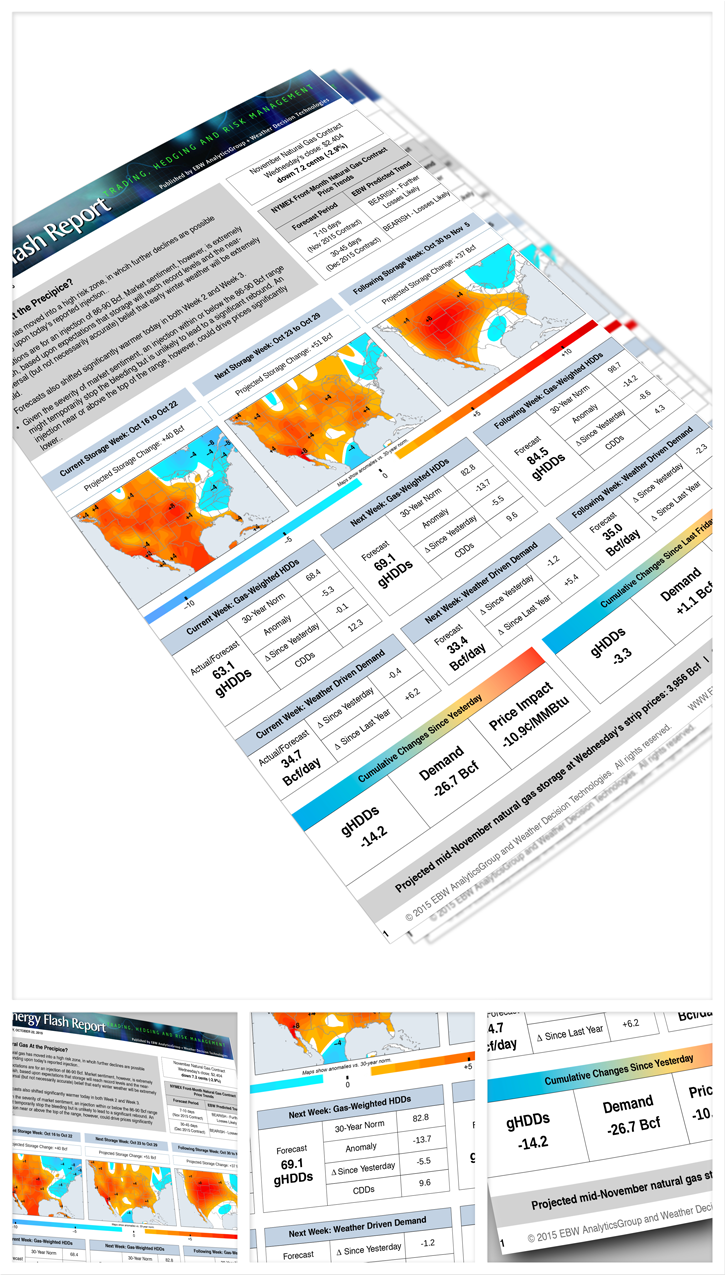 Norman, OK, October 22, 2015 — Weather Decision Technologies (WDT) and long-time partner EBW Analytics Group today announce the launch of Energy Flash Report, a fresh new daily joint e-publication that provides valuable information for use by energy traders, natural gas producers and purchasers of natural gas and electricity. The new publication is the first in the industry to fully integrate up-to-the minute weather forecasts, prepared by WDT's premier weather forecasting team, with a rigorous assessment of the impact on demand and prices for natural gas. This unique, comprehensive analysis is made possible by combining WDT's advanced weather analytics with EBW Analytics' industry-leading proprietary analysis of the impact of weather on natural gas.
The daily publication is delivered before the bell each morning in a user-friendly, easy-to-read format. It includes the latest degree-day and natural gas consumption shifts over a three-week period. Also included:
Analysis by Andy Weissman, a renowned industry expert and EBW Analytics' CEO, of significant developments affecting the natural during the previous twenty-four hours;
EBW's natural gas storage forecasts for the next three weeks.
"Energy Flash Report fills a critical role as traders, natural gas and electricity producers and buyers seek the most accurate and timely weather outlook and storage information," says Weissman. "We're excited to bring this flagship tool to our suite of fully integrated joint EBW/WDT publications further reinforcing our efforts to maintain the largest, most accurate offering at a reasonable price-point. EBW and WDT's joint Flash Report sets a new standard, providing a model for others to follow. Currently however, no other tool available to traders, natural gas producers, energy purchasers or investors offers comparable information in such a timely manner. "


About Energy Flash Report
Energy Flash Report is an early-morning snapshot of daily and week-over-week weather and natural gas demand changes and forecasts. Published by EBW Analytics Group and Weather Decision Technologies, reports are delivered daily when commodity markets are open. Try Energy Flash Report free for two weeks; yearly subscribers receive one additional month at no charge. The Flash Report can be purchased for $395 monthly.
About EBW Analytics Group
Led by energy expert Andy Weissman, EBW's research publications, energy price forecasting model and consulting services, spot and explain the important trends that move today's energy markets. By monitoring the most important drivers – including potential impact of weather, supply, and core demand– with their proprietary models, they have been correctly assessing where the markets are likely to head next for more than a decade.
About Weather Decision Technologies, Inc. (WDT)
Weather Decision Technologies, Inc. is the industry leader, providing organizations with weather decision support on a global scale. WDT offers specific expertise with big data as it applies to hazardous weather detection and prediction, forecast modeling, decision analytics, GIS, mobile apps and interactive mapping. WDT employs the world-renowned WeatherOps forecast team, staffed by experts who provide global asset protection and commodities trading decision support.
WDT maintains operational offices in Norman, Oklahoma and Houston, Texas.