Cold Air Surges & Tropical Activity in the Western Pacific
by Daphne Thompson, on Feb 8, 2018 2:14:56 PM
The northeast monsoon refers to the seasonal winds that flow southward from the cold Asian continent as strong high pressure develops over Siberia during winter. These cold, dry north to northeast winds flow from the Siberian high across Southeast Asia from about October through March. They surge southward with the passage of low-pressure systems in the midlatitudes, cooling ocean temperatures.

These monsoon surges also result in an abundance of wind shear over the Northwest Pacific, making the environment mostly unfavorable for tropical development. The image below shows that low wind shear during the first week of February 2018 is restricted to the area south of 10°N. This means that most of the West Pacific region is less than favorable for tropical cyclone development.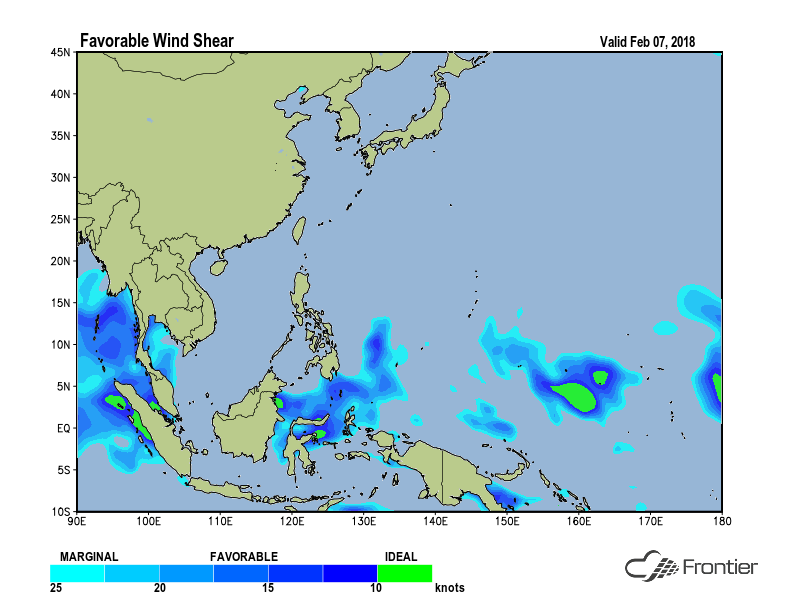 During northern hemisphere winter, the monsoon trough or Intertropical Convergence Zone (ITCZ) is displaced southward into the southern hemisphere, affecting Java, Indonesia, and northern Australia. As a result, the drier northeast winds of the Northeast Monsoon extend across the Northwest Pacific, and the South China Sea while moist, tropical air stays near the equator. These conditions create a harsh environment for tropical systems across much of the region. However, it is still possible for tropical storms to develop from strong tropical convection, especially during breaks between monsoon surges.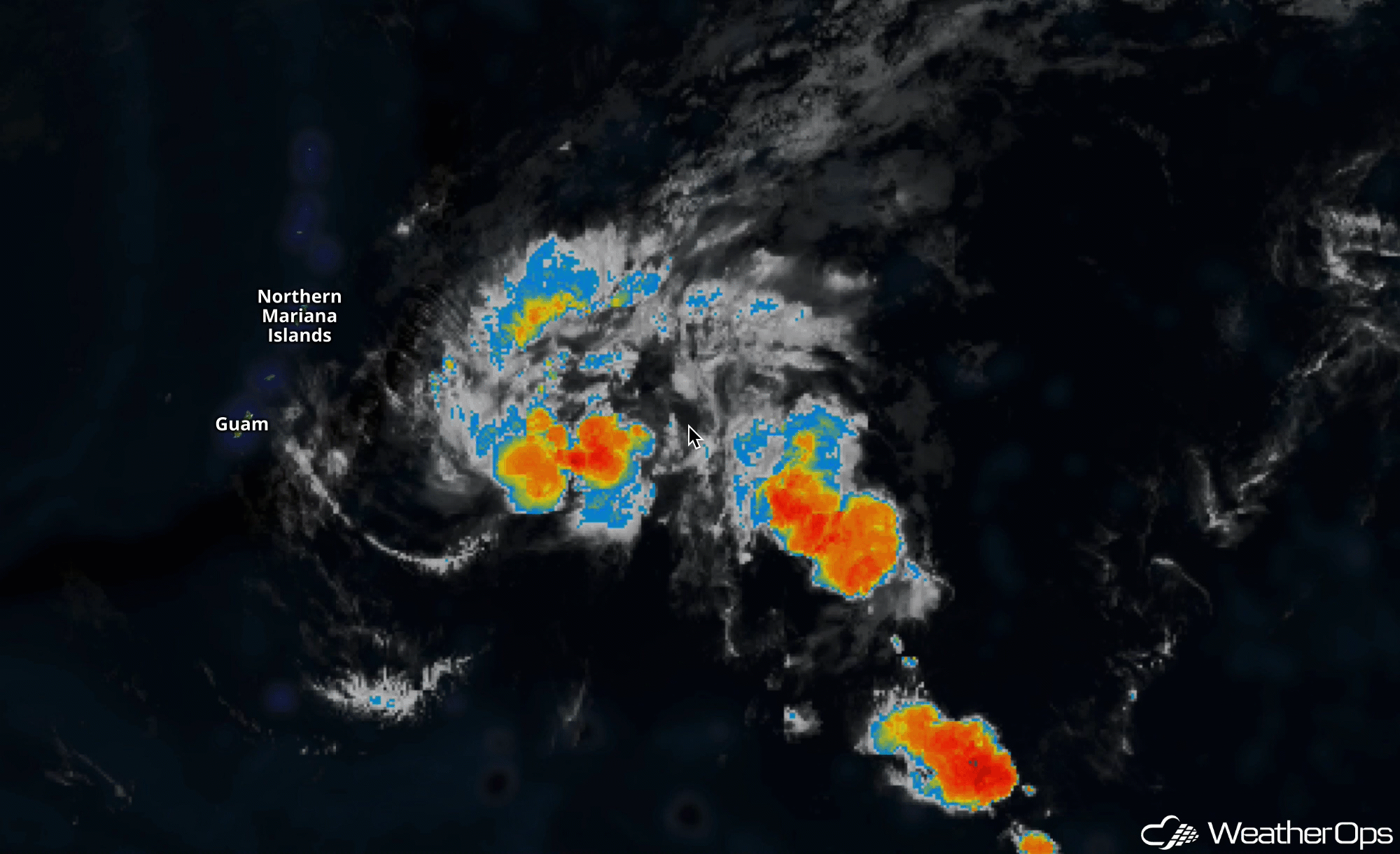 For example, Invest 93W recently formed over the southern West Pacific Ocean over a region with warm sea surface temperatures near 28°C (82°F) and favorable tropical cyclone heat potential on the order of 90-100 kJ/cm2. Tropical cyclone heat potential refers to the thermal energy between the ocean surface and the depth of the 26°C isotherm. A tropical disturbance is more likely to intensify when the warm waters reach a significant depth.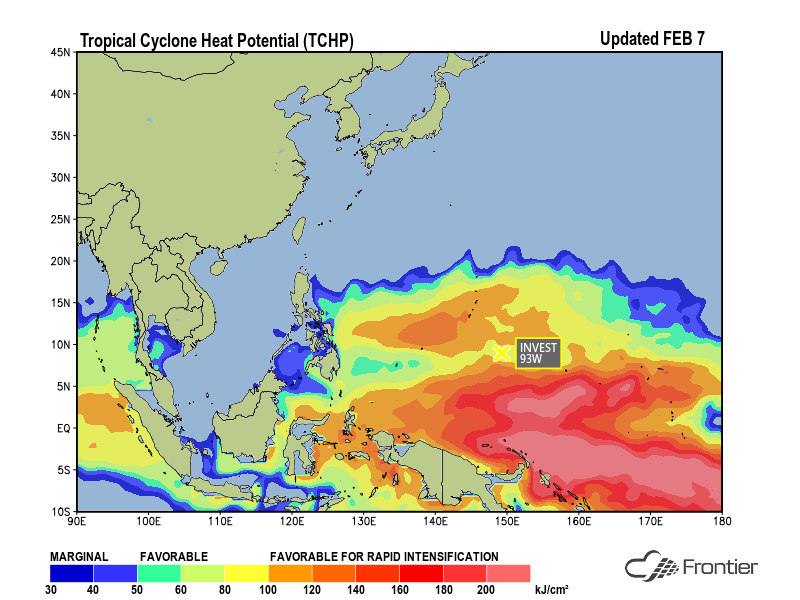 Conditions are marginally favorable for the gradual development of Invest 93W as it tracks westward toward the southern Philippines during the next several days. However, a monsoon surge is forecast to push southward this weekend into early next week. This will likely increase wind shear across the area and cause Invest 93W to weaken as it approaches the Philippines and the South China Sea.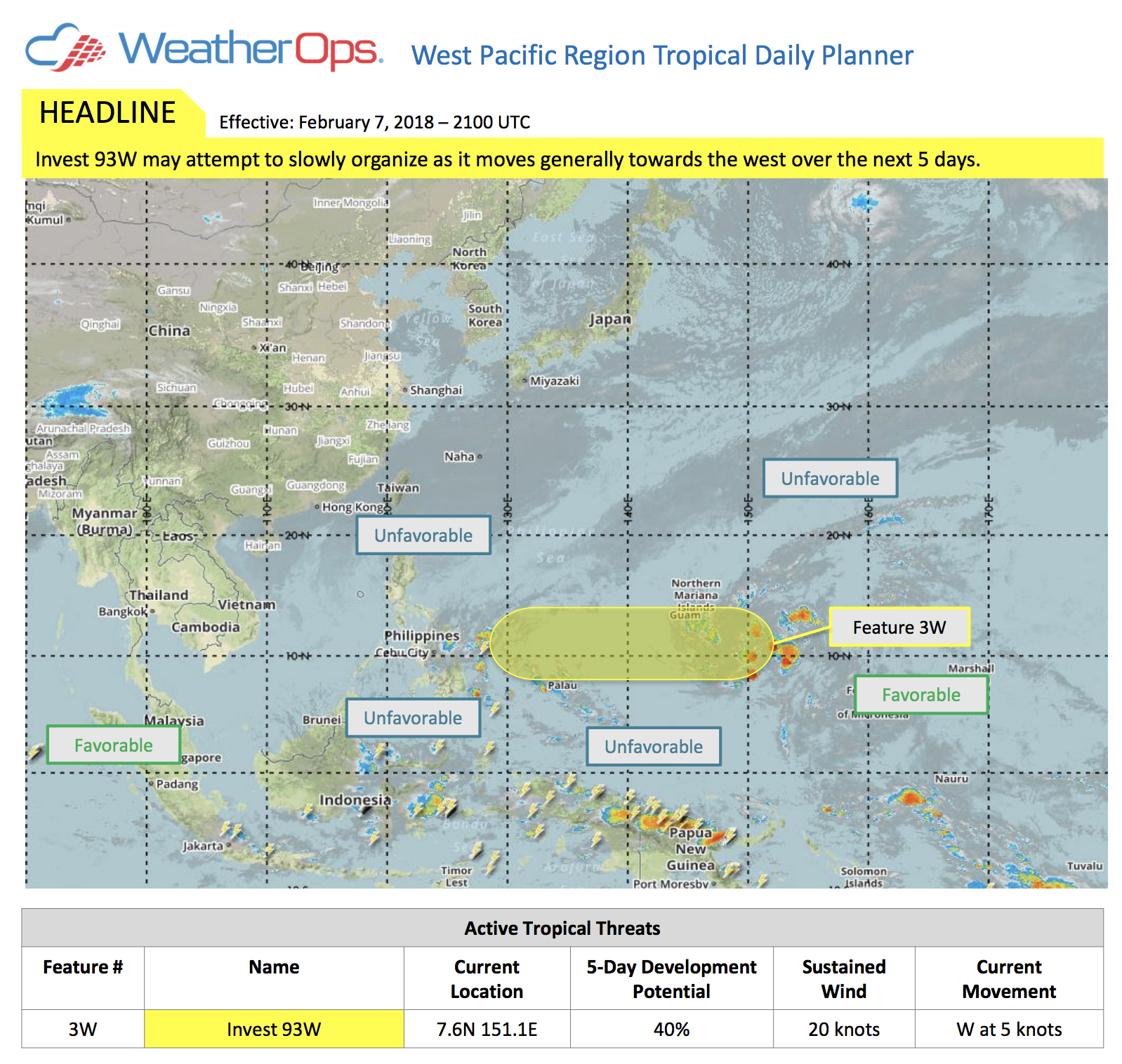 WeatherOps meteorologists are tracking 93W and currently forecast a moderate threat for development into a tropical cyclone. If 93W develops, it will become the second tropical storm of the 2018 West Pacific season. WeatherOps offers a full suite of tropical cyclone-related products for the West Pacific and the South China Sea. Give these products a try today!