Are October Cold Shots Foreshadowing the Upcoming Winter?
by Eric Faulkner, on Oct 15, 2018 1:37:06 PM
The month of October has been extremely warm so far for the Eastern US but, unlike September, the rest of the country isn't experiencing the same unseasonable warmth. Many locations across the Mountain West, Plains, and Upper Midwest have seen winter-like conditions with persistent below normal temperatures and above normal snowfall so far this month. With the forecast over the next two weeks, October should still finish above normal due to the Eastern warmth, but there is a detectable colder signal, particularly in the central US.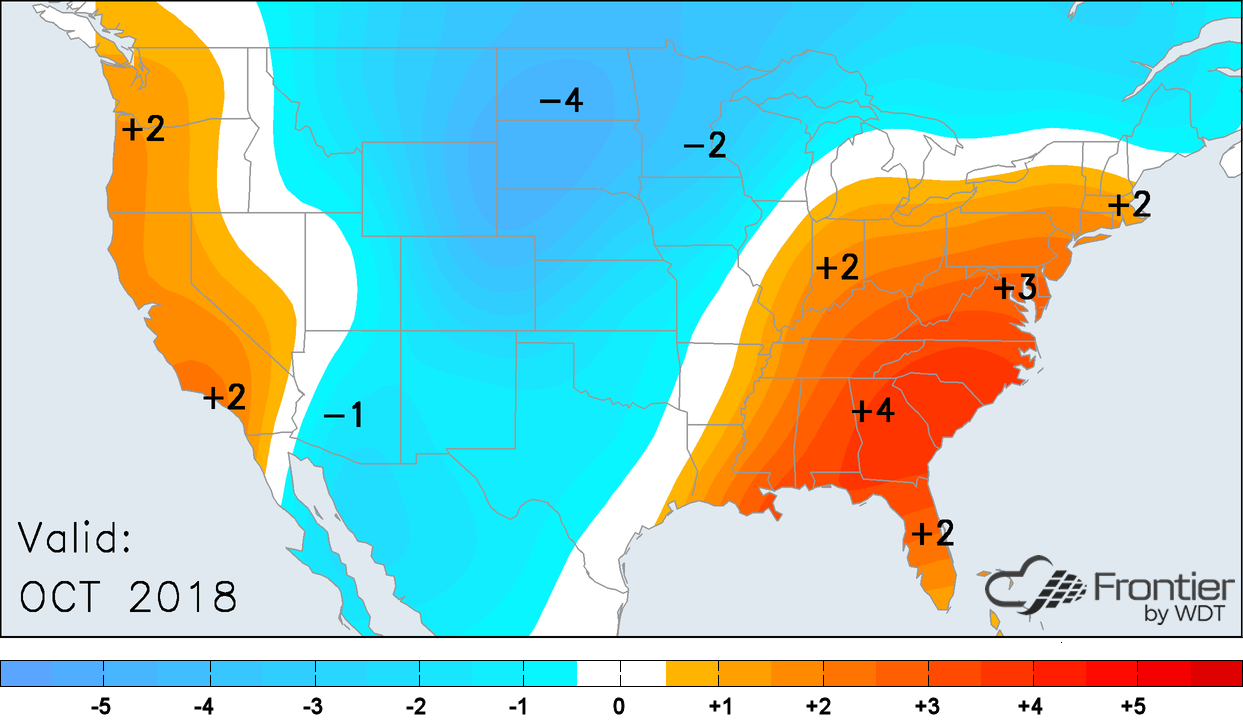 What could this mean for the upcoming December-February period? Analysis of several Octobers during an El Niño year could shed some light on the winter. Using these analogs, we grouped the warmer and colder verifications for October. The analogs with widespread warmer than normal October temperature anomalies had a similar verification for the Dec-Feb period. On the other hand, the analogs with widespread colder than normal October anomalies verified colder during the Dec-Feb period.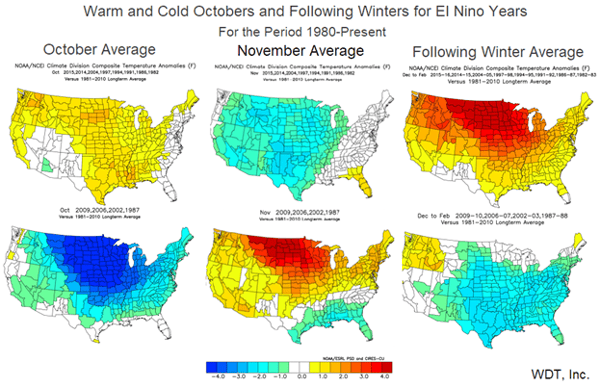 Because this October isn't expected to verify well above or below normal as far as temperature anomalies are concerned, it is difficult to compare this year precisely with the charts above. However, there has undoubtedly been a persistent cold signal in the central part of the US, which does align more firmly will the colder solution. The interesting thing to note is how different the November verifications are in the analysis. We will closely be monitoring temperatures heading into November but, as of now, we are expecting a pattern flip to the warmer side with our latest forecast.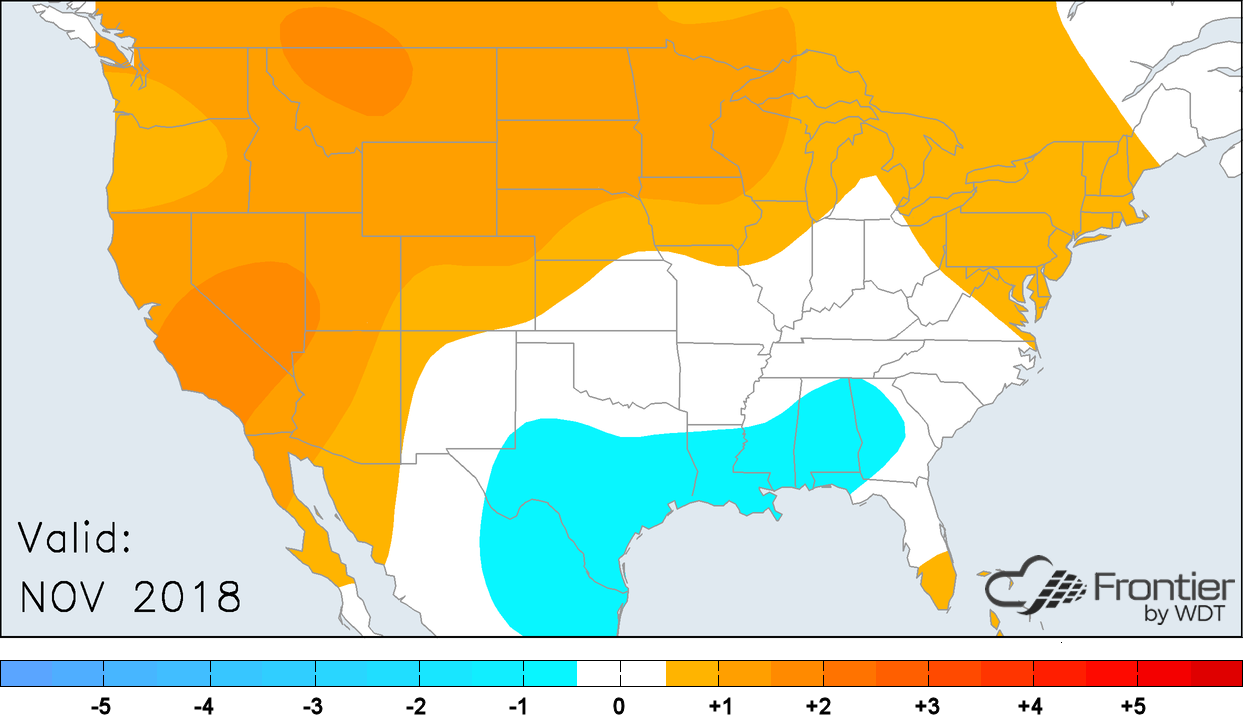 If we do experience a warmer November, this could certainly present a colder risk for the rest of the winter based on the historical analog analysis shown above. Right now, our updated winter forecast remains slightly colder than normal, with the core of the cold stretching from Texas into the Mid-Atlantic and more anomalous cold expected late in the season rather than early.
(Click to Enlarge)
Also, adding more confidence to the forecast, the ECMWF shifted in the colder direction with the latest update and now closely aligns with the Frontier Weather expectation for the upcoming winter season: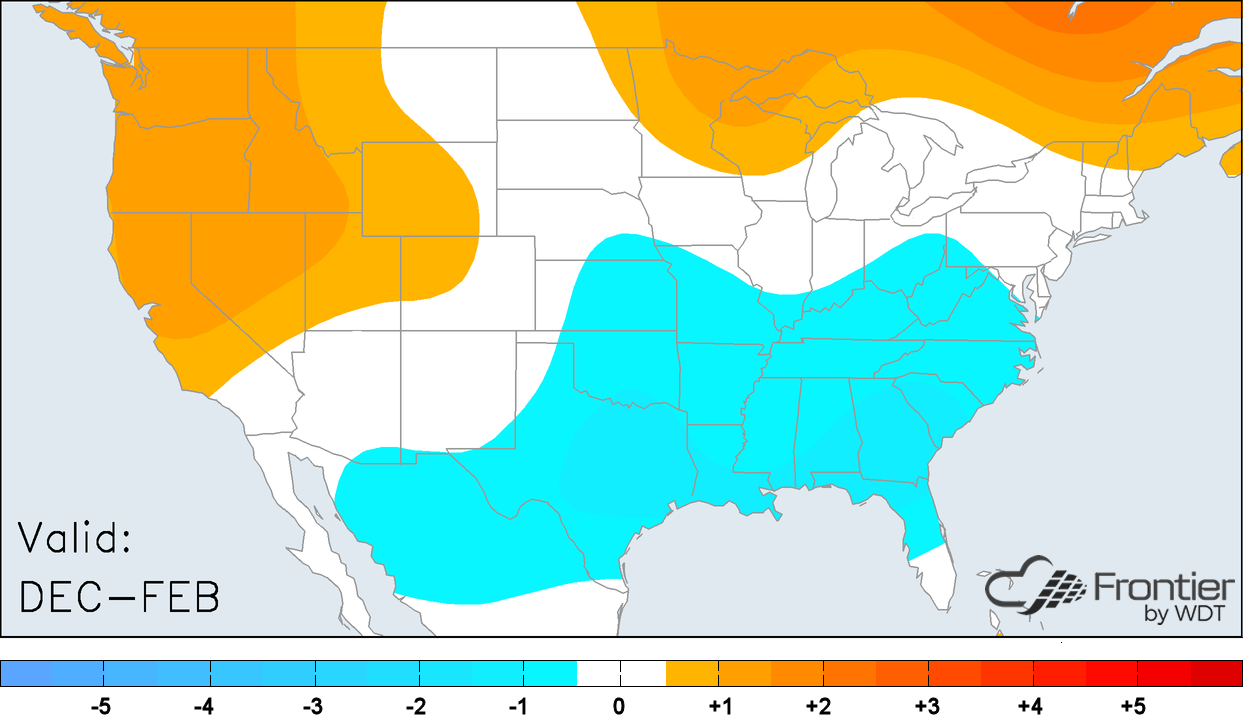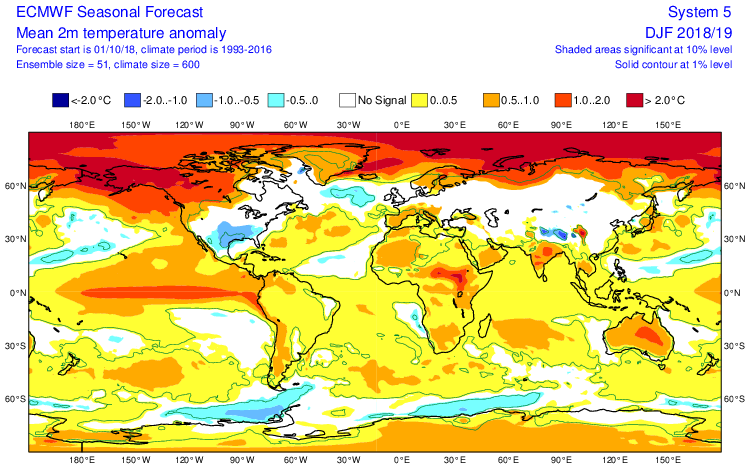 While it is not certain, confidence is growing in a colder than normal winter, particularly for the Southern Plains and extending into the Eastern US as colder risks continue to mount. Will November's verification hold the key? Follow our forecasts to stay updated on the latest changes for the upcoming winter season.