A Tropical Cyclone in the Mediterranean Sea
by Chris Kerr, on Oct 31, 2016 11:12:11 AM
The Mediterranean Sea is not a region of the world that you typically think of as being a tropical cyclone hotbed. Over this past weekend a cyclone with both tropical and non-tropical characteristics formed in the Ionian Sea between Italy and Greece. The development of these systems, known as medicanes, is quite rare. When they do form, they often have characteristics of both a fully tropical cyclone and a non-tropical cyclone.

Strong wind shear is usually a common occurrence across the Mediterranean Sea much of the year. For a tropical cyclone to develop or maintain itself, low wind shear is typically needed. Also, the water temperatures throughout the Mediterranean are not typically warm enough to support a cyclone with fully tropical characteristics like you would see in the Atlantic or Pacific Oceans. That all being said, if the right combination of conditions are in place across the region, the development of a sub-tropical or hybrid type of cyclone is certainly possible.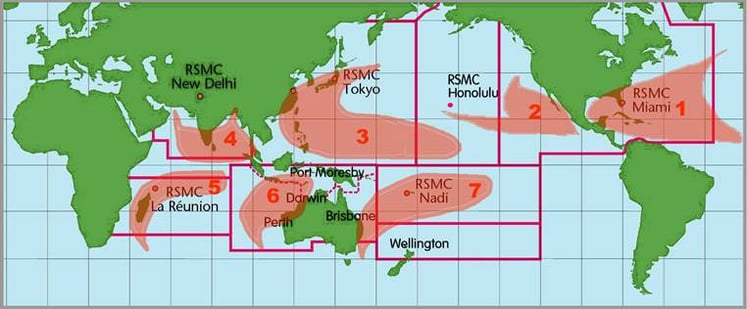 Typical locations for tropical cyclone development and the agencies responsible for them
Unfortunately, there is no official agency that is responsible for issuing advisories on Mediterranean tropical cyclones. Although this was not officially declared, it was marked as "Invest 90M" for tracking purposes. In the past, the Free University of Berlin has taken the liberty of naming them, with the most recent being "Qendresa" in November 2014.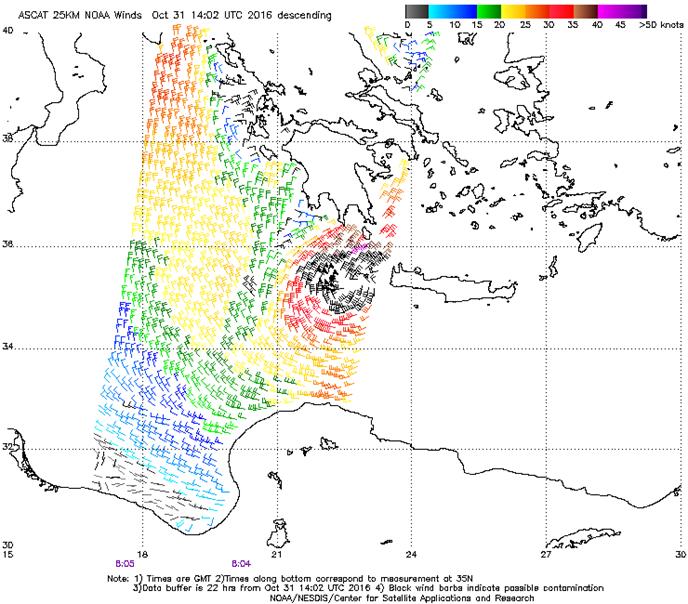 ASCAT Wind Scatterometer Pass
Based on Dvorak analysis (estimating intensity based on infrared and visible satellite imagery) yesterday evening, along with a semi-recent ASCAT wind scatterometer pass (above), it is fairly safe to say that 90M reached Tropical Storm strength at one point.
Ciclón mediterráneo (#medicane) con características tropicales afectado al S de #Grecia y #Creta. 24h #airmass @eumetsat_users @eumetsat pic.twitter.com/Qbh3BsYZNP

— RAM meteorología (@RAM_meteo) October 31, 2016
This morning it is quite evident that the cyclone is weakening given the warming cloud tops. It also appears that it is merging with a cold front across southern Greece. Heavy rainfall and some wind gusts up to tropical storm force (34 knots/39 mph) will continue to be possible over the region throughout the remainder of today.