A Look Back at Hurricane Michael
by David Moran, on Oct 15, 2018 1:53:02 PM
Hurricane Michael made landfall in the Florida Panhandle on Wednesday and continued to move across the Southeast through early Friday, bringing a path of destruction in its wake.
Just after noon on Wednesday, Hurricane Michael made landfall as a category 4 hurricane near Mexico Beach, Florida, packing sustained winds of 155 mph.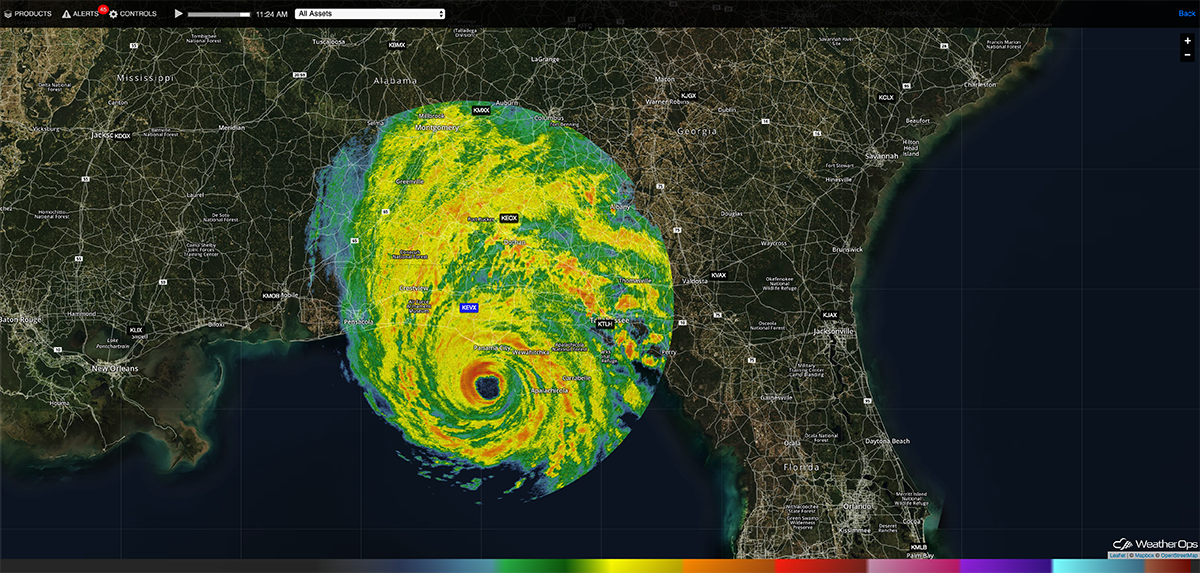 Hurricane Michael Shortly before Landfall
Damage occurred soon after making landfall, especially near Panama City and Tallahassee.
Aerial view of devastation at #MexicoBeach, Fl caused by #HurricaneMichael

Courtesy LSM/Brandon Clement pic.twitter.com/hqHTdkOz2E

— ABC 33/40 News (@abc3340) October 11, 2018
One particular bank building in Panama City was heavily damaged as Michael moved inland.
Bank in Panama City, FL before and after the hurricane #Michael pic.twitter.com/maCzerc0xm

— Tayyub (@t__jil) October 11, 2018
Michael continued to move northward across the Florida Panhandle through the afternoon, bringing heavy rain to many areas. A swath of 5-7 inches with locally higher amounts more than 8 inches fell from Panama City northward to just east of Dothan, AL, leading to flash flooding. Here are rainfall estimates from WeatherOps Commander. Pink shades indicate rainfall totals between 5-7 inches. White shades are totals over 8 inches.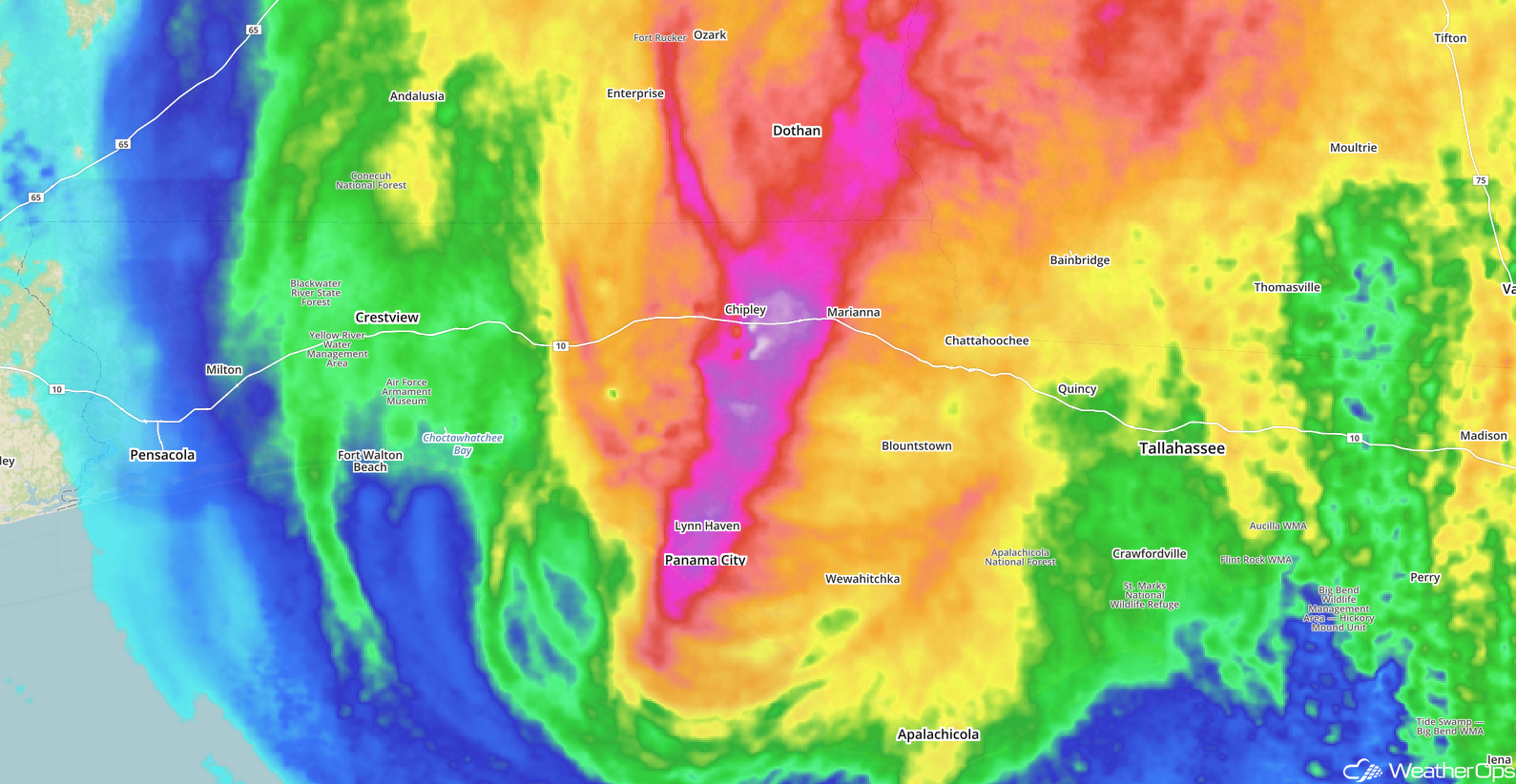 Rainfall totals from Hurricane Michael
The combination of heavy rainfall and storm surge caused catastrophic flooding across the Florida Panhandle. While the Panama City area took the brunt of the damage, flooding occurred as far east as Apalachicola.
INCREDIBLE VIDEO: #Hurricane #Michael: Horrific #Storm #Surge #Flood in St. George Island, Florida (Oct 10, 2018) - https://t.co/DRIiLXpAny via #FLwx #Flooding #HurricaneMichael

— Meteo Tube (@MeteoTube) October 11, 2018
As Michael continued to move northeastward Wednesday evening through early Thursday, heavy rain moved across southern and south central portions of Georgia. The heaviest rainfall totals generally ranged 4-6 inches.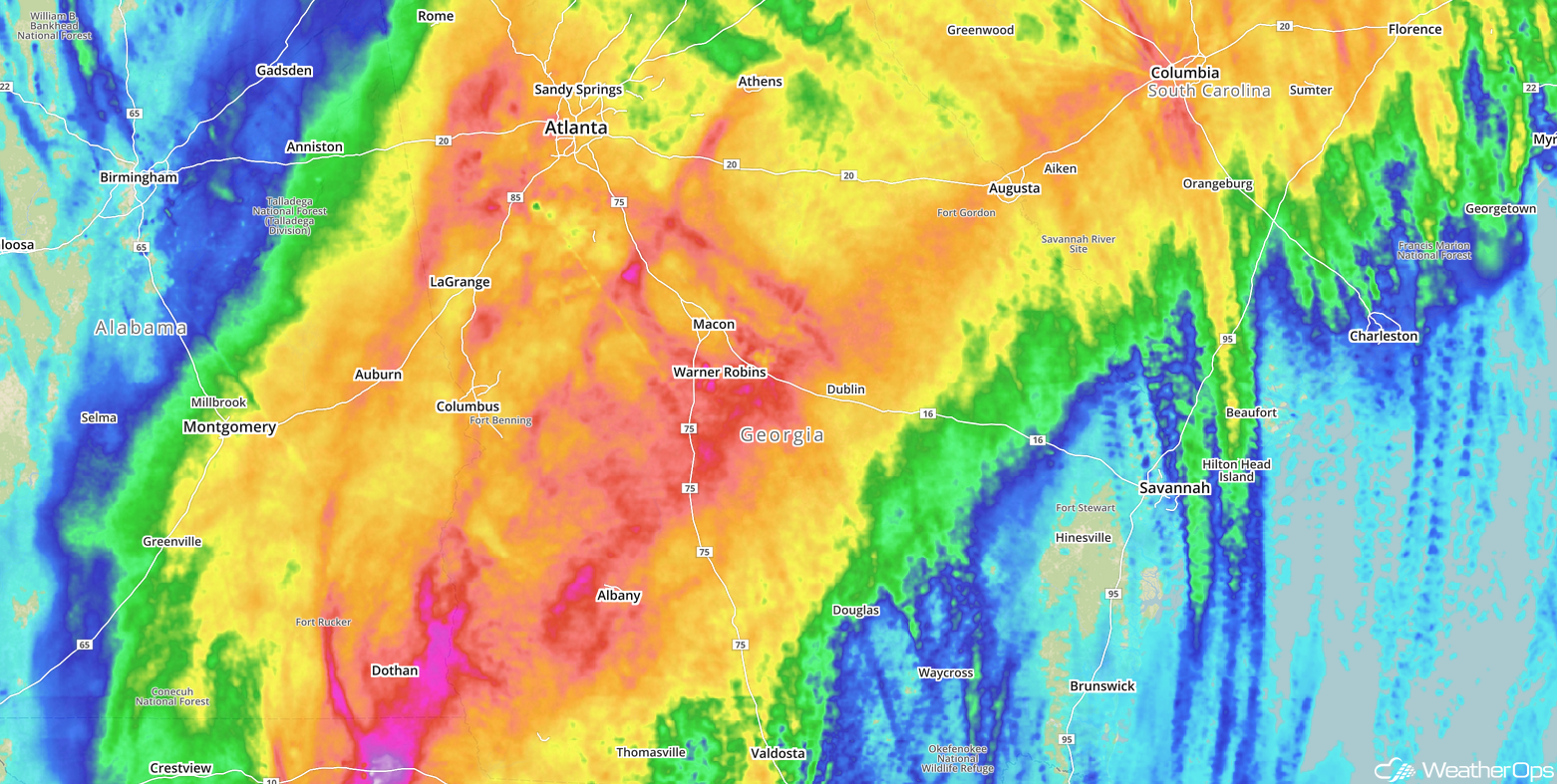 Georgia Rainfall Totals
Michael weakened to a tropical storm over Georgia late Wednesday evening. As it continued to move northeastward, it brought strong winds, tornadoes, and flooding to portions of Georgia and the Carolinas.
The team has returned from surveying tornado damage associated with #Michael. An EF-0 tornado in Oakland City and an EF-1 tornado in Flint River Estates have been confirmed. See the Public Information Statement for more details. #gawx https://t.co/PEyKos5iiL pic.twitter.com/BXive1PMup

— NWS Atlanta (@NWSAtlanta) October 12, 2018
As Michael continued to move northeastward, flooding was observed across the Carolinas with rainfall amounts of 6-8 inches falling across north-central North Carolina and southeastern Virginia.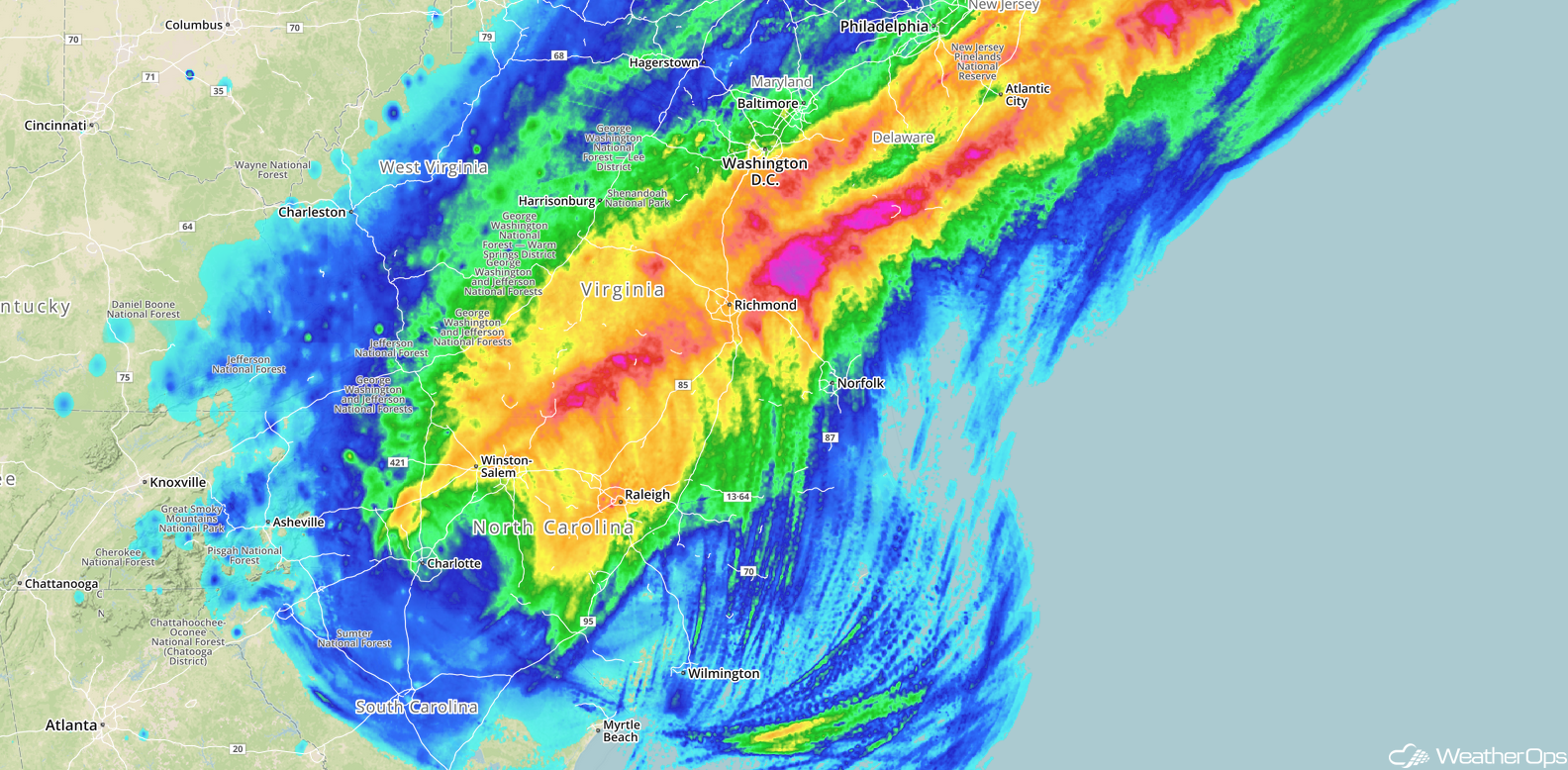 24 Hour Rainfall for the Carolinas ending at Noon EDT October 12
Michael caused significant flooding near Columbia, SC.
Hey @NWSColumbia here's another thread similar to the previous one I sent earlier containing some more images and videos coming in from our friends over at @IrmoFire .. This is the Murraywood Swim Club. #caewx #scwx #michael pic.twitter.com/0HBNzNdeRa

— Chris Jackson (@ChrisJacksonSC) October 11, 2018
As the storm continued northeastward into North Carolina and Virginia, widespread power outages were reported; as of late Thursday night, nearly 600,000 customers were in the dark. There were also numerous reports of downed trees.
Tree damage in Forest Hills neighborhood of Durham #NCwx as #Michael moves through (via @JoeMcclernon) pic.twitter.com/fpLk71aqZK

— Weather Wire (@weatherwire) October 11, 2018
Michael continued to move northeastward into southeastern Virginia, producing eight tornadoes (per SPC Storm Reports). The rain was so heavy in one area that the road was washed out.
Telegraph Road in the Henry community of southern Franklin County is washed out. Pic from Tiffany Johnson. One of many that flooded and/or washed away Thursday. #Michael #vawx pic.twitter.com/LHwGLl0z1o

— Jamey Singleton (@jameysingleton) October 12, 2018
Michael moved off the East Coast Friday morning and became a post-tropical cyclone. Numerous people remain missing, and first responders are having trouble getting to areas. There are lessons to be learned from this storm and building codes to be improved.
Here are a few facts about Michael:
In terms of pressure, Michael was the most intense US landfalling hurricane since Camille in 1969.
It was the third most intense US landfalling hurricane in terms of wind in history.
Michael was the second most intense October landfalling hurricane in history.
In terms of wind, Michael was the most intense since Andrew in 1992.