National Weather Summary for Friday, November 21, 2014
by WeatherOps, on Nov 21, 2014 9:45:59 AM
Heavy rain and strong winds are likely across the Pacific Northwest on Friday; moderate to heavy snow will be likely across the Coastal Range. Moderate to heavy lake effect snow is will continue across the Great Lakes through midday. Severe thunderstorms are possible across Texas tonight and into the overnight hours.
Current NWS Advisories/Watches/Warnings in iMapPro: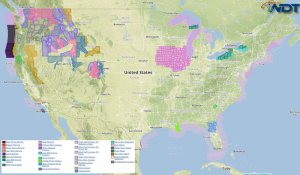 As another area of low pressure begins to advance into the Pacific Northwest, heavy rain and strong winds will be possible. Up to 4 inches of rain will be possible in some areas. Wet conditions and strong winds could allow for downed trees and power lines, as well as affect travel. The same area could bring heavy snow to the higher elevations of the Pacific Northwest. 4-8 inches, with locally higher amounts will be possible.
Across the Great Lakes, snow chances will begin to decrease as winds begin to shift to the northwest. 4-8 inches of snow will be possible, but some localized areas could receive up to 10 inches.
A shortwave will develop across the Rockies and move into the Southern Plains allowing for the chance for isolated strong to severe thunderstorms across Texas. Large hail and winds to 50 miles per hour will be possible with these storms.