World Series Weather for Game 7
by Daphne Thompson, on Nov 1, 2017 3:14:52 PM
Tonight, we will have one of the most exciting events in all of sports when the Los Angeles Dodgers and Houston Astros meet in Game 7 of the World Series. This will be the 40th winner-take-all Game 7 in the history of the World Series. It is also the first time the Dodgers have hosted a World Series Game 7 in Los Angeles and only the second time they have participated in one since moving from Brooklyn in 1957. The Houston Astros have never played in a World Series Game 7.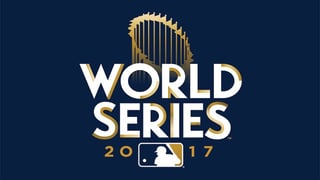 The last time the City of Los Angeles played host to a Game 7 was in 2002 when the San Francisco Giants and Los Angeles Angels met. That game took place in Edison International Field on October 27. On that day the high temperature was 66°F the low was 56°F. At the time of the game, the temperature had fallen to 62°F degrees; the wind was from the north at 5 miles per hour. There was no rain in the area. However, fog did form, but it was after the game had finished.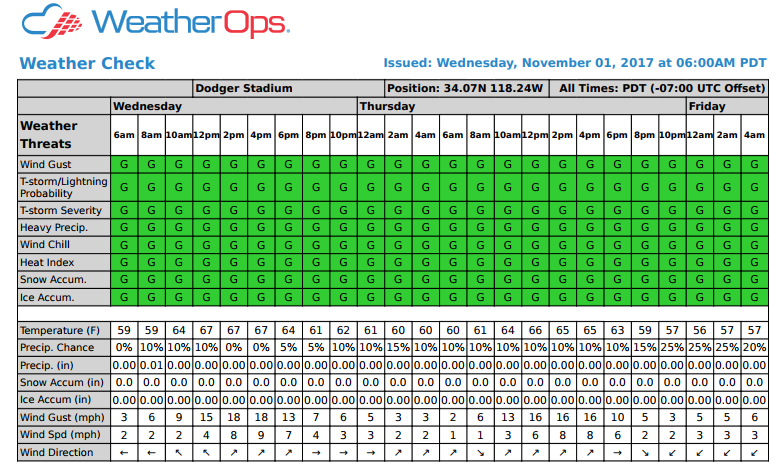 Today the WeatherOps forecast is much the same as yesterday. The high will be 66°F, and the low will be 59°F, with the game time temperature being 65°F. Winds will be southwest at 5 to 10 mph during the game with gusts over 15 mph leading to potentially more home runs tonight. There is a small chance of precipitation, but it likely will not impact the game. Ultimately, Major League Baseball could not ask for better weather for the finale to their Fall Classic and if the rest of the Series is anything to go by it should be an exciting finish too.