World Baseball Classic Weather for the Week
by Daphne Thompson, on Mar 20, 2017 4:11:30 PM
The World Baseball Classic (WBC) has been the premier baseball tournament for national teams since the sport was eliminated from the Summer Olympics in 2008. The WBC tournament has been played three times previously in 2006, 2009, and 2013. Each of the previous three tournaments has played its final games in California in San Diego, Los Angeles and San Francisco, respectively. Beginning March 20, 2017, the Golden State will once again play host to the semi-finals and finals at Dodgers Stadium in Los Angeles, California.
For the past several years the weather in California has been very dry and thus suitable for baseball which, unlike other sports, will halt play due to rain. In the last four months, California has seen historic amounts of rainfall across the state. Before that, the State of California had nearly 100% in D0 (abnormally dry) or higher while the driest area, D4 (exceptional drought), was focused on Southern California including the areas in and around Los Angeles. As of the latest U.S. Drought Monitor, the state of California only has 23.5% of its area covered in D0 or higher drought, and there is no D3 or D4 level drought anywhere in the state.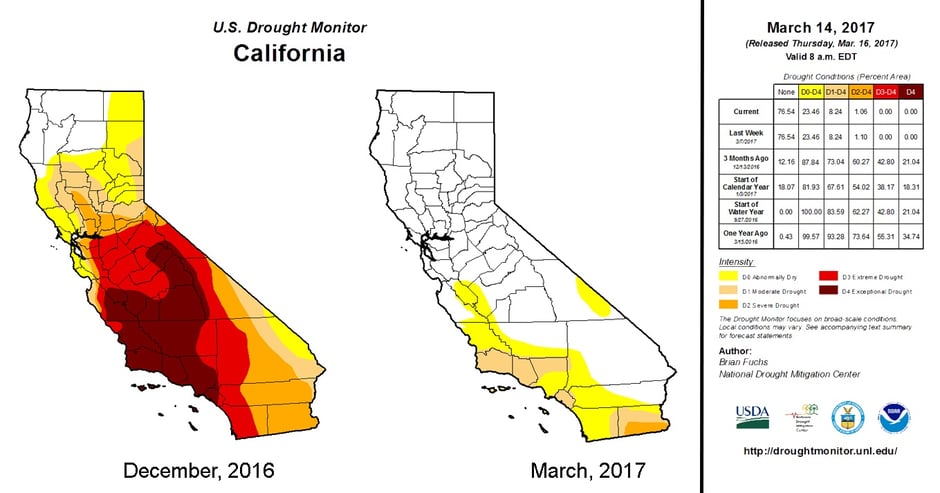 While the state has seen a lot of rain in the last several months, what affects baseball is how the weather is on a specific day. Looking at past WBC tournaments, the 2006 iteration saw the three-day event experience temperatures ranging from 48 to 60 degrees and 0.05 inches of rain on the semi-final dates. In 2009, Los Angeles saw much of the same with temperatures ranging from 51 to 69 degrees. Rain of 0.08 fell on the day of the second semifinal, but it occurred in the early morning hours. The WBC in 2013 took place in San Francisco which experienced temperatures from 48 to 68 and no rain on any of the three days.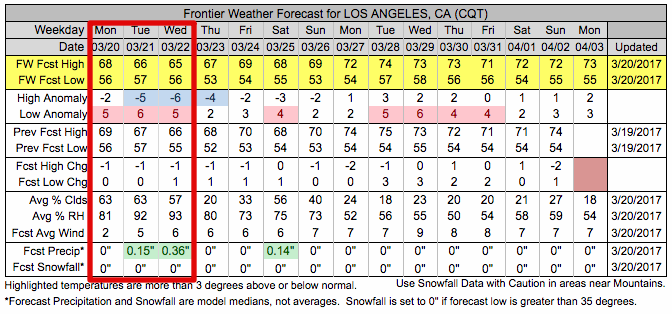 The Frontier Weather forecast shows that the semi-finals of the WBC on Monday and Tuesday should stay relatively dry. For the Championship game, on Wednesday, there is a slight chance of rain in Los Angeles. A quick 0.10 to 0.25 inches could be possible and if it were to occur at the stadium, near the start of the game, this could potentially result in a delay. So, keep an eye on the baseball weather going into Wednesday if you plan on attending the game.