Winter storm season is here. Are your crews ready?
by Daphne Thompson, on Nov 24, 2015 9:49:36 AM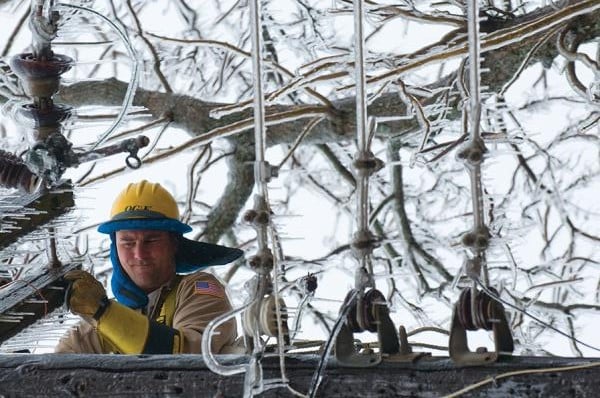 It goes without saying, for utilities, the winter season is quite often the most punishing of the year. Ice and other frozen precipitation associated with these long, cold months continue to rank among lightning and damaging winds as the most damaging to utility infrastructure.
With the threat of snow, sleet, and ice approaching the Central and Southern Plains later this holiday week, the time is quickly approaching when it will be too late to test the strength and layout of your incident management and response infrastructure.
Take OG&E, for example, who during late October conducted a full-scale simulation of what would be considered a particularly destructive ice storm event across its service territory. In what took several weeks of planning through the collaboration and participation of nearly 40 employees, the incident command team at Oklahoma's largest utility designed a drill to identify the state of readiness across the organization.

"Ice storms have a significant impact on the OG&E infrastructure," says Mike Douglas, OG&E's ICS & Emergency Preparedness Manager. "OG&E has worked to improved system reliability by hardening our system. However, ice and wind can have a catastrophic impact on the infrastructure."
This is where incorporating drills and double-checking operational procedures can mean the difference between hours, days, or weeks of outages, and it goes without saying having the ability to easily access accurate and timely weather forecasts specific to your service territory is of utmost importance.
Douglas: We can't control the amount of ice that we receive or where it will impact our system, but our relationship with WDT has provided the opportunity for OG&E to make better, more informed decisions about what to expect from each event and the types of resources needed to restore power to our customers.
In preparation for this drill, OG&E leveraged its relationship with WDT and the WeatherOps forecast team to provide targeted forecast graphics and live consultation during the event, in addition to formulating a storm scenario requiring OG&E staff members to be nimble.
Certainly not atypical with the unpredictability of winter storms in the Southern Plains, a drastic shift in the main storm threat 24 hours prior to onset was integrated into the tabletop exercise, forcing outage response crews and mutual aid to be moved to different areas than previously planned.
Douglas: Our purpose for requesting the last minute forecast change was to ensure our members could react to the change in scenario and for them to understand the impact of the change. OG&E has experienced this shift in weather in the past. Our goal is to ensure that we are able to mobilize to the appropriate locations ahead of the storm and to stand ready to response as quickly and as safely as possible.
Whether you are an IOU with 800,000 customers such as OG&E, or a local co-op with 10,000, preparing in advance for the damaging effects of winter storms is a necessity. As the pleasant and tranquil weather of fall fades and winter takes over, now is as good a time as any.