Will Saturday Be Another Ice Bowl, except this time in Norman?
by Daphne Thompson, on Dec 2, 2016 2:12:41 PM
Being located in Norman, Oklahoma means our company has many OU Sooner alumni (and a couple of OSU Cowboys) on staff. Football rules this town in the Fall. This Saturday is Bedlam, the day that the University of Oklahoma plays Oklahoma State University and, this year, the game is even bigger as it will determine the Big 12 Champion. However, the weather may also be an important player in this game.
In 1985, the Sooners played the Cowboys in Stillwater, Oklahoma at Lewis Field. Before the game could even begin, freezing rain and sleet began to fall. The field turned into a sheet of ice and so the Ice Bowl was born. The game started with a tempertature of 27F and a windchill of 10F. By halftime, that kickoff temperature of 27 degrees would seem warm as it was now 23F with the howling wind that made it feel like -4F. Players slipped and fell all over the field. There are even reports of lightning flashing as ice rained down.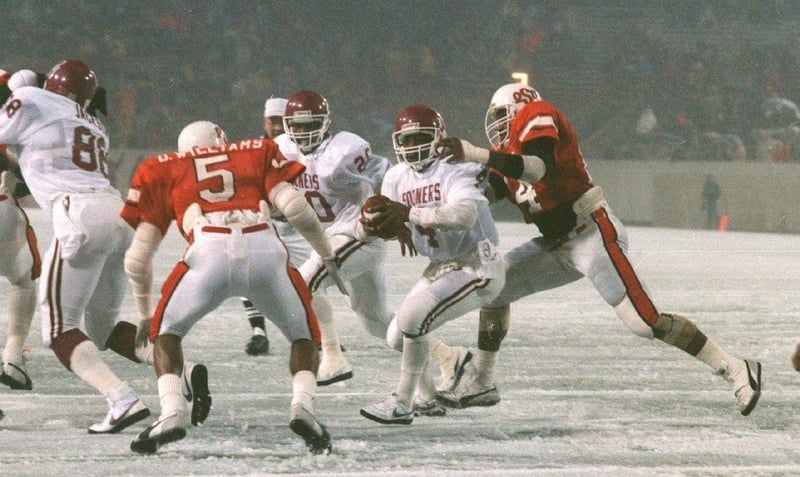 Fast forward to 2016 and the 11:30 AM game weather in Norman is not looking good. It won't be another Ice Bowl, but will be cold and somewhat sloppy. After a relatively warm Fall, fans and players will be in for a shock. Cold air and rain is in the forecast. Game time temperatures will be in the mid 40s and there is an 80% chance of light rain for the entire matchup.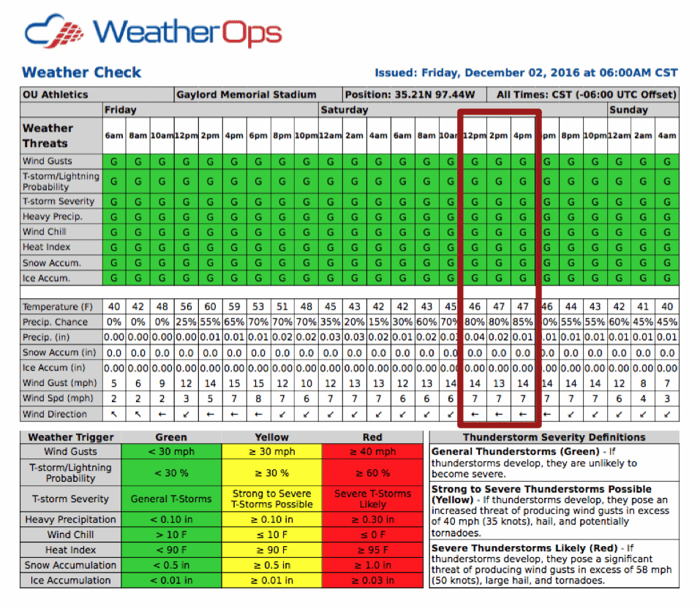 The biggest difference between the 1985 game and the one coming up at Saturday, beside there not being ice, is that OU now employs our WeatherOps team to help watch the weather for them. Professional forecasters are in attendence at each home game to keep an eye on the weather and make sure everyone stays safe. In fact, the image above is directly from our WeatherOps decision support system.
Need help with your events? Let us know!